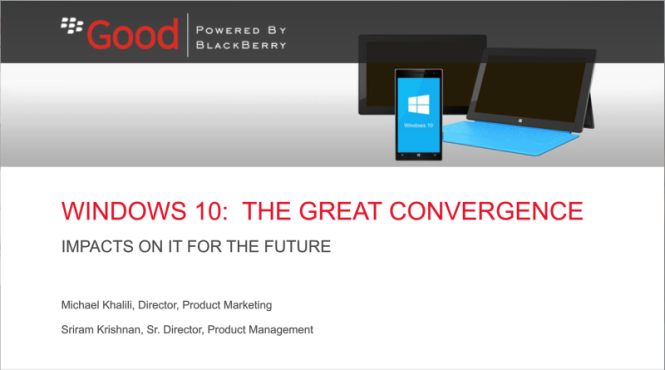 As you may recall, BlackBerry in November acquired Good Technology. By integrating the Good Dynamics EMM solution (rebranded BlackBerry Dynamics) into our product portfolio, we expanded our ability to offer unified, multi-OS management and strengthened our position as a market leader in the EMM space. In addition to containerization, Good has built upon their existing support for Windows devices to deliver the next generation of Unified Endpoint Management.
We outlined how in a recent webinar, Blurred Lines: Windows 10 PC and Mobile, hosted by BlackBerry Product Marketing Director Michael Khalili and BlackBerry Senior Director of Product Management Sriram Krishnan.
According to Khalili, there originally existed three form factors within enterprise: PCs/laptops, smartphones, and tablets, each separate from the others. With the debut of devices such as hybrid '2 in 1' laptops and phablets, things are less distinct. Today, we have devices that are neither smartphones nor tablets, hardware that exists in a space between what were once clear lines – and Microsoft is at the fore of this evolution.
"What Microsoft has done with Windows 10 is they've said 'these lines of demarcation don't make much sense anymore, let's create a single operating system that powers devices across all those different form factors," Khalili explains. "We talk a lot at Good and BlackBerry about the heterogeneous environment we're going to see in enterprise, and how things are very different than when you just had to manage a PC, but even the PC platform isn't really a PC anymore. It's becoming a much broader environment or ecosystem."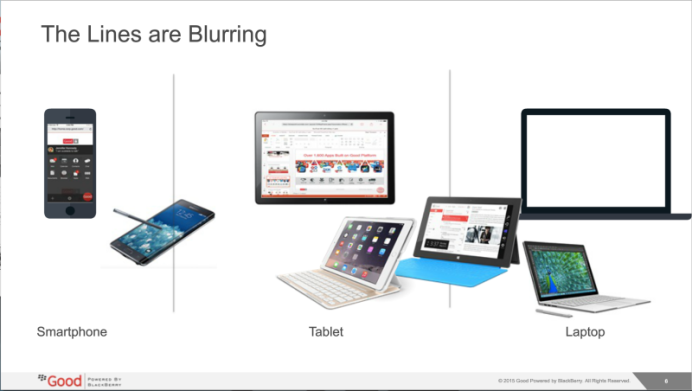 That broadening along with already-existing core IT imperatives – user demand for mobile productivity, BYOD, outsourcing costs, and the prevalence of HTML5 – is pushing us towards a new era of devices, which requires a different set of management principles, says Khalili:
Unified management across diverse device types including smartphones, PCs, phablets, tablets, etc.
A wide range of apps to support user needs such as better mobile connectivity and productivity
Pervasive security across devices which still respects privacy. You don't want to know about what users are doing on BYOD devices outside of work hours; personal data must be kept separate from work data.
Consideration of deployment models beyond traditional enterprise owned and managed devices.
Khalili says Good Technology modernized its services in order to support this philosophy on Windows devices. Through Good Access (rebranded BlackBerry Access) secure web browser, now available on Windows, employees have access to the following features:
Containerization of HTML5 Apps: All data in HTML5 apps is secured in a container, eliminating the risk of data leakage, while supporting offline capabilities such as app caching.
Easy distribution for administrators: Distributing BlackBerry Access is as simple as sharing a link to the installer and a unique identification PIN with a user – they handle the rest.
A Windows-based environment for secure collaboration: A Windows-based version of Good Work (now known as BlackBerry Work), Good Technology's renowned collaboration platform, will be available through the BlackBerry Access browser.
Seamless support across all device types: BlackBerry Access is compatible with both Windows 10 and Windows 8.1, this is a feature it shares with BlackBerry UEM (Unified Endpoint Manager, formerly known as BES12).
Intuitive configuration: In addition to letting end users securely access corporate intranet, the browser also allows admins to configure BlackBerry Access for Windows in tandem with both BlackBerry Dynamics, formerly known as Good Dynamics, and Good Control.
The webinar concludes with a demo of the BlackBerry Access browser hosted by Krishnan, as well as a live Q&A session which addresses topics ranging from the look of BlackBerry's administrator control panel to compatibility with Outlook. Questions answered included:
Is a VPN required?
If Microsoft releases a Surface phone, will BlackBerry support it?
Will Windows 10 be a part of the Internet of Things?
Does BlackBerry Access's email client link to Outlook contacts, or replace Outlook?
Will Good be integrated with BES in 2016?
Interested in learning more? View the archived presentation, or visit the official BlackBerry Access page for an overview of the platform. You can also contact us if you've any unanswered questions about the platform.
And if you want to learn about Good and BlackBerry's new EMM offering, view our live-demo webcast. Be sure to also watch Introducing BlackBerry Enterprise Mobility Suite for more information on what BlackBerry and Good can do for you.
Finally, if you're interested in finding out more about the current EMM landscape, check out Making Sense of the EMM Alphabet Soup – a detailed look at MDM, MAM & MCM on Tuesday, April 19, 2016 at 11:00 AM EDT.