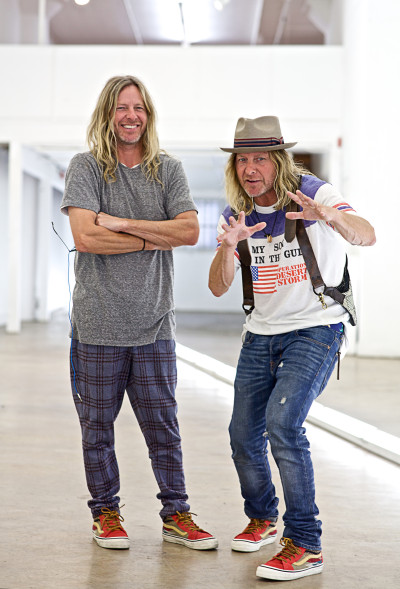 Chip and Pepper Foster got their start in the fashion world at age 16, selling tie-dye surf shorts at a lake near their home in Winnipeg, Manitoba. From there, the two Canadians forged an empire; today, their denim designs are sold around the world, with products in over 200 stores and countless side ventures in the wings.
In addition to their careers in clothing design, the twin brothers have dabbled in Hollywood, hosting the variety show "Chip and Pepper's Cartoon Madness" and starring on "The Look for Less" with Elizabeth Hasselbeck. Over the years, they've worked with numerous celebrities, including Jim Carrey, Wayne Gretzky, Michael Jordan, Tom Cruise and Ryan Gosling.
When they aren't managing their Chip & Pepper clothing line or making new deals in the entertainment industry, the two brothers are avid explorers and outdoorsmen, always itching to discover or experience something new. They play golf and hockey together, go fishing, hunt and hike whenever they have the opportunity. They've driven all over Canada and regularly travel all over the world.
Wherever they go and whatever they do, the brothers are rarely far from one another. From an early age, they were inseparable, Pepper explains. And today, as business partners, they share their success and the fame it brings.
They share something else, too – their passion for PRIV, a trait they also have in common with this Irish entrepreneur and tech blogger, this award-winning TV chef, this German TV host, this Canadian entrepreneurial lawyer, this international sales executive, this teenaged CEO, this aerospace engineer, this sports editor, this consulting firm CEO, this Dominican insurance manager, and this award-winning author and pastor.
Their loyalty for the overall BlackBerry brand, meanwhile, is shared with fashion maven Stacey Jones, fashion blogger Jay Strut and fashion executive Emanuele Guidetti. There's also rock star Duff McKagan, author and radio star Jeremy Bradley, broadcast journalist Harini Rana, and celebrity photographer Blair Bunting. Like Chip and Pepper, they're all professionals who know that if they're looking to keep their creativity flowing, BlackBerry is the right brand to trust. 
Brand Loyalty and Business Acumen
Pepper first came across BlackBerry years ago while vacationing in Ojai, California – a tourist destination just outside Santa Barbara.


While there, he saw a man sitting poolside, typing on what he describes as a "little black and yellow pager." He was instantly intrigued, so he asked what the device was and what the man was doing on it. The response only further fascinated Pepper.
"It's a BlackBerry! I'm at work!"
Pepper asked to take a look at the phone, and after a few minutes with it, his mind was made up. He purchased one for himself the next day, and his brother soon followed suit. Ever since, the two have been loyal advocates of the BlackBerry brand.
"BlackBerry may have lost some steps, but they still make the best business phones there are," says Chip. "And we have a ton of old BlackBerry devices lying around. We found 10 when I was moving out of my Malibu house."
As for what draws them to the brand, their answers are familiar: security, productivity, and ease of use. According to Pepper, just as many creatives in his industry prefer Macs for their design work, every business person he and his brother know swears by BlackBerry. And neither sees that changing any time soon.

The Power of PRIV
Both Chip and Pepper have recently started using the BlackBerry PRIV, and when asked about their experience, both offered glowing reviews, rating it a 10/10. Pepper also praised the PRIV's speed, and the inclusion of its battery charge meter. Ultimately, for both brothers the PRIV merges everything they love about BlackBerry's hardware with a robust, secure take on the world's most popular mobile OS.
And that take includes how the Android-based PRIV solves BlackBerry's prior dearth of consumer apps.
"The app gap was like a bad gap wedge on a golf course, but they've fixed it with PRIV," says Pepper. "Even my son loves the phone. Before I left for Vegas, he asked me where his BlackBerry was. When's the last time you heard an 11-year-old say that?"
PRIV, Pepper continues, is the first step towards BlackBerry rebuilding its brand. Already, he's noticed people displaying renewed interest in BlackBerry smartphones. He receives regular questions about his phone from his co-workers and colleagues, some of whom have already made the decision to pick up PRIVs of their own.
Connecting Through BlackBerry
As is the case with many professionals, Chip and Pepper's BlackBerry devices have proven indispensable to their professional lives, and not just because of the productivity they enable. They've also served as talking points. They're case-makers, according to Pepper, who maintains that when someone sees you with one, they know you're serious about business.
It's hard to argue with that standpoint in light of the fact that BlackBerry helped the twins land the biggest business deal of their lives. Although neither was able to say much about what the deal involves, there was one thing they were clear on. Without BlackBerry, it may never have happened at all.
"We were at a restaurant with our phones," Chip recalls. "A guy came over and asked us if we were on BlackBerry devices, and when we said yes, he recognized us as Chip and Pepper. One thing led to another, and now we've got something massive in the works. I can't say very much about it, except to check back in five or six months. It'll blow your mind."
Chip and Pepper aren't alone in their love of the PRIV.  It's still receiving positive customer reviews at a number of online retailers and carriers, it's been repeatedly listed as one of 2015's best smartphones, and publications like The Verge and CIO have listed it as an incredible enterprise productivity tool. If you're interested in picking up a PRIV for yourself, check out our availability blog.
Be sure to also take a look at the PRIV's official product page and our how-to demo videos.