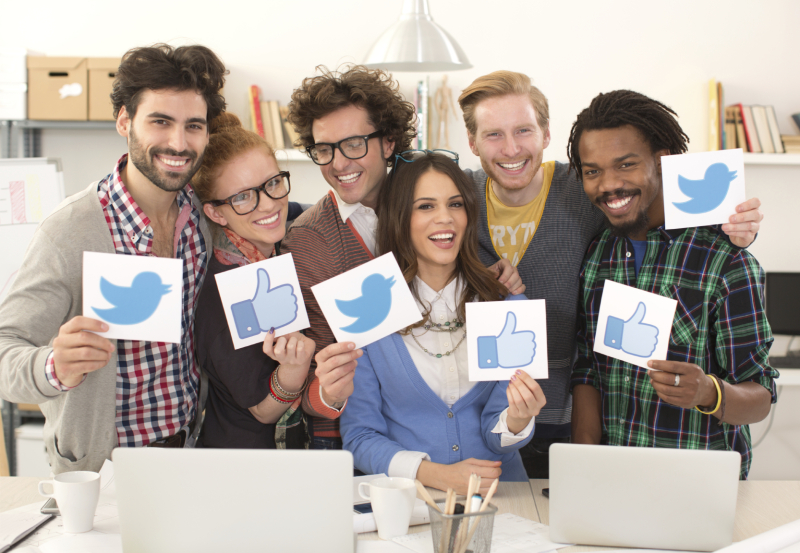 As I've said before, I'm socially "netawkward," spending more time reading tweets than actually tweeting. I've been active, almost daily, on my BBM Channels. It's a different type of networking, and perhaps that's what attracts me to posting the things that I – and only I, according to my wife – find funny. To me, BBM Channels offers a more intimate, "elite" feel that makes the experience unique, just like other social networks in their early days.
That said, companies and professionals need to take on the three-headed dragon of Twitter, LinkedIn and Facebook. Social media is one of the most effective ways to share information with clients and colleagues.
I wield dual devices every day; I have a BlackBerry 10 Z30 for my personal life and an Android-powered PRIV by BlackBerry for my work life. As an app fanatic, I've tried out most of the official social media apps for BlackBerry 10 as well as their non-official counterparts. Yes, I could use the Amazon App Store to install the official Android apps onto my Z30. But when it comes to in-app navigation, I like a change of pace. It's not just the information I can find, but the way it's discovered and managed. Plus, I personally appreciate the work that independent BlackBerry 10 developers have dedicated to provide us with freedom of choice in how we access our social accounts.
These are the reasons I look for third-party apps, beyond the official applications, that help me connect to social networking sites. Here are six BlackBerry 10 apps that give me a different take on Twitter, Facebook and LinkedIn.
Twitter
Blaq – $2.99
Blaq is by far my favourite 3rd party Twitter application. I switch between it and the official Twitter app, but Blaq has such a beautiful design that I find easy to read. It offers reliable photo-posting capabilities, an optimized menu of actions and in-app notifications. Seeing too many tweets about a topic you don't want to read about? Muting helps eliminate the need to read those tweets; it is based on smart data, such as a specific user, any keyword, a specific Twitter client or a time frame to hold the mute (even for life!).
Facebook
Face10 – Free
Face10 is a relatively new BlackBerry 10 app and is a powerful alternative to the official Facebook application. The features are too numerous to mention, but it is extremely responsive and versatile. The settings, colour schemes, app password lock and a dark theme option are great extras. Not all of the features are available on the free version of the app. Going Pro, with an in-app purchase of $2.99, gives you more options such as replying to comments, Hub integration and notifications, as well as multiple-account support.
LinkedIn
Pro Insights for Linkedin $3.99
Aside from the official LinkedIn application, BlackBerry App World is populated with numerous 3rd party applications that offer up one-touch access to LinkedIn from any app. While they redirect to the LinkedIn mobile site, they don't provide the true app experience.
ProInsights is not a regular LinkedIn client app, rather it promises to "read between the lines" of your LinkedIn account. While the app still lets you view updates, post your own status updates and send private messages, it's really a way to dive deeper into your reach within the social network. You can also view information about your contacts, such as a contact's location on a map or even discover the dominant age group for your contacts. ProInsights is a window in statistical information you never thought to discover.
Multi-Network Apps
There are also a wide variety of applications that can help you manage Twitter, Facebook and LinkedIn all at the same time. Depending on the type of information I'm sharing, I don't mind using separate apps. But, if you want to post a message on multiple social networks or otherwise consolidate your social media, for efficiency's sake, you may want one of these apps.
QuickPost – Free
The popular Quickpost does what its moniker suggests; it allows you to send messages to multiple social network accounts swiftly and effortlessly. Supporting various accounts, including BBM (channels and groups), Twitter, Facebook, LinkedIn and even Dropbox, Quickpost reposts with one tap and keeps track of recent post history. This app is especially handy for those who enjoy broadcasting their messages but lack the time to handle numerous apps.
Social App – Free
Social App acts like the BlackBerry Hub, but instead of managing messages and notifications, it manages entire social network accounts and functionality. It supports Facebook, LinkedIn, YouTube and many other networks. With individual app settings kept separate from account selection, navigation is simple to master. Upgrading to the Pro version unlocks support for other apps, such as Twitter, Google Maps and Meetup.
Buffer – free
Sharing is caring, so Buffer must be a pretty thoughtful application. This BlackBerry 10 app is a master at sharing posts across pages, profiles and groups. One of the main benefits is the ability to schedule posts for the best time to reach the most potential readers. Not only that, but Buffer includes analytics to help you track mentions, likes and retweets. It's smart sharing as well as smart monitoring; you author the posts, then you decide who sees them and when to post.
Each of these apps helps you connect to LinkedIn, Facebook and Twitter in powerfully different ways. Which one(s) you use depends on how you interact with these social networks. Do you prefer using official apps? Let us know! Stay tuned for part two, where we delve further into BlackBerry 10 social networking apps.