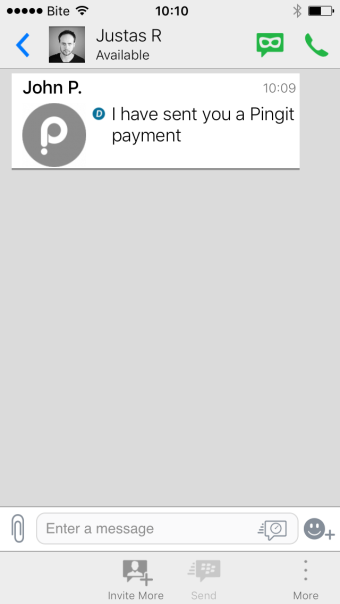 I'm happy to announce that today we've launched the Pingit mobile payment app in BBM for all our UK customers. Pingit, from Barclays, links your bank account to your mobile number – and now BBM. With it, individuals and businesses can initiate mobile payment transfers to each other in seconds.
Pingit was the UK's first person-to-person mobile payment app, and it now includes consumer-to-business and business-to-consumer payments as well. It's available to all individuals with a UK bank account, as well as all businesses with a Barclays account. It's free to download on Apple, Android and Windows devices.
Secure payment platform
BBM is becoming a leading secure messaging platform for payments, and Pingit is the latest addition to our lineup of mobile money offerings. Others inside BBM include BBM Money in Indonesia; PayPal payments in Canada, France, Germany, Italy, South Africa, Spain, the UK and the US; Interswitch Ltd in Nigeria; and now Pingit in the UK.
Once you add your BBM ID as a linked ID within Pingit, you can initiate the transaction directly from within a BBM conversation, like you would to send a photo or sticker. Receivers see a money transfer notification in their BBM conversation, enter their secure password to authorize the transaction, and receive a BBM notification from the sender to confirm when the payment has been processed in their Pingit account.
We're particularly excited about welcoming Pingit to BBM in part because Barclays is an international bank, and we're looking at opportunities to bring this service to our other top BBM markets around the world. We also plan to continue to expand our payment offerings by adding other mobile wallets.
Chat + social + commerce
BBM is in good company in our efforts to bring together chat, social media and payments. A lot of messaging platforms are adding payment options to meet growing demand from customers to use their mobiles to securely pay for goods and services. WeChat recently announced it's completely opening its mobile payment service to overseas transactions, making it easier for Chinese travelers to make purchases or pay bills in more than 20 countries and regions in Africa, Asia, Europe, North America and Oceania.
Line, Japan's most popular messaging app, launched a payment system a little over a year ago and expanded it last March through a partnership with US-based CyberSource, a global e-commerce payment company owned by Visa. Snapchat also launched its peer-to-peer payments product, Snapcash, in North America in late 2014.
A perfect match
As more of our social interactions and more of our shopping moves online, it only makes sense to have payments there, too. Exchanging money is the next logical extension, whether it's paying back someone during a BBM chat or buying something from a BBM ad. Like my colleague Haridas Nair blogged about recently, entrepreneurs are building businesses by combining a few different mobile services: mobile messaging, mobile payment and delivery services provide the basics any new business needs.
This trend has a ton of potential in emerging and developing markets, where lack of basic financial and transportation infrastructure can slow economic growth. We're looking forward to making BBM an even more useful tool for merchants and consumers through expanding our payments options worldwide.