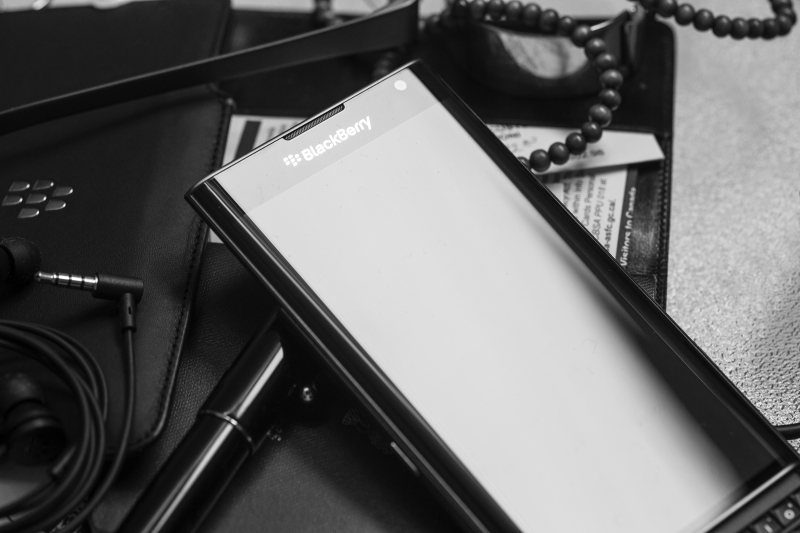 A little over a year ago I wrote this '"tongue in cheek" article … 11 Things Wrong with the BlackBerry Passport. I basically called the Passport the greatest thing since sliced bread.
I have played a little with Android phones over the years, but I always concluded that BlackBerry devices are better, especially BB10 OS.
(This post is republished from LinkedIn Pulse with the author's permission. Check out the original post as well as the discussion on CrackBerry.)
For the last 14 months my Passport has been my trusted phone and to this day I absolutely love it, but a funny thing happened on my way to the future. When BlackBerry announced their move to Android a few months ago I thought they were nuts. But at the same time reality was starting to set in on my Passport. Things like…
I could not ever find a way to use Snapchat without getting blacklisted by Snapchat. My kids were sending me snaps and I never saw them.
I love my Pebble Time watch, but getting it to work reliably with BB10 was a constant triage, almost daily. Plus I had to pay for the BB10 Pebble apps which ate up both the Pebble and the Passport battery.
I then also needed other Android apps, some worked fine and others were worthless because of their tight integration with the Android Play Store.
And on and on…
I started doing extensive research on the PRIV, watching the forums and the many articles.
I am a T-Mobile customer, so last week I walked into a T-Mobile store. I played with the PRIV and I was impressed. So I asked the rep what it would cost me to walk out of the store with a PRIV. His answer, "not a cent out of your pocket now, starting in March you pay $27/month on your bill until the phone is paid off."
Given that I had 14 days to return the phone, I thought what the heck. Ten minutes later I walked out of the store with a Priv in my hands.
Now the journey began…
Since both the PRIV and the Passport use the Nano SIM card, I didn't need another SIM card, a great advantage for my testing.
I booted up the PRIV and decided to just use it over WiFi for a few days while still using my Passsport as my main device.
The first thing I did was load the Content Transfer app onto my Passport. It was amazingly easy to transfer all my Passport content to the PRIV just using my SD memory card.
Second, I went to the Play Store and installed updates for all BlackBerry PRIV apps. See screen shot at right…
Third, whenever I had time I used it to get smart on Android, the gestures, etc. Yes, at times this was frustrating until I realized that I was thinking too complexly, as Android really is easy and simple to use.
Fourth, and my big surprise – LESS than two days later I took the SD card and SIM card out of my Passport and went fully operational on my new PRIV. And less than three days after getting the PRIV I haven't gone back since!
The Good
Hardware
The PRIV is a very elegantly designed device. I thought that the Passport was great, but the PRIV is AWESOME!
Keyboards – both virtual and physical work just as advertised. Yes, the physical keyboard is small but totally usable and both have the great BlackBerry predictive type. I find myself using the virtual keyboard 99% of the time.
The track pad. Yes, the physical keyboard also acts a track pad just like on the Passport. I find it incredibly useful when scrolling through web pages and long documents.
The AMOLED screen just plain rocks! See this article… Deep Dive: How PRIV's Screen Stacks Up Against iPhone And Other Hero Smartphones.
The slider mechanism is an elegant engineering marvel.
The camera is by far the best ever on a BlackBerry. Need I say more? – PRIV's Camera Scores Strongly in Respected DxOMark Test, Equalling iPhone 6S/6 Plus, Topping Others. 
The battery is huge ("Yuge") at 3410 mAh. I find it lasts just as long as my Passport's battery. And I do not turn off GPS, NFC or any other of the Android widget notification apps.
Last but not least, what BlackBerry is famous for – security. The BlackBerry PRIV is the only Android phone that cannot be rooted since it uses hardware root of trust – see How and Why the PRIV Protects Against Rooting.
Software
Ok, here is where I initially had my doubts. It took me little time to realize that the PRIV software experience is the best of any BlackBerry I've ever owned.
BlackBerry Hub. Sure the gesture to open the Hub is different than on BB10 but that's no big deal at all. Unequivocally, Without the Hub I would not keep the PRIV!
The Android experience. If you take the time to learn Android, you will not miss BB10. Android app integration across the board is better. I was shocked when I received a notification showing where my car was parked. And things like Google Maps are way better than BB maps.
The browser. Yes, the BlackBerry browser is gone, but I find that Chrome is even better, plus I automatically get all the bookmarks that are on my PC Chrome browser. I do not miss the BlackBerry browser at all.
The Android Twitter, Facebook, LinkedIn, Instagram apps all work great, better than the BlackBerry versions. See this Twitter App screenshot on my PRIV. (Yes, I was on a phone call when I took this screenshot.)
File manager. Yes the BB10 file manager is gone but there are several free and great file managers in the Play Store.
Oh yes! The T-Mobile PRIV has WiFi calling which just works great.
In summary, software-wise, take some time to learn Android and you won't miss BB10 OS.
The Bad
No Blackberry Blend for the PRIV … yet! (Learn about BlackBerry Blend – The power of BlackBerry now on your computer and tablet.)
I absolutely love Blackberry Blend and used it all the time on my PC. I have no reason NOT to believe that BlackBerry will soon launch Blend for the PRIV as they already have it for Android tablets. In the meantime I've chosen to live without it.
The Ugly – Absolutely nothing!
Summary: BlackBerry brilliantly chose to move to Android for their new devices. I just hope that it's not too late!
(The PRIV is now available in 16 countries! Click here to stay up to date on the PRIV's launch dates. In the meantime you can also check out the PRIV's official product page, how to/demo videos, and see what other publications are saying about the PRIV.)