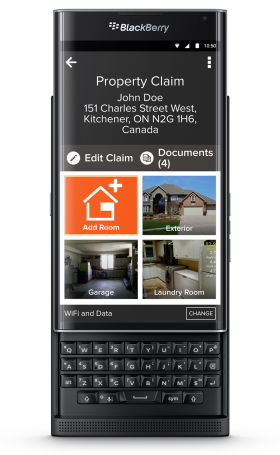 A leading commercial property and casualty insurance management company in Toronto, Canada was looking for ways to continue improving their claims process and set the standard for superior service in the insurance industry.
Northbridge Financial recognized that today's customers expect digital tools and real-time access to information, and that legacy processes in the industry weren't cutting it anymore. They knew they needed to adopt innovative technology to help modernize procedures, enable collaboration and deliver on a better customer experience.
Fortunately, Northbridge found the perfect solution with the Encircle platform – a full suite of mobile productivity tools for both policyholders and claims professionals. Tools which were made available on the BlackBerry PRIV through the simple download of the Encircle mobile app.
Northridge's field and in-office claims teams are connected on Encircle's platform through desktop or mobile applications. Using Encircle, anyone involved with a claim can document information, generate reports, capture signatures and share settlement details immediately. Encircle's real-time system lets users add or retrieve the latest claims information, resulting in fewer errors and faster claims resolution because of an accelerated and user-friendly workflow.
And it's not just Northridge who benefits: policyholders can use Encircle to document their homes' contents and create a home inventory. If they have to file an insurance claim, the Encircle app gives them immediate access to the status of their claim and resolution progress, reducing calls and customer frustration.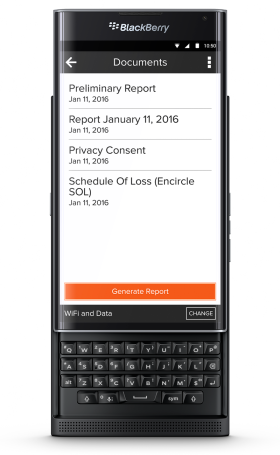 With Encircle, Northridge gets:
Instant data capture and sharing made easier with the PRIV's slide-out qwerty keyboard
Digitized forms and signature capture
Automated, custom reports with a simple click of a button on mobile or desktop
Remote management and real-time collaboration via photos, videos and voice-to-text, optimized with the PRIV's large, dual-curved 5.4" display and 18MP Schneider-Kreuznach camera
"Encircle allowed us to bring innovative technology to the table. It made claims handling processes faster, simpler and smarter – with little to no training, so the return on investment was immediate: increased productivity, reduced cost and improved customer service," said Evan Di Bella, National Director, Claims, Northbridge Financial Corporation.
The Encircle mobile app, available for free in the Google Play store, is compatible with BlackBerry's first Android smartphone, PRIV, which layers deep security on top of the Android operating system. BlackBerry's Hardware Root of Trust embeds cryptographic keys in PRIV's hardware, while DTEK by BlackBerry helps you monitor how applications are interacting with the BlackBerry PRIV and what they are doing with the information they access via the smartphone.
In addition to its security features, PRIV's hardware design provides a superior Encircle data entry and access experience. The slide-out, QWERTY physical keyboard helps you quickly and accurately type information about your inventory, while the large, dual-curved 5.4" display provides a crisp view of your data. Need to capture photos of your property? The 18 MP, fast focus, dual flash, Schneider-Kreuznach-certified camera will help users capture every visual detail.
With nearly 2 million Android apps available in Google Play, it can take time to find the apps you want. Check out the following reviews of some of the top apps available for your PRIV:
FINANCE & SHOPPING
Amazon Shopping
Banking Apps
Suretap
HOME AUTOMATION
Smart Thermostats
MUSIC & ENTERTAINMENT
Apple Music
Gameloft
Instagram
Spotify
PRODUCTIVITY & BUSINESS
Microsoft Office
Thompson Reuters
Salesforce
Slack
TRAVEL & TRANSPORTATION
Concur
Foursquare
Uber