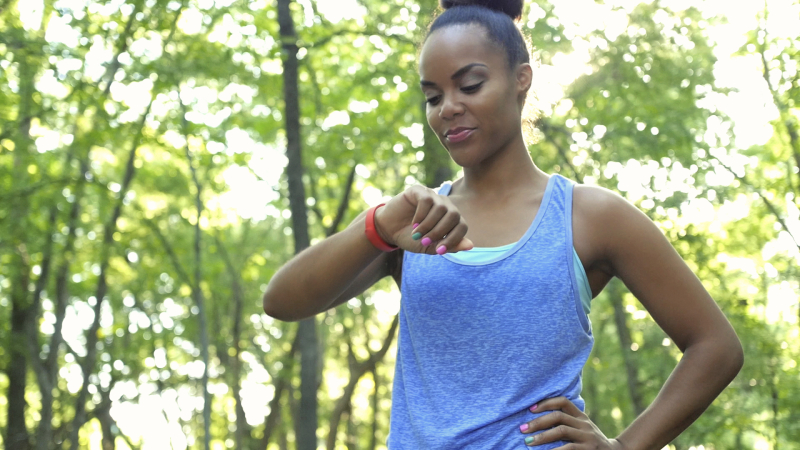 It's now early February, and although winter may be feeling a little long, there are plenty of activities to keep you moving and connected to the outdoors. It's easy to slip into hibernation mode, but staying active helps reduce stress and increase physical fitness, and now you can even track your progress automatically. In this second part of our connected apps for PRIV blog series, we are diving into connected fitness apps and wearables. (You can read part one, about smart thermostats here.)
The Android-powered PRIV offers full access to the Google Play Store, where the apps you want are always available. One of the most talked about fitness apps and trackers that connects to your PRIV is Fitbit. Fitbit, one of the pioneers in the fitness tracking space, offers a wide range of products, including a connected scale for easy weight tracking. From basic step counts with the Zip, to new and enhanced features with the Charge HR, there is a product for you. The Charge tracks everything from your heart rate, to your sleep cycles, to your step count and exercise level. It also features a silent alarm, and you can pair it with your PRIV to be notified when you receive phone calls. One of the most seamless features is wireless syncing, which allows you to track all of your stats on one dashboard either within the app, or on your desktop. Get the Fitbit app today.
Another great fitness tracking option is the Garmin Forerunner, which supports various activities and can allow GPS tracking. Using a device with the Garmin Connect Mobile application allows you to focus on your fitness and healthy living goals, whether it be walking, running, cycling or swimming (yes, swimming!). These Garmin Forerunner devices capture swimming metrics along with your other daily activities, offering a complete summary of your fitness accomplishments. Not sure if you should run outside or on a treadmill? Use Bluetooth connectivity with the PRIV to receive weather forecasts right on your fitness device.
Whether you choose Fitbit or Garmin to track your fitness activity, meeting your goals is what matters most. Both offer dashboards to track your progress, and connect with friends and track their progress as well. So if you are in it for personal health, some friendly competition or both, there is no wrong choice.
For those not looking for extra hardware, there are many options for tracking using your PRIV. Runkeeper – GPS Track Run Walk offers tracking of pace and distance as well as setting weight and training goals. So whether you are walking, running or cycling, Runkeeper will work while you work. Runkeeper also offers third-party support for many health-related apps and products, including MyFitnessPal, Fitbit and Garmin.
Another well-known tracker is Endomondo – Running & Walking. This top-rated fitness app uses GPS support to track your walks, runs or rides and keep logs of duration, speed and distance. You can receive audio feedback on distance and pace to ensure you accomplish your personal goals without losing focus. And with support of Bluetooth heart-rate monitors, Fitbit, Garmin, Gear, Pebble and more, this app will help you increase your fitness levels every day. Looking for a little bit more? Go premium for access to personal training plans, monthly/annual statistics, weather and some extra motivation. Get all of these fitness apps and more on your PRIV, available from the Google Play Store.
Who is ready for some light-footed competition?
In the meantime, stay tuned for our third and final part of this series, next week, about Connected Entertainment!