Thousands Alerted to Safely Shelter in Place
This piece was originally published on the AtHoc Blog
Roughly 95,000 military personnel in a number of different commands are assigned to the area around San Diego, Calif. When their dependents and families are taken into account, the total military population in the region is about 175,000 people, in a city of 1.4 million in an urban area of over 3.1 million residents.
One of the largest Naval Hospitals in the world is the Naval Medical Center San Diego, which sits on 78 acres on a hill above commercial high rises, a large convention center, major league baseball park, and tourist attractions in downtown San Diego. If you have ever visited the World Famous San Diego Zoo or the city's sprawling Balboa Park and museum complex, you may have noticed the Navy Hospital immediately next-door, where thousands of tourists park and walk.
The Navy Medical Center includes a 272-bed hospital, eight clinics for active duty personnel, and nine primary care sites for military families. There are also day care centers, schools, and homes, shopping areas, businesses, critical Interstate arteries, and an ocean-going Cruise ship terminal nearby. The international border crossing into Tijuana, Mexico is 15 miles to the south. Most of the commercial airline traffic, cargo planes, private aircraft, and military flights that land at San Diego's main airport, Lindbergh Field, fly almost directly over the Naval Medical Campus at low altitude on final approach.
So, the stakes were very high when a single civilian witness last week reported hearing gunshots in a Navy-owned fitness center, a few buildings away from the main hospital. In the end, it was determined that no shots were actually fired, and the source of the loud, staccato sounds was never conclusively identified. But, all of the advanced planning, training, emergency protocols, and crisis alert infrastructure worked as it was designed.
"Run, Hide, or Fight"
Since the threat seemed very real, and everyone responded accordingly, the realism and adherence to emergency measures and strict protocols served as a successful, unintended drill scenario of the very best kind, with a safe, no-harm-done outcome.
AtHoc Interoperable Communications on Center Stage
At 8:17 am on a mild and clear Tuesday, a Navy security team issued a "possible active shooter, shelter in place" alert to the roughly 5,000 people on the hospital campus. Although the Navy later determined there was no shooter, the threat received the highest priority. Within seconds, warnings were issued throughout the urban core, schools and offices were locked down, and several suburban cities within a moderate radius were notified to respond with mutual aid resources. According to The San Diego Union-Tribune newspaper, "Sailors, Marines and civilians working at the hospital were instructed to 'run, hide, or fight' – the advice given on the Department of Homeland Security's 'pocket card' issued last year and used in military training."
AtHoc's interoperable communications technology played a pivotal role in the alert notifications and interoperable crisis communications. The AtHoc system ensures that secure, scalable communications are always ready to be implemented.
"One of the things that went right… was the installation's ability to get the word out in a quick and complete manner."
Contact information and addresses within the AtHoc system are updated on a regular basis, so that the correct personnel always receive the right information over approved messaging channels, such as laptops and tablets, smartphones, desktop computers, and secure radios.
Mobile first responders, command structure, loudspeaker systems, emergency annunciators, and crisis management centers, as well as key staff at external organizations and governmental agencies, all received a flow of critical information as the situation evolved.
A medical staff member in the main Navy Hospital in San Diego reported, "We first heard an audible announcement on the PA system, and within seconds I received a popup alert on my computer monitor as I was entering data into a medical application. Shortly after that, we all got text alerts on our phones. I immediately sheltered behind a locked door in my office and stayed there for several hours. The periodic updates we received throughout the day were reassuring, and when it was all over, we felt pretty good about the way it went and how everyone reacted."
"Quick and Complete" Crisis Communications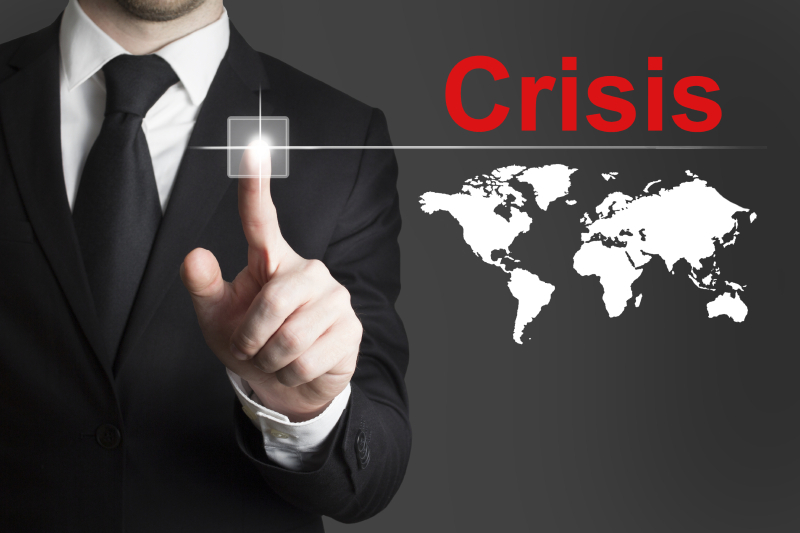 Many of the communications were pre-scripted and tiered according to what recipients were authorized to know, and his or her direct task in response to the situation. Recipients responded according to clear, concise directives, helping to ensure that security personnel deployed to where they were supposed to be, and first response resources could be allocated for maximum effectiveness.
Communications are monitored by the AtHoc platform for expected response. This information is automatically tabulated, so that emergency response managers know where unexpected activity is taking place, and can redirect responders accordingly. Information can be analyzed after any incident to review how the situation was handled, so that areas for improvement can be determined and new measures implemented.
A headline in Navy Times about this incident read, "Navy Touts Active-Shooter Response After False Alarm." The same article quoted Capt. Anthony Calandra, Navy Installations Command's chief of public safety, as saying, "One of the things that went right… was the installation's ability to get the word out in a quick and complete manner."