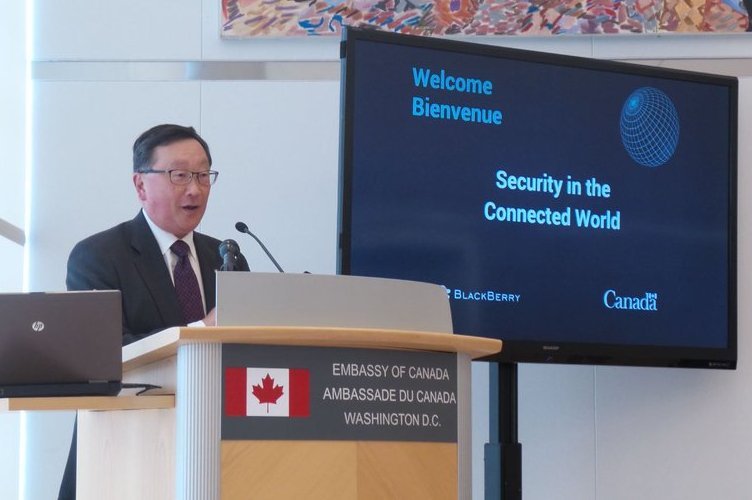 BlackBerry Executive Chairman and CEO John Chen spoke at the Canadian Embassy in Washington D.C. on Wednesday, and the message was clear: "We want to build a big and robust software business from managing enterprises [that are] secure and focused on privacy."
That focus, he says, has driven BlackBerry's acquisition of 5 cross-platform enterprise software and services companies in the last 18 months, including AtHoc, Secusmart, Movirtu, WatchDox, and, of course, Good Technology (and is already starting to pay off).
Strong security is one reason why BlackBerry's QNX platform is the leader in car computing, used inside 60 million cars from 250 different manufacturers, he said. Strong security is also a differentiator that helped our AtHoc division win a $20 million, multi-year contract last month from the Department of Veterans Affairs to provide secure crisis communications.
"Security is what we do. Privacy is what you get," said Chen. "We have the most trusted networks outside of the carriers themselves – it is what we offer and how we think about our business."
Security is also why BlackBerry strongly supports the U.S. Government's push for consumer services to use multi-factor authentication. Security also creates a "tremendous" opportunity for BlackBerry in the Internet of Things era, as the need to ensure that machine-to-machine communication remains safe from prying eyes also emerges.
Chen pointed out that even in phones such as the PRIV, Passport and Classic, it is the security secret sauce that is the key differentiator. "PRIV combines the best of BlackBerry – security and encryption but with the best of Android," he said. He also reaffirmed BlackBerry's commitment to the BlackBerry 10 platform, with two updates due this year, including the coming 10.3.3 version compliant with the NIAP security certification.
Chen, who was joined on stage by other BlackBerry executives, including President of Global Sales Carl Wiese, Executive President for Corporate Development and Strategic Planning, Jim Mackey, and President of our AtHoc Secure Messaging Division, Guy Miasnik, also reiterated that BlackBerry will work with governments around the world, not fight them. "We need to be the world's best citizen first and business second," he said.