For patients in the emergency room, long wait times can mean vast differences in health outcomes. Even in less critical medical situations, delays in being seen by a doctor can add stress and frustration to an already difficult situation, as well as increase the chance that the patient's condition will worsen or other problems will emerge.
On February 3, I hosted a BlackBerry webcast on Clinical Collaboration and Hospital Staff Coordination, along with two Ontario hospital executives – Kathleen Lavoie, Chief Information Management Officer and Chief Privacy Officer at Grand River Hospital, and Sarah Padfield, Chief Operating Officer at Chatham-Kent Health Alliance – to explore the reasons staff communication and collaboration is so complicated in the hospital and what these two hospitals have done differently to make it work well.
(Mobility gives healthcare organizations a way to efficiently deliver the best quality patient care. However, with so many issues to consider, how do decision makers create a solid game plan for adopting secure mobility in healthcare? The BlackBerry Guide to Mobile Healthcare is a great start. Click here to get your free copy.)
According to data from the Joint Commission, 70% of treatment delays and sentinel events (i.e., unexpected deaths or serious injuries) in the hospital are caused by communications breakdowns. Improving and speeding communication within the hospital is essential to solving these problems.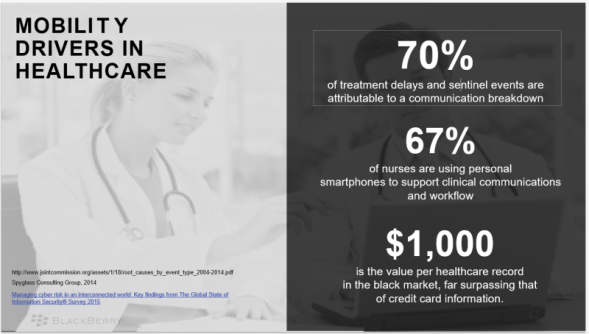 The good news is that doctors, nurses and other hospital staff are already using mobile devices to communicate with one another. The bad news is they are using their personal smartphones and tablets – 67% of nurses are using personal smartphones to support clinical communications and workflow – and they may not have the high levels of security that healthcare communications should have. Nurses are most concerned with doing the right thing for patients, but using their own, unsecured devices is not secure nor as efficient as an enterprise solution would be.
How hospitals are collaborating securely
Mobile healthcare facilitates efficient and secure communication throughout the hospital, improves patient care and lowers costs. During the webinar, Grand River Hospital's Lavoie and Chatham-Kent's Padfield shared how they're using BlackBerry UEM (Unified Endpoint Manager) formerly known as BES12, with BBM to do clinical collaboration right. The entire Clinical Collaboration and Hospital Staff Coordination webcast is archived so you can watch it at your convenience, but here are a few things we discussed.
Ontario has clear guidelines and standards for how to communicate patients' personal health information (PHI) via mobile devices, and BlackBerry is helping Grand River Hospital meet them, said Lavoie. "BlackBerry has the only tool I've found that will provide a healthcare setting with an end-to-end secure mobile solution, meaning it protects data in transit and data at rest," she said.
Lavoie noted the value they've gotten from BBM Enterprise's (formerly known as BBM Protected) abilities to let staff see who is on call; communicate with a team about a specific patient; find a person in a contact list through a standardized professional naming convention; and create priority for messages.
Padfield said BBM paired with Oculys Health Informatics tools has improved visibility into how patients flow through the system, which helps them predict and optimize the flow and eliminate bottlenecks.
Before the new systems came online, the average wait time for a Chatham-Kent emergency department patient to get into an inpatient room was 9.3 hours; today it's down to 3 hours, a 67% decrease.
And this translates to measurable outcomes for patient care, as well. As Lavoie said, "we can't take chances because we're dealing with patients' lives here."
Listen to the archived presentation
Clinical Collaboration and Hospital Staff Coordination, along with BlackBerry webcasts on a variety of topics including Why Home Healthcare Should Go Mobile, is available for playback at BlackBerry Enterprise Webcast Central.