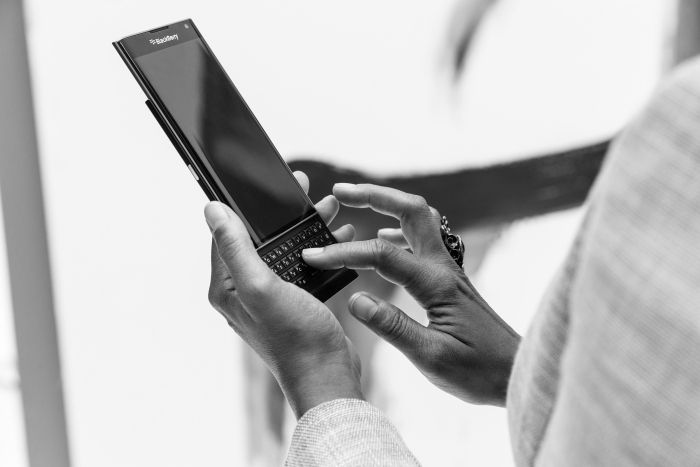 Samuel Johnson was quoted as saying "people need to be reminded more often than they need to be instructed." These reminders could take many forms, such as memo notes on the refrigerator to a dutiful significant other or parent, because some people do need reminders. It's not necessarily that they're lazy, they just need to be focused.
What I used to do was carry scraps of paper with incomplete points of information. My left handed handwriting is difficult enough to read as it is; sometimes even I can't figure out what I've written down. Those papers then tended to get lost in my desk, around the house or even in my messenger bag. It's not very efficient, and it's certainly not good for the environment. What I needed was a good nag. I decided that I should use my BlackBerry to help me contain this mess.
During my transition from my BlackBerry Z30 to the PRIV as my daily device, I was able to incorporate new reminder options to help me stay on track. With the PRIV in hand, I have easy, no holds barred access to the Google Play store and, by extension, some powerful apps to keep me in the know. Here are some of the apps and services I've found most useful.
When I started using Google Now, I had to get used to saying "Ok Google, remind me to…" instead of "honey? Can you remind me to…" While Google now lets me use my voice, I find the manual input method is a little more discreet for me, especially when in meetings. I'm almost filled with a false sense of importance saying "OK Google." Perhaps it's because it has replaced "note to self" as the new way to diffuse embarrassing situations.
Taking the time get to know the Google Now app, I realized just how handy it is; it gives me what I need when I need it. It can help me in my daily commute so I know when I should be arriving, or let me know how the Vancouver Canucks are doing when I'm unable to watch. I'm also easily notified of the weather. I can almost hear my mother's voice saying, "wear your jacket or you'll catch a cold!"
Google Keep is another way I maintain my lists, tasks and abstract thoughts. Think of it as a post-it note, but much more powerful, versatile and free of paper cuts. I can jot down everything that's on my mind, anything that catches my interest, without causing me to lose a beat. To make sure that I don't get lost in staring at something shiny, I can associate reminders with each entry.
Regardless of the version of BlackBerry OS or BlackBerry 10 I was running, I could always count on Evernote to be the hub of my random thoughts and notes. The same can be said with Evernote on my PRIV. All of my data is available, no matter how or where I access my Evernote account. I can update a note from my PC and carry over the thought process to my device when I leave the office. Reminders are key, and Evernote can help me set those as well. Evernote will always be on my list of favourite apps because it's easy access to anything and everything that I've ever entered. Snapshots, notes, even emails can be forwarded/copied into Evernote for quick reference. It's better than saving every email on my BlackBerry or waiting for a remote search result.
Remember the Milk is another app that I widely used on my BlackBerry Z30, and I still use it today. Remember the Milk is more task oriented and can also allow me to manage my Evernote Reminders without having to switch apps. The app will sync once per day with its online version, which may be slightly limiting and is a deterrent when considering if I should use it exclusively. Thankfully, this doesn't stop me from making sure I can see what's due, when the tasks are due and which of them can be completed near my current location. Like the BlackBerry Remember app, RTM makes use of tags, to I can group multiple tasks into one project, which helps me check its progress. My favourite feature is the ability to set task priorities. Especially with projects, I get line of sight as to what I need to address first.
I may not be the best cook, but I can shop like a master! That is, of course, if I can remember what to pick up on the way home. OurGroceries helps keep my wife and me in sync when it comes to a shopping list. We can each manage the same list and see the correct information. Just when I think I can check out at the store, I can see what has been added to the list. She can see my progress and be amazed at my grocery aisle agility. Simple and handy, just like me! One feature I think would help improve its efficiency is to be able to manage the quantity of items as they are added, rather than having to edit after the fact. Other than that, I'm a happy shopper.
I have to admit that one of the reasons why I had stress-free transition from my Z30 to the PRIV was because of notes and reminders. While I'm still getting used to OK Google, I still consider Evernote and OurGroceries as key players in my day to day. Evernote keeps my "genius" random thoughts in order, while OurGroceries keeps me within our grocery budget (and out of the junk food aisle). If I have the right tools, and a great nag, I can get through my busy day without forgetting to…wait…I know this…