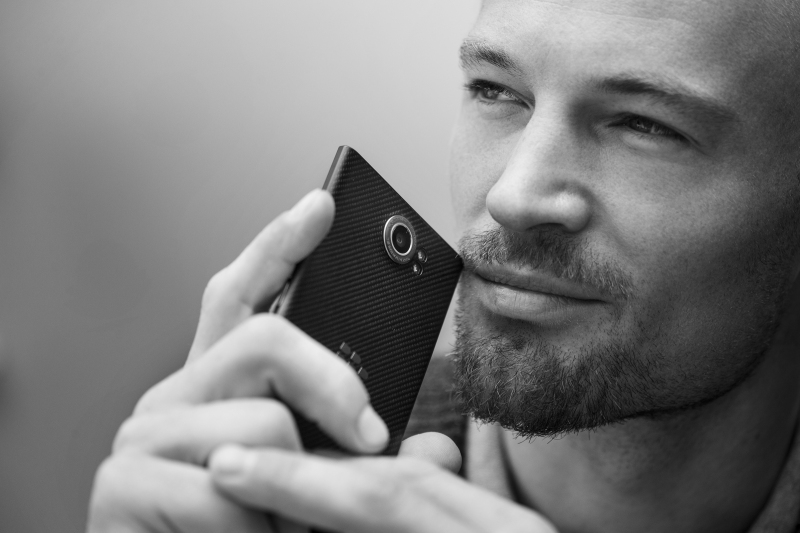 This is it; this is the year that you're going to make your big professional move. You're going to show your boss that you're capable of much more. You've had your PRIV for a few weeks now, and have spent time admiring the security it provides for your private information. But instead of using it for business, you've been too busy downloading games from the Google Play Store.
It's time for change.
It's a widely known fact that BlackBerry means business, so it's sensible to assume that a BlackBerry-secured Android experience needs to be used for its work-related potential. (Okay, you can play games on your lunch break.)
The Google Play Store is home to some incredibly powerful, versatile and intuitive apps meant to be used by power users in their daily work life. If you're looking to stop fighting for a high score, and want to start fighting for career advancement, take a look at these business-focused apps for your PRIV.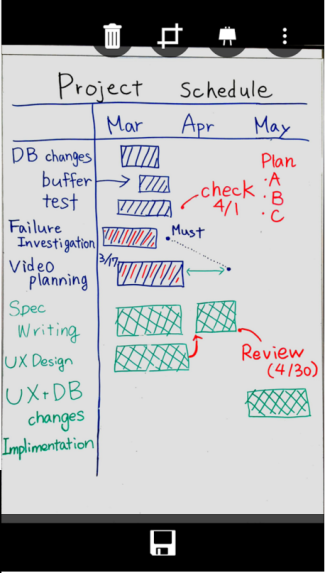 Some of the greatest ideas and planning sessions are created on whiteboards or blackboards. The problem is that your erasable masterpieces don't usually translate well into text documents. Using your smartphone camera is an easy solution, but it's often it difficult to read your text in a photo. Office Lens goes beyond simple image capturing.
If the image includes printed text, it's converted into data that can be edited or searched and can then be saved as a .docx, .pptx or .pdf file that is automatically saved to Microsoft OneDrive. Rather than try to remember what your boss scribbled on the whiteboard, use Office Lens to capture it for future deciphering.
Fancy yourself a problem solver? Do you enjoy being the troubleshooting hero of the office? TeamViewer can help you be the one everyone can rely on, even if you aren't there in person. It offers secure, remote access to a computer, even behind firewalls and proxy servers. With the PRIV, you can really make use of the physical keyboard and large touch screen for full control.
TeamViewer also provides chat options between users or groups; being able talk through an issue really helps open the channels of communication for troubleshooting. You could even use it to connect to your home PC to send yourself the report you're presenting tomorrow.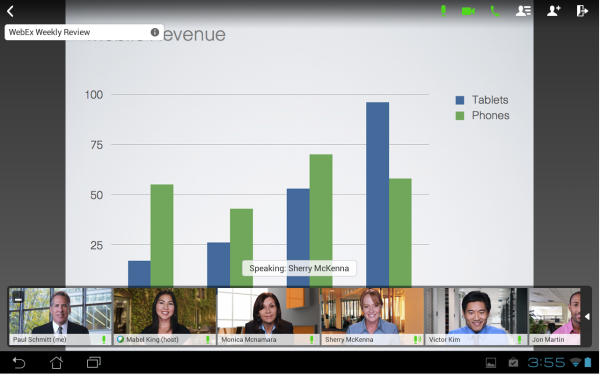 WebEx makes videoconference meetings more personal.
While you're out there, proving you're deserving of that next promotion, you still need to attend important meetings. Who says you need to be sitting in the board room? Cisco WebExMeetings provides high-quality, multipoint videoconferencing wherever you are. No longer are you a voice lost in the crowd of other teleconferences. You and the other attendees can view content simultaneously, leading to powerful, thought-provoking and productive meetings. It's as good as face-to-face without having to be physically face-to-face.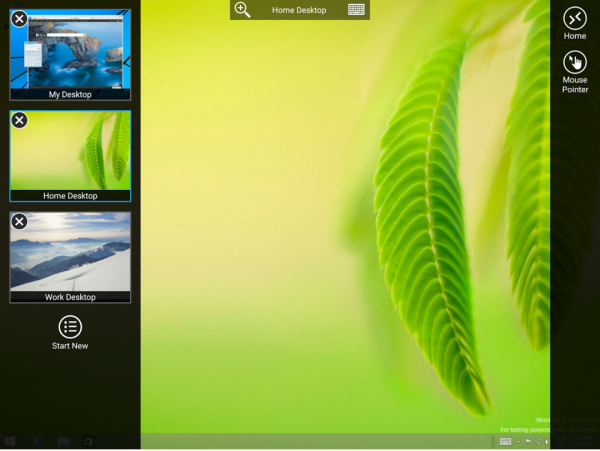 Like TeamViewer, Microsoft's Remote Desktop Android application (right) is your gateway to viewing documents and applications on a PC without having to actually touch the device. The major difference is that Remote Desktop doesn't require you to install any additional software on your PC; all you have to do is enable remote connections on your PC and then set up the connection. Again, this type of app comes in handy, especially if you left files on your computer at work that you need for an important meeting with a client. Windows gestures are recognized and supported, making it a true remote experience.
Think of Evernote as the filing and recollection system that your brain needs to mimic. With Evernote, you can efficiently record notes, upload documents or even snap pictures for later reference. Perhaps you're looking to develop a groundbreaking new project. Rather than sorting through pieces of scrap paper or napkins with scribbled notes or trying to remember intricate details, Evernote is the pachyderm that can pack it all away in its trunk for safe keeping. All of your information can be retrieved from any device: your tablet, PC or your PRIV. An elephant never forgets, and neither will Evernote.
With business apps like these on your PRIV, it'll be dressed to impress. Just make sure you follow suit, unless you want that promotion to go to your device instead. The PRIV gives you an amplified experience with Android apps, such as these, all the while securing your data behind a name you relate to privacy – BlackBerry.
Other apps to check out
With nearly 2 million Android apps available in Google Play, it can take time to find the apps you want. Check out the following reviews of some of the top apps available for your PRIV:
COMMUNICATIONS
BBM & Other Top Messaging Apps
Skype
Tango Networks Communicator
Voxer
FINANCE & SHOPPING
Amazon Shopping
Banking Apps
Suretap
HEALTH & FITNESS
Fitness Apps
HOME AUTOMATION
Smart Thermostats
MUSIC & ENTERTAINMENT
Apple Music
Entertainment Apps
Gameloft
Instagram
Spotify
PRODUCTIVITY & BUSINESS
Encircle
Essential Android apps
Microsoft Office
Thompson Reuters
Salesforce
Slack
TRAVEL & TRANSPORTATION
car2go