At BlackBerry, we have been very fortunate when it comes to developers. Not only do they love BlackBerry, but they love our BlackBerry 10 platform. So much in fact that many of them have and still call themselves Elite. BlackBerry Elites are an external group of individuals who work closely with BlackBerry in a variety of segments, including social, support and developer. I am privileged to manage the developer segment and work with these amazing people every day. With the launch of PRIV by BlackBerry, some of these Developer Elites took it upon themselves to port their native BlackBerry 10 applications to Android and support our latest and greatest device.
This post was originally published on Inside BlackBerry Developer Blog.
Explore the world like a game. Send geo-messages around the world, offering information about your area or places you are traveling. See what others are saying and respond. The world is your diary.
Every wonder how much you use your BlackBerry? Use Instant to automatically track the usage time of your BlackBerry. View and share the history of your usage to compare among friends.
This application is packed with very handy tools for a variety of uses. Set daily alarms or custom LEDs. Use goefencing to receive notifications when you enter or leave a location. Block unwanted phone calls or messages. This app has something for everyone!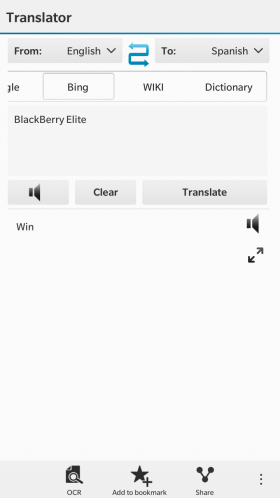 An easy, yet powerful translator. Use it to learn new words or phrases in other languages. Perfect for traveling the world. Use the audio function to hear the words.
Not just an ordinary stopwatch. Use buttons to quickly add or subtract minutes or hours. Compress time or speed it up.
The official LeaseWeb Texel Airshow 2015 app! Missed the event? Take a look at what happened with an overview of the program. Get ready for 2016's event!
These are just a few of the many amazing apps created by our BlackBerry Elites. Ensure you download the right apps by selecting your device platform (BlackBerry 10 or Android) link beside each app name.
For more from BlackBerry Elites, check out our Developer Blog to discover more high-quality apps for your BlackBerry device.
Other apps to check out
With nearly 2 million Android apps available in Google Play, it can take time to find the apps you want. Check out the following reviews of some of the top apps available for your PRIV:
COMMUNICATIONS
BBM & Other Top Messaging Apps
Skype
Tango Networks Communicator
Voxer
FINANCE & SHOPPING
Amazon Shopping
Banking Apps
Suretap
MUSIC & ENTERTAINMENT
Apple Music
Entertainment Apps
Gameloft
Instagram
Spotify
PERSONAL APPS
Fitness Apps
Smart Thermostats
Photo-Editing Apps
Weather Apps
PRODUCTIVITY & BUSINESS
Encircle
Essential Android apps
Microsoft Office
Messaging apps
Notate for Good
Polaris Office for Good
Thompson Reuters
Salesforce
Slack
TRAVEL & TRANSPORTATION
car2go
If you want to know more about PRIV, check out what our fans are saying, look at the official PRIV product page and watch our how-to demos. If you are wondering where you can get your hands on a PRIV, check out our availability blog. Many carriers such as AT&T in the U.S. and Rogers and Bell in Canada are also offering PRIV at new, lower prices (as low as $299.99 on two-year contract in Canada or $21.34/month with zero down at AT&T).