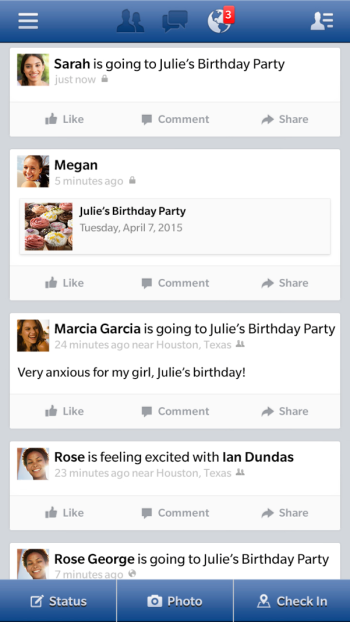 There has been much news regarding our recent blog post about Great Apps on BlackBerry and I want to clarify that Facebook will continue to support BlackBerry 10 and BBOS. The experience will be slightly different, but you'll still get the same Facebook features you love (see right). And, of course the full Android Facebook app is available on the PRIV by BlackBerry.
Our fans are fighting for us (#WeAreBlackBerry), and we love their support (#ILoveBB10Apps). That's why we have worked hard with Facebook to address some technical challenges and the best solution was to move forward with a Web-based app.
For those just hearing about this news, we have an updated web-based Facebook app that replaces the native app for BlackBerry 10 and BBOS. The update is required because the native app will stop working on March 31. The new web-based Facebook app provides additional features not available on the native app, such as:
Ability to reply to comments and see replies to comments.
All posts should be loaded, no more "News feed could not be retrieved" or "Post could not be loaded" messages (unless the post was actually removed).
Any features available to Facebook website users will be available to you in the updated application.
We'll continue to keep you updated of any new developments. To transition to the Web-based experience on March 31st, visit BlackBerry World on your device and apply the available update for the Facebook application at the following links:
For more information, please visit the support page at: http://ca.blackberry.com/support/business/software-support-life-cycle.html