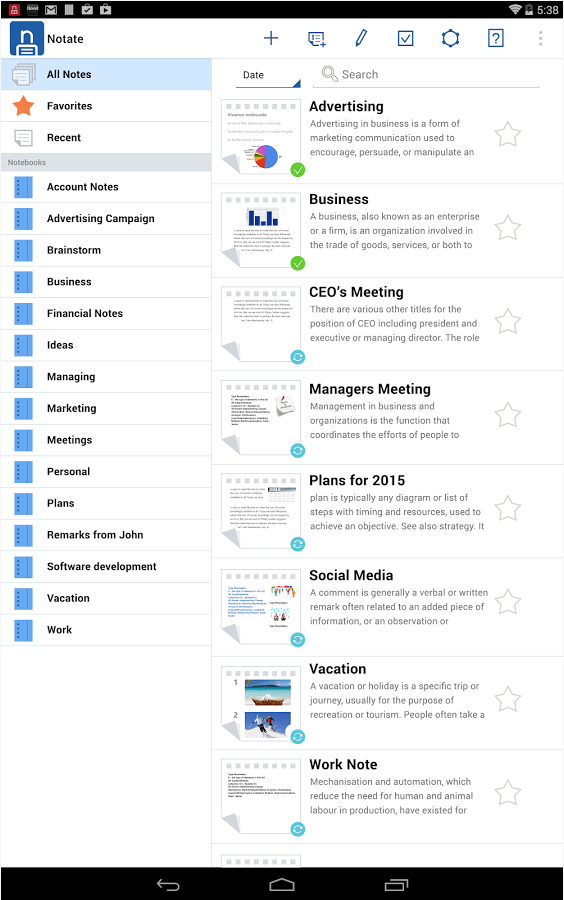 If you're in a meeting, chances are you're taking notes. If you're having an interview with a client, chances are you're taking notes. If you work at all, chances are you're taking notes.
No matter how absorbent your memory, you have to jot down details from time to time. Note taking helps keep thoughts, decisions and queries organized and easy to review. Ideas and plans may be fresh at the end of a meeting, but they gradually degrade with each footstep toward your next destination. Mobile technology affords us many ways to digitally capture facts and ideas, nearly eliminating the need to carry a pen and pad of paper. The question is, which option will work best for you to keep your notes organized, secure and easily retrievable?
Notate for Good, a secure, professional way to record important data, is one excellent option. Listed on the Good Marketplace and available through Google Play, Notate was named Good Technology's 2014 Most Innovative Partner of the year. The software allows you to bring all of your Outlook notes and tasks wherever you are, while securing them with FIPS-certified encryption and mobile device management (MDM) integration. Notate is far more secure than loose-leaf notes that can easily be misplaced or accidentally discarded.
Notate uses your existing corporate Exchange server to ensure data is synced and backed up. It doesn't need an additional server to operate nor save your data in the cloud. And, if PRIV by BlackBerry is your smartphone of choice, your Notate data gains the added security of BlackBerry's default device-level encryption and DTEK privacy on the Android platform.
Instead of spending time gathering your notes and filing them along with related images and other multimedia files, you can use Notate to surface everything you've recorded, in an organized and flexible fashion, with powerful sorting and searching methods. Also, its multiplatform capabilities allow you to access your notes on Windows or Mac computers, as well as your Android and iOS mobile devices.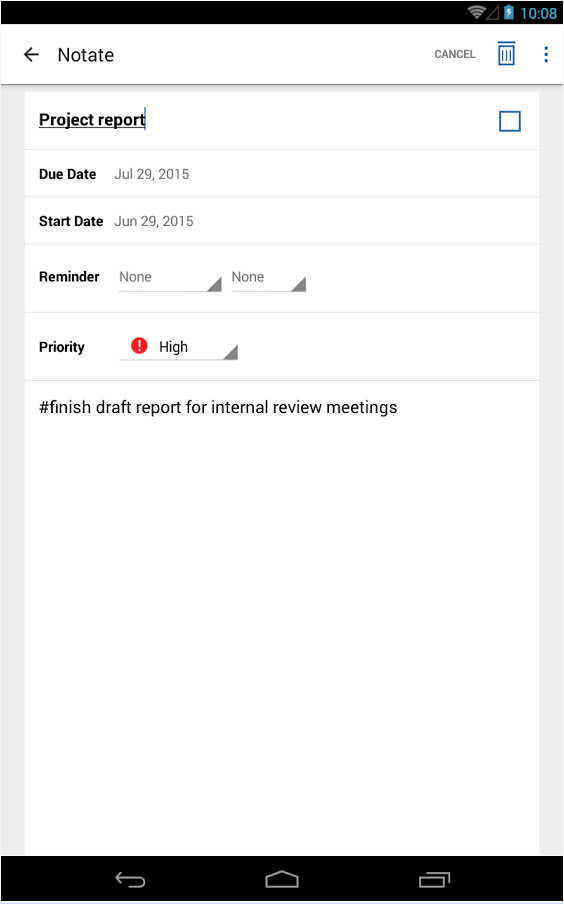 Notate's features include:
Access your notes & tasks everywhere, online or off
Collaborate with team tasks and team notes
Capture images and annotate them
Record meeting audio
Make handwritten notes and drawings
Attach important documents
Save web clips or email conversations for later reference
Notate for Good also helps project or department teams share results, details and reports quickly and efficiently. No longer will you have to squint your way through horrible handwriting, trying to decipher a colleague's hasty scribbles. It's also secured behind the Exchange syncing and application firewall policies set by your administrator, which prevents unauthorized individuals from accessing valuable, private or proprietary details.
PRIV, BlackBerry's secure smartphone powered by Android, offers a superior Notate for Good user experience. Its slide-out QWERTY physical keyboard leaves the stunning 5.4″ screen free to display your notes, images and mobile apps. The 18-megapixel, OIS fast-focus camera guarantees successful capture of whiteboards, popup displays or marketing collateral images in Notate.
Notate for Good plus PRIV means note-taking done right, done professionally and done securely.
Other apps to check out
With nearly 2 million Android apps available in Google Play, it can take time to find the apps you want. Check out the following reviews of some of the top apps available for your PRIV:
COMMUNICATIONS
BBM & Other Top Messaging Apps
Skype
Tango Networks Communicator
Voxer
FINANCE & SHOPPING
Amazon Shopping
Banking Apps
Suretap
MUSIC & ENTERTAINMENT
Apple Music
Entertainment Apps
Gameloft
Instagram
Spotify
PERSONAL APPS
Fitness Apps
Smart Thermostats
Photo-Editing Apps
Weather Apps
PRODUCTIVITY & BUSINESS
Encircle
Essential Android apps
Microsoft Office
Messaging apps
Polaris Office for Good
Thompson Reuters
Salesforce
Slack
TRAVEL & TRANSPORTATION
car2go
If you want to know more about PRIV, check out what our fans are saying, look at the official PRIV product page and watch our how-to demos. If you are wondering where you can get your hands on a PRIV, check out our availability blog. Many carriers such as AT&T in the U.S. and Rogers and Bell in Canada are also offering PRIV at new, lower prices (as low as $299.99 on two-year contract in Canada or $21.34/month with zero down at AT&T).