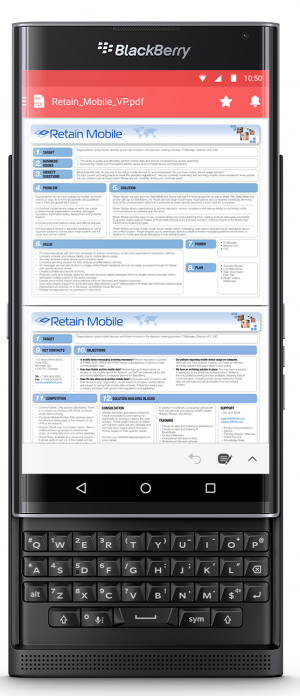 As more and more of us are doing at least part of our jobs remotely, rather than in the office, there's an increased need for solid mobile applications that allow us to create and access files anywhere we go. In the early days, we were limited in our choice of office productivity apps, but they have become much more powerful tools to help us work while we're away from work. More reliability, more options and more accessibility: all of these make for happier remote workers.
The Android-based PRIV ups our options with BlackBerry's top-notch security capabilities along with unlimited access to the wide world of business-productivity apps in the Google Play store. One of those apps is the standard version of Polaris Office, which comes preinstalled on a variety of popular Android devices: over 900 million mobile devices globally, to be a little more specific. While this is great for consumers, what if you're working in an enterprise environment?
There's good news for corporate clients running on the Good Dynamics Secure Mobility Platform. These organizations have access to the Good Mobile Alliance ISV Ecosystem, where they can access secure and trusted apps including Polaris Office for Good and Polaris Viewer for Good.
Polaris Office for Good is designed to allow employees to access and edit multiple types of PC-created document formats across various devices; including PRIV, as well as other smartphones and tablets. Unlike the consumer version, the secure enterprise version of Polaris Office for Good prevents access by unwanted third parties and offers military-grade encryption to help administrators maintain critical privacy and security of files. This, however, does not limit its versatility or your access to much needed files and folders. In fact, it sports rapid document loading and response time while still providing increased security when handling files.
Polaris Office for Good touts its compatibility with Microsoft Office documents; this is important since there are over 1 billion Office users in the world. At your thumbs (or fingertips, whatever your input style is), Polaris offers well over 300 editing options for your Word, Excel, text, PDF, and PowerPoint documents. This makes the difference between a well-documented report and a well-documented and presentable report. You can put the finishing touches on a presentation while waiting for a caffeine fix at the local coffee shop, or update your expense report before an important meeting with a client.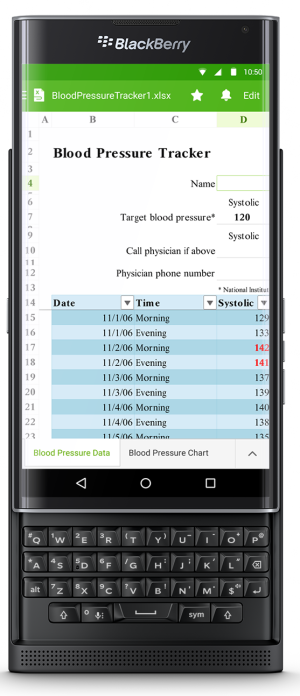 Other features include:
Document editing with a best-optimized mobile user experience environment
More than 50 languages supported
Ability to view and edit languages that read from left to right or right to left
Polaris Viewer for Good is an excellent companion app that provides a beautiful visual experience with high-quality rendering. Your charts and images can be seen and understood without confusion. It also includes slideshow mode, complete with transition animation and pointer and drawing for slideshows.
Having remote access to your files is important, especially for those of us who work remotely, but so is ensuring the data is encrypted to prevent unauthorized access. Fortunately, PRIV increases mobile security with DTEK and other features to authenticate and monitor access to private data. PRIV's full QWERTY physical keyboard is unparalleled in helping you edit documents with speed and precision, while the touchscreen keyboard adds flexibility.
If you're an enterprise user who uses and manage files on the fly, Polaris Office for Good on the BlackBerry PRIV is your best option for blending enterprise productivity and security.
Other apps to check out
With nearly 2 million Android apps available in Google Play, it can take time to find the apps you want. Check out the following reviews of some of the top apps available for your PRIV:
COMMUNICATIONS
BBM & Other Top Messaging Apps
Skype
Tango Networks Communicator
Voxer
FINANCE & SHOPPING
Amazon Shopping
Banking Apps
Suretap
MUSIC & ENTERTAINMENT
Apple Music
Entertainment Apps
Gameloft
Instagram
Spotify
PERSONAL APPS
Fitness Apps
Smart Thermostats
Weather Apps
PRODUCTIVITY & BUSINESS
Encircle
Essential Android apps
Microsoft Office
Messaging apps
Thompson Reuters
Salesforce
Slack
TRAVEL & TRANSPORTATION
car2go