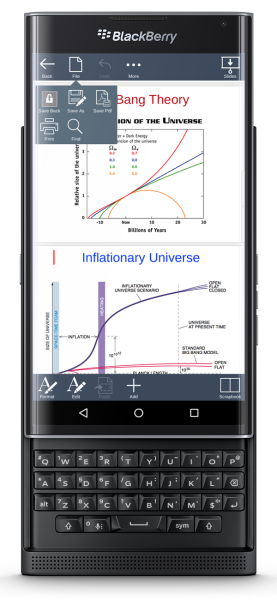 Microsoft Office is the most popular document creation software suite around, and its products – notably Word, PowerPoint and Excel – have become commonplace at work, at home and at school. No matter what line of work you're in, and from your first essay to your last will and testament, documents are an everyday part of our lives.
While Office makes it easy to convey your data, ideas or information in a report, spreadsheet or presentation, where we often get stuck is on mobile management of the files. While both the Google Play Store and the Good Marketplace are populated with apps to help us manage our daily documents, SmartOffice 2 for Good's versatility lands it at the top of the list. The developer, Artifex Software, boasts that SmartOffice provides the "best document quality conformance with MS Office standards on the market today."  I can't say they're lying!
Through the SmartOffice 2 for Good app, Good Dynamics Powered by BlackBerry users can fully access and manage office document files, create documents from scratch, edit and share revisions, and even convert files to PDFs, right from their smartphones. It's all done quickly and smoothly, allowing you to keep on top of the needs of colleagues and clients alike, all the while staying mobile and not missing a beat.
Its features include:
View, edit and create Microsoft Office documents
Create new documents from scratch or using a variety of optional templates
Edit text and information directly in an Office document
Save in the original file format or convert to PDF
Annotate PDFs with comments, highlights and freehand shapes
Change fonts, colors, alignment, image location and other formatting options
Recalculate spreadsheets and update charts with new formulas
Present PowerPoint slideshows directly from your mobile device
Send and receive email attachments
Save securely to the Good Secure Container in the original format without losing data
Adapt the display to fit smartphone or tablet screen size
Use multi-touch gestures
Use high-performance loading and zoom to any size
Print to thousands of wireless printers (where permitted by IT policy)
SmartOffice 2 for Good supports Microsoft Office versions as far back as 1998 (for viewing and editing). And, at just over 20MB, it's a slim addition to today's mobile devices, like PRIV by BlackBerry.
PRIV's security and productivity features make SmartOffice 2 for Good an even better way to manage your Microsoft Office documents. BlackBerry's security enhanced version of Android opens up the entire Google Play store of apps while protecting your device and documents with hardware-level cryptography, full-disk encryption by default, aggressive security patching and the DTEK privacy app. Its 5.4" immersive dual-curve, touchscreen display, combined with the slide-out QWERTY physical keyboard, offers plenty of screen real estate to work on your documents, all with a practical, typo-reducing and visually rich experience.
SmartOffice for Good is document management done right; combined with the PRIV by BlackBerry, it's document management done securely.
Other apps to check out
With nearly 2 million Android apps available in Google Play, it can take time to find the apps you want. Check out the following reviews of some of the top apps available for your PRIV:
COMMUNICATIONS
BBM & Other Top Messaging Apps
Skype
Tango Networks Communicator
Voxer
FINANCE & SHOPPING
Amazon Shopping
Banking Apps
Suretap
MUSIC & ENTERTAINMENT
Apple Music
Entertainment Apps
Gameloft
Instagram
Spotify
PERSONAL APPS
Fitness Apps
Smart Thermostats
Photo-Editing Apps
Weather Apps
PRODUCTIVITY & BUSINESS
BlackBerry Developer Elite Apps
Encircle
Essential Android apps
Microsoft Office
Messaging apps
Notate for Good
Polaris Office for Good
Thompson Reuters
Salesforce
Slack
TRAVEL & TRANSPORTATION
car2go
If you want to know more about PRIV, check out what our fans are saying, look at the official PRIV product page and watch our how-to demos. If you are wondering where you can get your hands on a PRIV, check out our availability blog. Many carriers such as AT&T in the U.S. and Rogers and Bell in Canada are also offering PRIV at new, lower prices (as low as $299.99 on two-year contract in Canada or $21.34/month with zero down at AT&T).