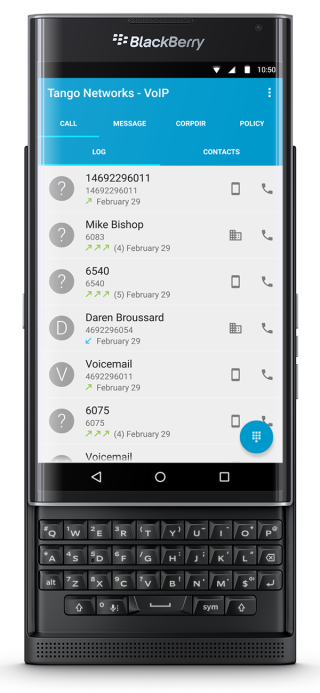 Effective communication and collaboration are key to succeeding at work. Think about your workplace: Do employees have direct phone extensions? Do you have a corporate instant messaging solution? Or, do you just yell down the hall, hoping someone will hear you?
In order for collaboration to work, there must be options that enable meaningful, productive conversations without everyone having to be in the same room. In today's mobile work environment, having a powerful, portable method for collaboration is a complete necessity.
You can count on PRIV by BlackBerry to deliver the best communication tool, with the best application experience amplified by full access to all the apps in the Google Play store. Google Play offers plenty of content-rich communications solutions, but if you're ready to do the voice-and-chat dance, you might as well tango!
Tango Networks Communicator, powered by Tango Networks, puts the "power of your corporate desk phone" on your PRIV. It enables organizations that have a corporate Tango Networks Hosted or on-premises Accelerator server software for business accounts to offer an easy and powerful way for employees to communicate through voice and messaging.
With the Tango Networks Communicator app, users can dial a colleague from their mobile device using their direct inter-office extension, just like they would from their desk phone. Because users can search the corporate directory right from their phone, there's no need to save every employee's number in their phone's contact list.
Features include:
Identity Management: Want to present your enterprise number to your colleagues and external business clients and your mobile number to personal friends and family members while using the app? Set up server policy rules to determine just that. Or if you like, you can decide how to present yourself on a call-by-call basis through the touch of a button.
Policy Rules: Choose which set of server side policy rules are active. Is your boss bothering you while on your day off? An "out of office, do not disturb" policy can take care of that (maybe).
Corporate Directory Lookup: Need to reach someone within your company, but don't remember their number? Search your company's corporate directory, and call or email them directly from the app.
VoIP Calling: Out of minutes or traveling overseas? Utilize the app's built in Voice over WiFi/3G/4G capability to place and receive calls on the data network, bypassing use of voice minutes.
Business Messaging Service: Want to exchange messages with another mobile device without exposing your personal mobile number? Tango Networks Communicator allows you to use your business phone number to send and receive messages on your smartphone, so you can use one phone number for all corporate communications. (Tango Networks' Business Messaging Service is available to U.S. business of all sizes; coverage outside of the U.S. is coming soon.)
Tango Networks Communicator is best experienced on PRIV by BlackBerry. What better way to use enterprise-grade messaging than with a smartphone that has an outstanding slide-out physical keyboard, an unparalleled Android performance wrapped in BlackBerry security, and a large display that helps you easily navigate through all your messages and contacts? Be confident in knowing that all of your data is bolted down with BlackBerry's hardening of the Android OS.
Tango Networks Communicator and the PRIV by BlackBerry will have you dancing with hassle-free business communications.
Other apps to check out
With nearly 2 million Android apps available in Google Play, it can take time to find the apps you want. Check out the following reviews of some of the top apps available for your PRIV:
COMMUNICATIONS
BBM & Other Top Messaging Apps
Skype
Voxer
FINANCE & SHOPPING
Amazon Shopping
Banking Apps
Suretap
MUSIC & ENTERTAINMENT
Apple Music
Entertainment Apps
Gameloft
Instagram
Spotify
PERSONAL APPS
Fitness Apps
Smart Thermostats
Photo-Editing Apps
Weather Apps
PRODUCTIVITY & BUSINESS
BlackBerry Developer Elite Apps
Encircle
Essential Android apps
Microsoft Office
Messaging apps
Notate for Good
Polaris Office for Good
Thompson Reuters
Salesforce
Slack
TRAVEL & TRANSPORTATION
car2go
If you want to know more about PRIV, check out what our fans are saying, look at the official PRIV product page and watch our how-to demos. If you are wondering where you can get your hands on a PRIV, check out our availability blog. Many carriers such as AT&T in the U.S. and Rogers and Bell in Canada are also offering PRIV at new, lower prices (as low as $299.99 on two-year contract in Canada or $21.34/month with zero down at AT&T).