The Samsa ransomware family has recently been observed in conjunction with several notable and high profile attacks. Also known as 'Samas' and 'SamSam,' this particular ransomware's targeting appears to focus primarily on the healthcare industry, but confusingly, there are Samsa campaigns that deviate from that focus as well. While many outlets are speculating on which attacks are associated with this threat family and which are not, we would like to focus on one of the more intriguing aspects of the attacks.
One thing that has become clear recently is that the actors behind Samsa are taking a unique and 'hands-on' approach to their targets/victims. That fact alone sets these campaigns apart from most of the others that have hit the news lately. We'll go into some high level detail on that at a later date, along with releasing a more detailed analysis of this threat family and the actors behind it.
With this update, we aim to show our customers and the public that, as with other recent and equally destructive threats, CylancePROTECT is able to entirely prevent execution of the ransomware and stop Samsa cold. Cylance's technology is 100% effective in preventing known Samsa executables from running, and all risk to critical files and data is mitigated. We accomplish all this with an approach above and beyond traditional signature-based AV products, which are in a constant industry-wide game of 'catch-up'.
Samsa Attack Methodology – High-Level Overview
As stated previously, the approach used by the attackers in these campaigns is far more involved than other 'ransomware-centric' attacks that have hit the news lately. For starters, Samsa employs multiple tools for its initial infection, lateral movement and reconnaissance. There are also different variants of the encryption frameworks used over time, as well as across different victim environments.
Initial access is gained by compromising external-facing servers, such as exploitation of unpatched vulnerabilities on web or authentication servers where external interfaces are exposed. This approach differs from other ransomware variants like Locky and Petya in that the point of entry is not a phish/spear-phish email. Once the attackers have gained entry by way of the vulnerable service of their choosing, they then use a variety of standard Windows commands, benign tools, and other custom-built tools to move laterally and establish persistence.
In several of the environments Cylance analyzed, the first compromised host was used to scan and map out the internal network and plan the next set of movements within, as well as determine what options were available with regards to internal exploitation and manipulation. Often, artifacts of this activity were present in the compromised machine in the form of sets of batch files, SQL scripts, and data files that recorded the output of these actions: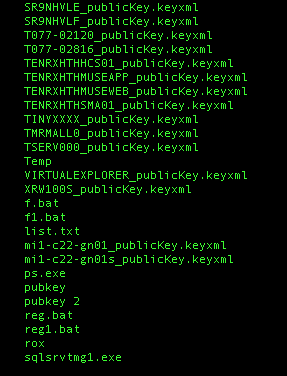 Figure 1: Samsa artifacts 1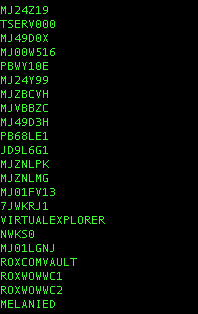 Figure 2: Samsa artifacts 2

Figure 3: Samsa artifacts 3

Figure 4: Samsa artifacts 4
Once internal hosts are identified and accessible, the next stage of infection begins. A keypair is generated for each host targeted, and the public key, along with required scripts and the ransomware binaries themselves, is distributed.
In some environments, we observed the use of standard tools, such as psexec.exe, to launch the ransomware binaries (Samsam.exe). There are reports of Volume Shadow Copy Service (VSS) data being deleted. The examples provided in FBI FLASH MC-000070-MW[1] do in fact confirm this functionality.
The Test: CylancePROTECT vs. Samsa
Regardless of the methodology involved, the end result of infection by Samsa ransomware is inevitable: malicious executables are allowed to run on the compromised victim hosts. Traditional antivirus (AV) products and technologies based on signatures have a very low detection rate on this particular threat family. It takes days, if not weeks, for their signatures to finally catch up, which as we know, is days/weeks too late. When ransomware executes on your machine, a waiting time of even a fraction of a second is too late. When a new ransomware variant is released, you simply can't afford to wait a day or longer for your traditional AV vendor to analyze files returned by their infected clients, manually create a signature 'antidote' to that variant, and release it - which is in essence how traditional antivirus works.
Cylance tested samples of Samsa and some of the related malicious executables. The results of this testing showed that CylancePROTECT is 100% effective against known Samsa executables. CylancePROTECT accomplishes this without downloading or updating signatures, or analyzing and observing the files prior to infection and attack.
It is our purely mathematical, machine learning driven approach that allows us to stop these attacks BEFORE they are ever allowed to execute, thus preventing any damage to your data - or worse, like in the recent attacks on medical environments, downed systems and the subsequent delays that may directly impact patient health and human life.
Cylance's researchers have released a video showing CylancePROTECT in action, stopping multiple variants of Samsa:
Believe the math!!
Indicators Of Compromise (IOCs) – Samsa SHA256 Hashes
cbc973f53ad2edcc316671785d41c96b3176efdc7369d9d94d4183d3f78318b0
a763ed678a52f77a7b75d55010124a8fccf1628eb4f7a815c6d635034227177e
7aa585e6fd0a895c295c4bea2ddb071eed1e5775f437602b577a54eef7f61044
ee1c0ca9787228d35a17e0083f05eba0146616f0543787b29bd567069a295e57
337b0532c035d5ff7575d749742029a1f86461d2391a324194086be1558f0413
76dec6a3719af5265d35e3fa9793972b96ca25a1d70a82a4ca0c28619051f48b
45e00fe90c8aa8578fce2b305840e368d62578c77e352974da6b8f8bc895d75b
5e7ab76187c73780cd53a6e2b9d0c9b4767172543ee56e7dc8cf4e8093fc6729
939efdc272e8636fd63c1b58c2eec94cf10299cd2de30c329bd5378b6bbbd1c8
b4d9339aa4df8abae92edf4bba969bec9dba06c9c9acf59214e6aeb258cae2ea
ffef0f1c2df157e9c2ee65a12d5b7b0f1301c4da22e7e7f3eac6b03c6487a626
89b4abb78970cd524dd887053d5bcd982534558efdf25c83f96e13b56b4ee805
979692a34201f9fc1e1c44654dc8074a82000946deedfdf6b8985827da992868
0f2c5c39494f15b7ee637ad5b6b5d00a3e2f407b4f27d140cd5a821ff08acfac
58ef87523184d5df3ed1568397cea65b3f44df06c73eadeb5d90faebe4390e3e
7e69b0c6b97c2e116e492f641c836d9d36093cefa3ed7ee53fcaa052bedcde53
6bc2aa391b8ef260e79b99409e44011874630c2631e4487e82b76e5cb0a49307
362b1db3a7a36cbcf73554f0dbf63450d99e7f1e2b58b6d9bc375da080bdde30
47f9d6aa6e14e20efa8732ed9228e1806316c31a2fa5a359f30693c3ccbf0340
8c44b91b4f583c9042f100e197df6a0e5a8efc0f5032cb02f6ff9b505badb557
e682ac6b874e0a6cfc5ff88798315b2cb822d165a7e6f72a5eb74e6da451e155
f92bf62e6ab099fb2817e0c598b8fdf2882de464205da09fcd2937691a160f0c
036071786d7db553e2415ec2e71f3967baf51bdc31d0a640aa4afb87d3ce3050
946dd4c4f3c78e7e4819a712c7fd6497722a3d616d33e3306a556a9dc99656f4
e92d8dddeaa037ba22c5a004bba2e81e764fd38e6b49875c416810a619193976
972a15202a58786f1e5a5d17d307fdae28bbb3569e084c405100df645c84b10e
Additional Resources:
Ransomware and recent variants
What hospitals need to know about ransomware
[1] FBI FLASH MC-000070-MW distributed by the FBI to specific entities (TLP:GREEN) on March 25, 2016.