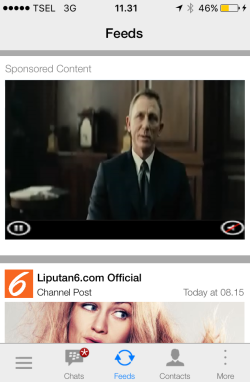 Last fall, we launched video ads in BBM, which appear in Feeds as "sponsored content." I'm happy to report that in just their first few months, we've hosted several successful video campaigns in Indonesia. We're bringing together consumers who love mobile video with advertisers who want to reach our highly engaged user base in many markets worldwide – including Indonesia, where we are the most popular messaging app.
Sony Pictures has promoted several of its biggest features to Indonesians in the last few months with BBM video ads. The film studio ran a campaign for the latest James Bond movie, Spectre, in October and November 2015, one for the thriller The Forest from January 4-10 this year, and another for Norwegian catastrophe drama The Wave from January 12-21.
Pure Baby ran a video campaign promoting its premium baby care products to Indonesian parents from January 15-31, driving video viewers to a dedicated microsite to register for prizes. As we're seeing enthusiastic uptake and great click-through and viewing numbers, I know this is just the beginning.
Video is advertising's next frontier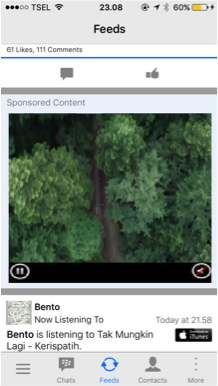 Why are we so excited about our video ads? People around the world are moving to mobile social media in huge numbers, and ad budgets are following them. Now that improved device technology and LTE networks have made mobile video a reality, it's a thrilling new way to interact with friends, family and, increasingly, our favorite brands.
In fact, mobile video spending tripled in 2015 from 23% of mobile ad spend in January 2015 to 66% in August 2015.
Mobile video is also widely predicted to keep growing exponentially over the next few years.
Consumers' adoption of mobile video is evidenced by the YouTube mobile app's "explosion in engagement on smartphones and tablets" since mid-2014, according to comScore's 2015 US Mobile App Report from late last year.
By 2019, videos will account for 80% of all consumer Internet traffic, and mobile data traffic will grow at a compound annual growth rate (CAGR) of 57%, according to The Cisco Visual Networking Index: Forecast and Methodology, 2014-2019 White Paper.
Video ads garnered 17 times more click-throughs than comparable static ads in business intelligence firm L2's recent study, reported in L2 Digital IQ Index®: Fashion 2015.
Better targeting, quicker shopping
Video is engaging on its own, no doubt. But there are other reasons why this is advertising's favorite new channel: more focused targeting and cost effectiveness.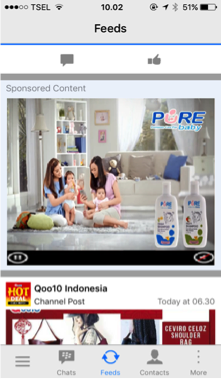 Social mobile apps like BBM offer better targeting than previously available to advertisers, in a way that's privacy-safe. With our customers' permission, we can use demographic data (location, age, etc.) and behavioral data (what BBM Channels people like), to help advertisers reach the people they want to, increasing the likelihood that they'll respond. This is really a win-win, because it increases cost-effectiveness for advertisers and increases the relevancy of ads that consumers see.
Geolocation, or being able to serve ads based on the geographic location of a mobile device, is also an exciting new opportunity that will likely become mainstream in the next few years.
Additionally, social mobile video can also offer one-click shopping. That's where a consumer watches a video from inside BBM, for example, and simply clicks a buy button to make a purchase. BBM is working to bring that functionality to consumers – and we have a start with all our new payment options.
The addition of video is part of our continuing work to evolve our ad units in BBM, keeping up with consumer demand – and providing an effective platform for brands and small businesses to reach them.