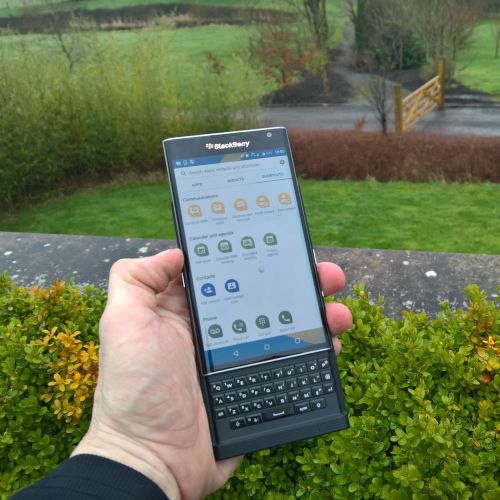 To say Jim O'Brien has had an interesting career would be putting it lightly. The Irish-born businessman has for the past 15 years worked for Nightline and Parcel Motel, two of Ireland's largest independent courier services. On the side, he runs Tech Buzz Ireland, a three-year-old tech industry blog and support site which was a finalist in the 2015 Ireland Blog Awards for Digital and Tech.
As if that's not enough, Jim's a top-rated moderator and support professional on some of the world's top tech forums and acts as a freelance technical consultant. He's also a part-time actor, a weekly guest on an Irish radio program, and has appeared on state TV.
A long-time proponent of Microsoft and Nokia, O'Brien is a recent convert to the BlackBerry world. When asked what inspired him to purchase the PRIV, he pointed to its unique design. The phone, he says, just stood out.
"The overall look of the phone just made it distinctive in every way," he explains. "I usually try to stay away from mainstream, slab-looking phones, and this one had a unique look and shape. And looks aside, it's a very unique device; a BlackBerry that runs Android, with all the security and productivity features that entails."
Jim isn't the only one who's taken with our unique take on Android. Check out these other PRIV users, including this teenaged tech CEO, these brotherly fashion executives, this Shark Tank host, this best-selling author and pastor, this TV chef, this international sales executive, this sports editor, this aerospace engineer, this manager at a major Dominican insurance firm, this entrepreneurial lawyer, and this consulting firm CEO. And don't forget to also read through PRIV's official product page, how-to demo videos and our latest review roundup.
Greene: You've got a pretty busy schedule – how does PRIV fit into all that?
O'Brien: Since I often work on the road looking after clients or connecting with people from my company, the PRIV for me is essential for my business. I'm usually up at around eight in the morning, whether I'm traveling or working from home, and I regularly have to balance my schedule around my business, Tech Buzz Ireland, and my family.
PRIV has all the aspects I need to do that – Google Maps is an essential part of my day-to-day, while applications such as Microsoft Office Mobile allow me to put together spreadsheets like invoices and send off documents on the fly. The camera's also proven essential for my blogging work, and its photo quality is excellent. Apps like the Hub tie all that together with Google Calendar and Event Reminders, which together help me stay organized.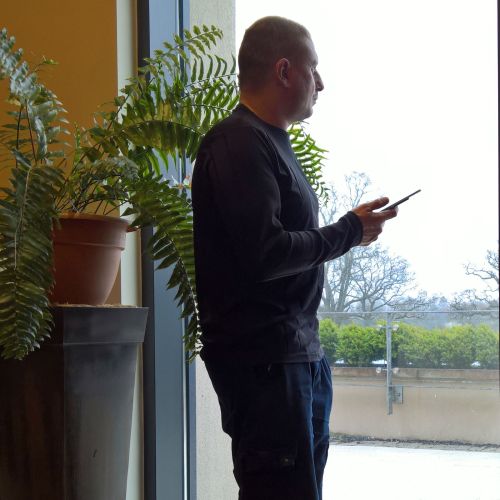 Greene: What really strikes you about PRIV? What couldn't you live without?
O'Brien: DTEK, for one. I like to know exactly what my installed apps are doing and how they're using my information – DTEK provides me with that insight, and serves as a nice touch atop BlackBerry's other security features. The keyboards, without a doubt, are also excellent. The physical keyboard makes typing, note-taking and documentation very simple and effective, while the virtual keyboard is great for quick messages and searches.
As I mentioned, I also quite like the physical design of the phone. When you hold it and slide it open, it's well-balanced in the hand, not too big or cumbersome regardless of whether or not you're using the keyboard. It's easy to use as a one-handed device, too.
Greene: What sort of reaction has your PRIV gotten from friends and colleagues?
O'Brien: A lot of people here haven't physically seen the phone, but the first thing they always notice is that it's a BlackBerry. Those who know me usually have one reaction; something along the lines of "What the hell, Jim? You've been an Android and Windows fan for years! Why are you using BlackBerry now?"
Then I show them the device. When they actually get a chance to look at it, to slide open the keyboard and feel it in their hands, they change their tune.  I'd say about 15 or 20 people I know bought their own PRIV based solely on my feedback.
Greene: How would you rate PRIV overall?
O'Brien: I'd rate it 9/10.
Want to learn more about the PRIV? See how Ryan Blundell feels about his, or check out what some top lifestyle bloggers have to say. Be sure to also check out why it's an incredible enterprise productivity tool, and listen to feedback from business development expert Jim Opfer. Finally, if you want a PRIV of your own, click here or head over to ShopBlackBerry to see what you can do to get one. Many carriers such as AT&T in the U.S. and Rogers and Bell in Canada are also offering PRIV at new, lower prices (as low as $299.99 on two-year contract in Canada or $21.34/month with zero down at AT&T).