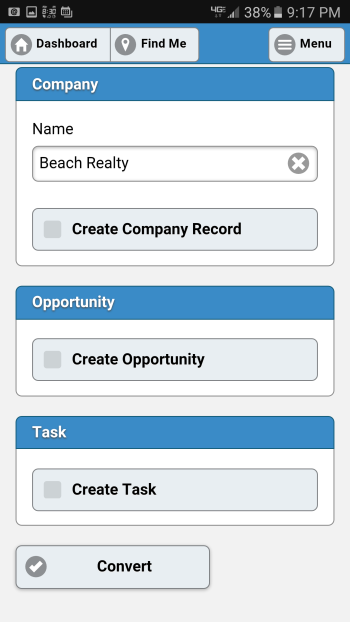 How effective is your customer database? Is it a series of completed work orders? Or is it a fully utilized set of records, complete with managed analyses of interactions? If you haven't thought about using a mobile customer resource management (CRM) application in your daily operations, you honestly should. No matter the size of your organization, a mobile CRM can make the difference between a great sales, marketing and service team and an outstanding one.
Some people think CRM is just a means to record sales or mark a service call as completed; it's so much more. A CRM app can show you so much about your client base. It helps you build and maintain relationships, develop trust, and learn trends and interaction needs. You begin to understand how to target solutions to clients' specific needs, leading to greater customer satisfaction, referrals and revenue.
A mobile CRM app, such as Swyft for Good Enterprise Edition, can make your field sales and services team more effective. Their smartphones become on-the-go data entry and gathering devices, eliminating the need to track interactions with pen and paper, then scan or transcribe their notes into software back at the office.
Swyft for Good Enterprise Edition, available in the Good Marketplace and in the Google Play store, is a completely secure mobile solution by Swyft Mobile for iOS and Android devices, including the Android Secured PRIV.
Swyft is focused on providing cost-friendly cloud-based solutions targeted at small and midsize businesses. Its goal is to help companies realize user efficiencies and automate all aspects of the sales process. Swyft easily mobilizes access to various CRM and ERP solutions, including Oracle Sales Cloud, Microsoft Dynamics CRM, SAP and Salesforce.
One thing that sets Swyft Mobile for Good apart is that it doesn't require installation on the enterprise side nor any additional IT resources. The solution doesn't store any private data (customer related or otherwise) on mobile devices. It stores the minimum details within a single record that is sent to the Swyft mobile app to be used only during that particular session.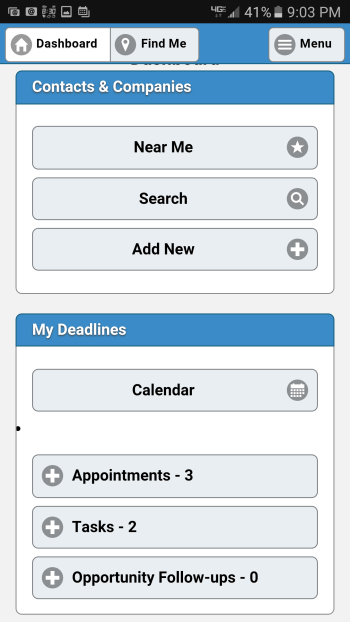 Regardless of your support requirements, the solution will help eliminate the need to run duplicate data management, enabling a paper-free work experience and real-time tracking of any type of information. Swyft Mobile for Good makes full use of Good Technology services in order to control access, authenticate and provide secure local storage.
PRIV makes the Swyft experience even faster and more secure. The BlackBerry physical keyboard provides the most accurate and comfortable typing experience. Accounts can be updated, invoices created and tickets resolved, all with ease. The keyboard also frees up the screen for full access to a client's account in the CRM. No distractions, no on-screen keyboard, just an unhindered view.
Plus, PRIV takes the security provided by Good Technology even further with a BlackBerry-secured version of the Android OS, plus features like DTEK security, rooting and jailbreaking prevention, FIPS 140-2 compliance and aggressive Android security patching.
Swyft and PRIV are rapidly setting the pace for true client management.
To learn more about how Swyft and PRIV can amplify your organization's CRM, register for our upcoming webcast, Mobilize Salesforce for Your Good Platform, on May 10 at 11 a.m. ET.
Other apps to check out
With nearly 2 million Android apps available in Google Play, it can take time to find the apps you want. Check out the following reviews of some of the top apps available for your PRIV:
COMMUNICATIONS
BBM & Other Top Messaging Apps
Skype
Tango Networks Communicator
Voxer
FINANCE & SHOPPING
Amazon Shopping
Banking Apps
car2go Car Sharing
Suretap
MUSIC & ENTERTAINMENT
Apple Music
Easter Holiday Apps
Entertainment Apps
Gameloft
Instagram
Spotify
PERSONAL APPS
Finance Apps
Fitness Apps
Smart Thermostats
Photo-Editing Apps
Weather Apps
PRODUCTIVITY & BUSINESS
BlackBerry Developer Elite Apps
Encircle
Essential Android apps
Microsoft Office
Messaging Apps
Notate for Good
Polaris Office for Good
PrintHand Mobile Printing
Thompson Reuters
Salesforce
Slack
SmartOffice 2 for Good
If you want to know more about PRIV, check out what our fans are saying, look at the official PRIV product page and watch our how-to demos. If you are wondering where you can get your hands on a PRIV, check out our availability blog. Many carriers such as AT&T in the U.S. and Rogers and Bell in Canada are also offering PRIV at new, lower prices (as low as $299.99 on two-year contract in Canada or $21.34/month with zero down at AT&T).