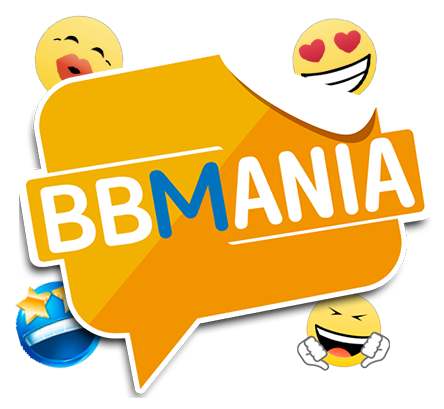 BBMers like using stickers in their chats so much, we can hardly keep up with the demand. That's why we've been launching sticker contests in our busiest regions around the world, including Indonesia, Nigeria and South Africa.
Next up: Colombia! Latin America is also one of our biggest markets, and within it, Colombia is one of the most active. With our new BBMania Sticker Contest, we're giving you artistic Colombians out there the chance to get your own sticker pack into the BBM Shop!
Prizes include a MacBook Pro, an iPhone 6S Plus and an Apple Watch.
On a growth path in social Latin America
Latin America is a mobile-first market, with the majority of people accessing the internet from mobile devices rather than desktop computers. It's also the most active region when it comes to social media, with users spending an average of 29% of total internet time on social media – significantly more than EMEA (22%), North America (14%) and Asia (8%).
We're also seeing a second wave of Latin Americans coming online for the first time. As devices and data plans become more affordable, network speeds and coverage improve, and apps offer more useful services (like messaging, shopping and payments), more people are adopting mobile and making the internet part of their daily lives. That's translating to a lot of growth for BBM in the region.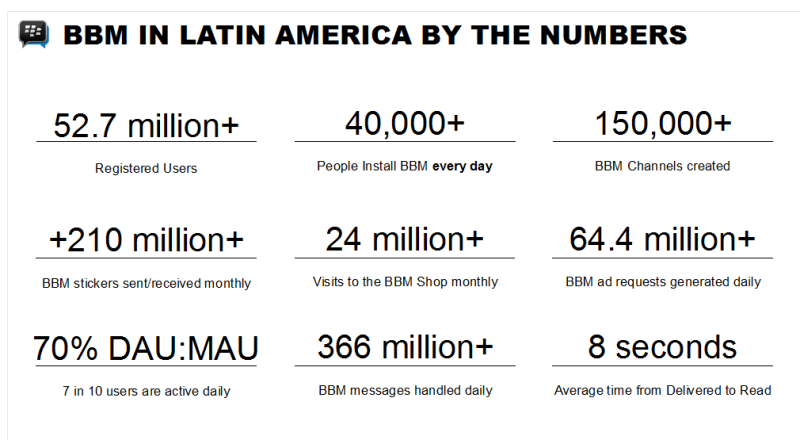 We currently have more than 52 million registered users in Latin America, with over 40,000 people installing BBM every day. And it's an active group. Each month, our customers in the region visit the BBM Shop more than 24 million times and send over 210 million stickers. They send over 366 million messages each day, and read received messages in 8 seconds (on average). The majority of them – 70% – use the platform daily. It's a platform that keeps getting better, too, with our latest release making more privacy and security features available to everyone.
Loco for stickers
Like their counterparts in other global regions, Latin Americans are enthusiastic sticker users. In Colombia alone, stickers have racked up more than 44 million impressions since we first added them two years ago.
In Colombia, the BBM Shop sees:
Over 3 million monthly views
Over 14 million total views
More than 840,000 visitors each month
Colombians have:
Sent over 11 million stickers
Viewed over 8 million sticker details
Downloaded over 600,000 sticker packs
But sadly, Colombians don't have any Colombia-specific sticker packs just for them. That's where you come in.
BBMania sticker contest
So all you aspiring sticker designers out there, it's time to put pencil to paper (or mouse to pixel) and help us fill out the BBM Shop with what will be our first sticker packs just for Colombians. Illustrate the phrases you use most when messaging. Or feature the Colombia national baseball team, which recently earned a place in the 2017 World Baseball Classic for the first time.
Up for grabs is a MacBook Pro, an iPhone 6S Plus and an Apple Watch.
Submissions open: April 18 – May 15
Voting period: April 20 – May 20
Winners announced: First week of June
For all the details on guidelines and how to apply, visit our BBMania website.