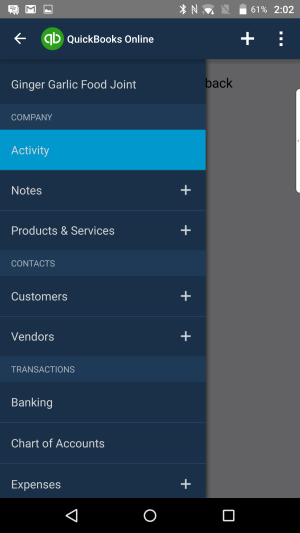 If you are running a small business, it can be difficult to keep track of your employees and day-to-day activities, all while trying to make your business profitable. Luckily, using some of the great apps available from Google Play for your PRIV by BlackBerry secure Android smartphone makes it easier to manage many of these everyday business activities, leaving you more time to focus on building your business.
QuickBooks offers a cloud accounting solution to give you the freedom to work anywhere using your PRIV. You can create and send invoices, see overdue invoice notifications, prepare balance sheets, work in different currencies with latest exchange rates, capture your receipts and organize your daily expenses. It also allows you to manage your customer information, attach photos or notes, and schedule meetings.
Asana makes project collaboration easier by providing one platform to plan, organize and monitor the status of team projects you are working on. This app allows you to create projects, organize tasks, add due dates, details and files to tasks, and comment on tasks from anywhere using your PRIV. You can also send out communications to the team from within the app and receive notifications for all the important communications you do not want to miss.
Expensify is one the best apps for expense reporting. It is easy to use and saves a lot of time. You can capture your receipts and convert them to expenses in a few simple clicks. You and your employees can also convert your expense reports to PDF, which are perfect for email. You can also sync your bank and credit card details to pull all your transactions into your Expensify account. When you are traveling you can use this app in offline mode, receive free flight alerts and automatically report expenses based on your itinerary.
Adobe Fill & Sign DC allows you to turn digital file or paper documents into forms. You can fill out these forms using your PRIV, digitally sign the documents and send them back electronically. You can easily create your signature using your finger or a stylus. This app on your PRIV will save you time on scanning, printing and faxing the documents.
With these apps on your PRIV, you can keep a close eye on your business from anywhere in the world. This not only saves you time completing your day-to-day operations, making your business life much easier, it also saves you money, giving your business the chance it needs to grow into something amazing!
Other apps to check out
With nearly 2 million Android apps available in Google Play, it can take time to find the apps you want. Check out the following reviews of some of the top apps available for your PRIV:
COMMUNICATIONS
BBM & Other Top Messaging Apps
Skype
Tango Networks Communicator
Voxer
FINANCE & SHOPPING
Amazon Shopping
Banking Apps
car2go Car Sharing
Suretap
MUSIC & ENTERTAINMENT
Apple Music
Easter Holiday Apps
Entertainment Apps
Gameloft
Instagram
Spotify
PERSONAL APPS
Finance Apps
Fitness Apps
Smart Thermostats
Photo-Editing Apps
Weather Apps
PRODUCTIVITY & BUSINESS
BlackBerry Developer Elite Apps
Encircle
Essential Android Apps
Microsoft Office
Messaging Apps
Notate for Good
Polaris Office for Good
PrintHand Mobile Printing
Thomson Reuters
Salesforce
Slack
SmartOffice 2 for Good
Swyft for Good
If you want to know more about PRIV, check out what our fans are saying, look at the official PRIV product page and watch our how-to demos. If you are wondering where you can get your hands on a PRIV, check out our availability blog. Many carriers such as AT&T in the U.S. and Rogers and Bell in Canada are also offering PRIV at new, lower prices (as low as $299.99 on two-year contract in Canada or $21.34/month with zero down at AT&T).