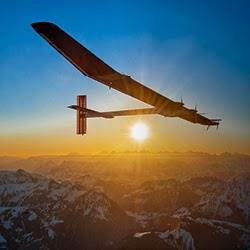 In case you missed it, Solar Impulse, the solar-powered airplane that is flying around the world to promote green energy, has returned to the skies.
(Originally posted on the On Q blog.)
The Solar Impulse team suffered a temporary setback last summer, when the plane's batteries overheated during a five-day flight between Japan and Hawaii. Battery problems notwithstanding, the 120-hour trip set a world record for longest non-stop solo flight.
The team has since upgraded the plane with a newer (and cooler) battery system and has successfully completed three test flights. If all goes as planned, the plane will take off from Hawaii in mid-April for a four-day journey to the continental United States. Once the plane completes its U.S. crossing, it will fly non-stop across the Atlantic.
The plane's round-the-world trek began on March 9, 2015, when it took off from an airport in Abu Dhabi. It then completed several hops, totaling 18,000 kilometers, before landing in Kalaeloa on June 28.
Solar Impulse may be powered by the sun, but it can fly at night, using energy stored in its lithium-ion batteries – all 17,250 of them. The plane is massive, with the wing span of a Boeing 747, yet weighs no more than a family car.

Solar Impulse bootup screen. Screen-grab from video.
QNX Software Systems is the official realtime OS partner for the Solar Impulse team. The plane uses the QNX Neutrino OS for several control and data communication functions.
I've been tracking the progress of the Solar Impulse project since 2009. Read my previous posts, which include a look at the plane's virtual cockpit. And remember to check out the Solar Impulse website.
(Image at top courtesy of Solar Impulse)