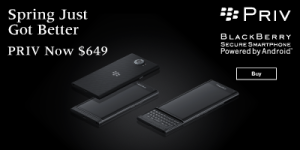 Good morning, #TeamBlackBerry! For the past few months, we've worked hard to make PRIV available to as many of our devoted fans as possible. To date, we've launched in thirty-four countries around the world.
Now, we've got a different sort of announcement to make. In order to ensure as many people as possible can enjoy our first Secure Android Smartphone, we're reducing the price. From Tuesday, April 5, PRIV is now available on ShopBlackBerry for US$649, £529 and €729 – permanently*.
That means there's never been a better time to see what PRIV can do for you – especially since you can still get 30% off all PRIV accessories.
And, while you are at it, check out some of our interviews with satisfied PRIV users, like this entrepreneurial lawyer, this international sales executive, this aerospace engineer, or this TV chef. Be sure to also read why PRIV won the 2016 Red Dot Award for Product Design, and what business expert Jim Opfer has to say about his phone.
*Price drop applies to the US, UK, France, Germany, Italy, Spain and The Netherlands, and includes VAT where applicable.  Canada not included.
If you want to know more about PRIV, check out what our fans are saying, look at the official PRIV product page and watch our how-to demos. If you are wondering where you can get your hands on a PRIV, check out our availability blog. Many carriers such as AT&T in the U.S. and Rogers and Bell in Canada are also offering PRIV at new, lower prices (as low as $299.99 on two-year contract in Canada or $21.34/month with zero down at AT&T).