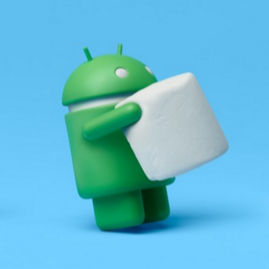 We have a sweet treat for PRIV users: Android 6.0 Marshmallow (M) is now available on ShopBlackBerry.com and select carriers will offer the upgrade on PRIV starting May 3. You'll be able to update to the latest version of Android, completely patched to include our coming May 2016 update, simply by downloading the software update on your PRIV (be sure to connect to Wi-Fi to avoid unnecessary data charges).
PRIV is among an elite group of smartphones running Marshmallow, which was released in October 2015. As of April 4, only 4.6% of Android smartphones were running it, though adoption is slowly climbing. PRIV's place as an early Marshmallow adopter, less than a month after we started beta testing it, makes perfect sense – we have been aggressive in rolling out Android security updates faster than most Android device manufacturers.
Keeping with BlackBerry's focus on security, we've been able to not only leverage the enhanced privacy, security and usability features that come with Marshmallow, but also to bring several additional improvements to key product features. Take a look at the features we've added to security, BlackBerry keyboard, BlackBerry Hub, BlackBerry Launcher, battery performance and camera features in PRIV's flavor of Marshmallow. Watch the video below and/or keep reading!
More Privacy and Security
You get more ways to monitor and control your privacy and better protect PRIV from malware, hacks and data breaches with Marshmallow on PRIV.
Customized Personal Data Permissions – Apps demand access to personal data, even when it's not necessary for the app to function properly, but DTEK now gives you the power to control what to share and when. You can turn permissions off at any time and still continue to use the app.
Clearer Notification Settings – You'll only see notification controls for sensors that an app has specifically requested access to. For example, if an application doesn't request microphone access, it will not appear in the list.
S/MIME Support – The new S/MIME feature in BlackBerry Hub lets you digitally sign and encrypt your emails, adding another level of security to your communications.
Enhanced BlackBerry Keyboard
PRIV's BlackBerry Keyboard has been updated to provide better predictive typing, accuracy and control with these new features.
More Emoji – You'll have access to over 200 new and updated emojis.
New Keyboard Gestures – The new swipe capability allows you to drag your finger across the keys to enter words on the virtual and/or physical keyboard.
Enhanced Word Prediction – The keyboard anticipates your next word based on where you place your fingers on keys. Also, predictive typing learns words with numbers and delivers better name suggestions based on your contacts.
Better Cursor Control – Activate "Cursor Control" mode on the physical keyboard for easier positioning and control. You can accurately place the cursor on the screen by tapping a key on the physical keyboard.
Better Notifications
With Android M on PRIV, you can better organize apps and manage productivity with a touch of a button.
Mute Indicator – See the phone's mute status at a glance via the floating phone indicator that appears when a call is active. You'll see yellow when your call is muted and green when it isn't.
New Apps in BlackBerry Hub (right) – Now view notifications from even more of your favorite social media apps – including Instagram, Skype, Slack and Pinterest – directly in BlackBerry Hub to easily manage all your messages in one place.
Updated BlackBerry Launcher – Better organize apps and widgets into Recent, Personal and Work sections, and you can set a default home screen, delete a home screen and remove apps with a flick.
More Battery Life & Storage
Get even more out of PRIV with battery performance and storage updates.
Doze – When PRIV is at rest, Doze automatically puts your device into a sleep state to increase standby battery life.
App Standby – This new feature keeps infrequently used apps from impacting your battery life.
Media Card Encryption Support – You can safely and permanently increase your PRIV's storage capacity by encrypting your media cards. If your PRIV is lost or stolen, prying eyes can't take the media card out of your PRIV and view or copy it. This is a feature that many other Android phone makers do not support.
Camera Upgrades
Engage your creative side with new tools that help you capture the perfect image with ease and flair.
Capture Professional and Cinematic Quality Videos – Record videos at 24fps – the standard frame rate used in professional feature-length motion pictures – in 4k, 1080p or 720p for high-quality footage to share on social media.
Slow-Motion Video – Capture smooth slow-motion video with the PRIV's camera. Capture video at 120 fps and play it back smoothly at 30 fps. The slow-motion effect can be applied after taking the video, and it even can be applied to select specific sections of the video. (Audio is not enabled for slow-motion video at this time.)
If you're ready to put Marshmallow on your PRIV, look for the Android M update alert in your notification tray, or visit the BlackBerry Android OS Update page for information about how to update. Not yet a PRIV user? Click through to our availability blog or hit ShopBlackBerry to find out how to get your own sweet new BlackBerry smartphone. Many carriers such as AT&T in the U.S. and Rogers and Bell in Canada are also offering PRIV at new, lower prices (as low as $299.99 on two-year contract in Canada or $21.34/month with zero down at AT&T).