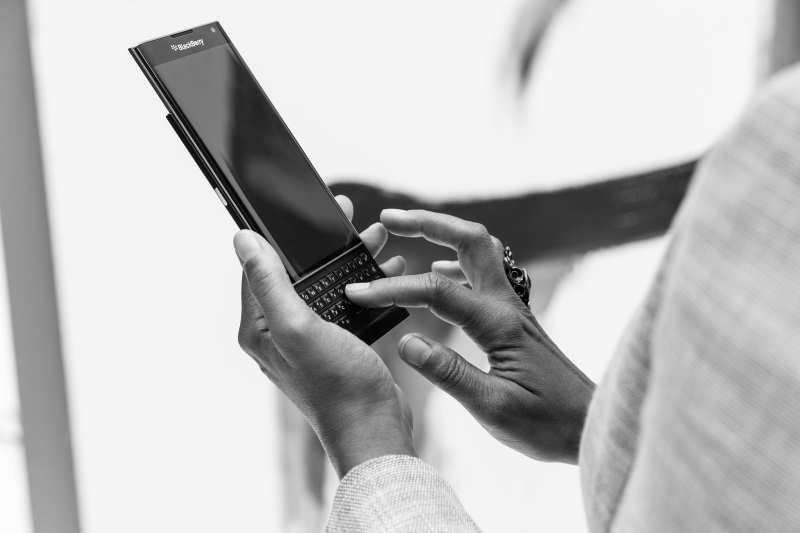 If PRIV by BlackBerry's throwback slider design is the first thing that catches your attention, you're not alone. Even since we announced PRIV, people everywhere have been intrigued by its unique, old-school design that packs a keyboard with the power of today's cutting-edge smartphone features.
And once people got PRIV in their hands, compliments started pouring in. People were wowed by PRIV's display: a 5.4-inch, 540ppi immersive dual-curve screen with 4x the pixels in a standard HDTV, protected by Corning Gorilla Glass 4.
We've heard the biggest praise for the dual keyboards: an onscreen virtual keyboard that's ideal for dashing off short messages, plus the BlackBerry-hallmark physical keyboard that doubles as a trackpad. The latter's sculpted, touch-sensitive keys make it effortless to type long blocks of text, even without looking at your phone to ensure you're hitting the right keys. (Remember the "BlackBerry prayer," when everyone in a meeting was quietly typing under the table without looking down?) Also, the slider design keeps the entire PRIV's big, sharp screen in full view. Unlike touchscreen-only devices that hide a third of the display behind the keyboard, with PRIV you keep your entire screen real estate when it matters.
All of this high-powered hardware is packed into an ultra-thin, lightweight slider form factor, so PRIV users get everything they expect in a flagship phone – and more – without the tradeoffs they've come to expect from competitors' devices. This is a big reason why PRIV recently earned the Red Dot Product Design 2016 Award for high design quality and was voted winner of Tom's Guide's 2016 Smartphone Madness Competition.
And it's only getting better, with frequent software updates, including one of the most aggressive Android patching schedules on the market, and Android 6.0 "Marshmallow" in beta testing, with plans to make it widely available soon.
Check out our other stories about PRIV on Inside BlackBerry, including an interview with the PRIV design team, comments from users about PRIV's camera, keyboard and other features and a permanent markdown on the PRIV purchase price on ShopBlackBerry.com.
Double Keyboards: The Best of Both Worlds
"Call me old-school, but PRIV feels like a return to form …  and it's really the only game in town if you want a physical keyboard. That isn't to say on-screen typing isn't good too – in my experience, the device has one of the best virtual keyboards on the market, and I really appreciate that I'm able to choose between the two as needs demand." – aerospace engineer Frank Bachman in an interview
"I use both the physical and onscreen keyboards regularly, depending on the app I'm in, the project I'm working on or even my mood. Sometimes I struggle with maintaining focus for long periods of time, so I'll switch keyboards in the middle of a task, going back and forth like a dance to keep myself moving forward and engaged." – author and pastor Bruxy Cavey, in an interview
Swiping Makes Typing Simple
"… the keypad doubles as a trackpad, sensing finger movements. So you can swipe sideways or scroll up and down, mimicking similar motions now widely available on laptop trackpads. … The PRIV's capacitive keyboard is an excellent addition to using the phone." – reviewer Toby Shakshak on Stuff
"I just wanted the keyboard, I had no idea BlackBerry would approach Android in the best way I've seen from an OEM. Stock look, with useful features added on top all ran through the Play Store so we don't need a full system update to get new software. … Swiping to control the cursor, select words, autocomplete words and delete words is amazing." – user Josh Matthews, commenting on an Inside BlackBerry post about new features on PRIV
"Buttery-Smooth" Slider With "Spring" Action
"The slider mechanism is an elegant engineering marvel." – business development consultant Jim Opfer in his LinkedIn post
"It's not until you slide the PRIV open using its buttery smooth sliding mechanism with just enough clack to know you've opened it, do you see that touch-sensitive physical keyboard that offers a great typing experience, fine cursor control and excellent text selection." – Crackberry reviewer Jarrod Tully
"No one has mentioned the 'spring' action of the keyboard, it kind of opens and closes itself with a little push or pull. Nice touch." – Crackberry reader kputock
"The move to release a slider sporting the most secure version of Android is brilliant and will save BlackBerry's hardware business!" commenter Frenchman75, responding to a post about PRIV-using fashion moguls on Inside BlackBerry
"Grippy Feel Good" Phone
"OIS, SD card, grippy feel good sleek form factor that needs no case, snappy performance with the 808 and 3 GB ram, solid slider performance all make the PRIV worth every penny." – Crackberry reader raj1802
Not Like All the Other Boring Phones
"Samsung is boring. Everyone owns one. The PRIV is stylish and sexy, and people really notice when you flip up the slider." – Crackberry reader Johnpetter
Slider Keyboard Keeps Display in Focus
"I do a lot of work on my phone with Google Docs and Office Suite Pro. With the physical keyboard, I can type fairly quickly on the go. The fact that the on-screen keyboard isn't there with the physical keyboard slide out is a plus as I can see a whole page at once in formatting."  [–]kthanhpn on reddit
"I love the keyboard, the display (never realised how much I missed an OLED screen) and I love the 'BlackBerry-touch' of the OS. Also they stay true to their word in terms of software updates. The past monthly security updates were pushed out a day before Google pushed it to their devices." [–]mbirth on reddit
Twitter Weighs In
When we asked Twitter users about their favorite PRIV feature, here are some of the things they had to say about the design:
Want more feedback from PRIV users? Check out comments on Facebook and Twitter, Reddit and LinkedIn, and stay tuned to Inside BlackBerry's PRIV page for profiles of real-life users like this entrepreneurial lawyer, this teenage tech CEO and this TV chef. 
Already a PRIV user? Let us know your favorite features in the comments below.
And if you're ready to slide your hands on a PRIV, check out our updated availability blog to see where to get one in your market, or just head over to ShopBlackBerry, use the drop-down to select your country and order your very own. Many carriers such as AT&T in the U.S. and Rogers and Bell in Canada are also offering PRIV at new, lower prices (as low as $299.99 on two-year contract in Canada or $21.34/month with zero down at AT&T).