The NBA playoffs are in full swing, and fans of the Toronto Raptors couldn't be more excited. This year's playoffs come at the end of a promising season for the basketball team, with 56 wins and only 26 losses.
BlackBerry's been right by their side the entire time, and it was recently announced that PRIV – our first secure Android phone – is the official smartphone of the Raptors.
Perhaps it's not surprising, then, that Raptors play-by-play announcer Paul Jones chose PRIV as his daily driver.
A star basketball player during his university years, Jones originally wanted to get into coaching. He certainly had the knowledge and skill for it – while attending The University of Western Ontario to obtain his Master's in Sports Psychology, he was a two-time conference all-star, and playing for Canada's national team.
"While I was looking for a teaching position, I started working as a broadcast associate at TSN," he said. "Even once I found a job, I could never really cut the cord with my love for sports media."
Jones continued his work as an educator, eventually becoming a school principal in Toronto. But by 2004, he was ready to embrace sports announcing full-time.

"I'd been in education for 20 years, and it dawned on me that I was sitting here telling my students to live their dream and move forward, but I was ignoring an opportunity that was literally staring me in the face," he said. "I figured, why not be a living example of my advice?"
When he's not working or spending time with his wife and children, Jones remains a sports nut. He's always abreast of the latest news in the NBA, and maintains a Twitter account with more than 16,000 followers.
Although his career and life have changed a great deal over the years, there's one thing that's remained constant: his dedication to BlackBerry. But brand and team loyalty aren't the only reasons he picked up a PRIV – there's a lot to love about the phone, according to Jones.
Paul Jones isn't the only professional with a passion for PRIV. He shares his high opinion of the phone with this teen-aged tech CEO, this international sales executive, this TV host, this Irish tech blogger and entrepreneur, these brotherly fashion executives, this best-selling author and pastor, this TV chef, this sports editor, this aerospace engineer, this manager at a major Dominican insurance firm, this entrepreneurial lawyer and this consulting firm CEO. 
Greene: Let's start with a bit more about your career. How'd you find your way into a job as a sportscaster?
Jones: While I was working my way up through the teaching ranks, I was also climbing the ranks at TSN. I was involved in my first series of broadcasts in 1994 – the world championships that were supposed to be in Yugoslavia, but got moved to Toronto because of the civil war.
As it turns out, Isaiah Thomas and John Bitove – who at the time were the owners of the Toronto Raptors – were listening, and liked what they heard. They'd been looking to build an all-Canadian broadcast crew for the Raptors starting in '95, and invited me to join.
Greene: That must have been a great surprise.
Jones: It was, and it was one of the things that eventually led me to resign from my job as a principal in 2004 – I remember because it was Sam Mitchell's first year as coach for the Raptors.
Greene: You've been involved with quite a few games over the course of your career. Any favorite memories?
Jones: If I had to choose one, it'd be the night I called Kobe Bryant's 81 points, back in January 2006. It was a crazy night. We went to the arena, and asked around about what celebrities might be there, and the Lakers PR guy looked at us like we were crazy.
'No celebrities here,' he told us. 'No one's coming to watch Toronto on a Sunday night just after Christmas. Most of them are still on holiday.'
But boy, did they miss a night. Kobe and I have talked about it a few times – nothing on the record, I haven't written anything about it – and I still have the score sheet from that game. Eventually, I'm going to get him to sign it.
I also remember the first playoff game I ever called, between the Knicks and the Raptors. And the one game where the Bulls lost to the Raptors in their 72-10 season. Other than that, there's so many great games, I can't really pin them down.
Greene: Do you have a lot of keepsakes from the games you've called?
Jones: I do. I think one of my favorites is a score sheet of the first triple double in Raptors history, signed by scoring player Damon Stoudamire.
Greene: How does BlackBerry play into all of this?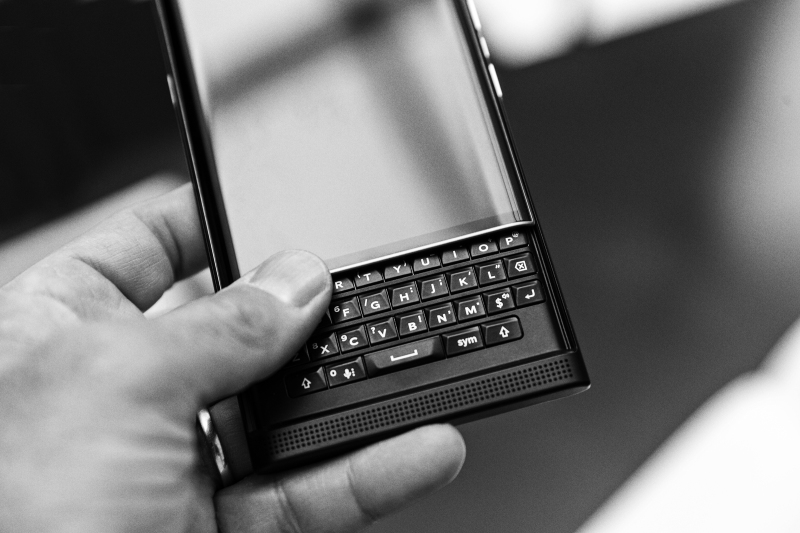 Jones: I've been with BlackBerry since day one – the first time I picked up a mobile device, it was a BlackBerry. I still have my first phone, the 7210. The one everyone jokingly called a BlueBerry. Looking at it now, it's kinda big and clunky compared to my PRIV.
Right now, I'm using both PRIV and Passport while I transfer information between the two.
Greene: What first drew you to PRIV?
Jones: Just the fact that it was a BlackBerry device, really. I've always had them, and when they come out with a new one, I pick it up.
Greene: Was it strange switching over to Android from BlackBerry 10?
Jones: It took a little bit of getting used to at first, yeah. But I'm good with it. I'm really enjoying all the apps I've got access to, especially the ones from Google – Maps, Calendar, and Weather. They're great because when I travel, I can always keep track of where I am in the city, nearby landmarks, what the weather's like, that sort of thing.
I use the Scene app a lot to check up on movies, and the Tim Horton's mobile app is great for when I need coffee. I'm also starting to do banking on my PRIV as well. Paying bills and stuff like that. And I use the NBA app really extensively too, watching scores and standings and highlights and stuff.
Twitter's huge for me, too. It's a major source of information.
Greene: How are you finding the Android version of Twitter versus what you had on your Passport?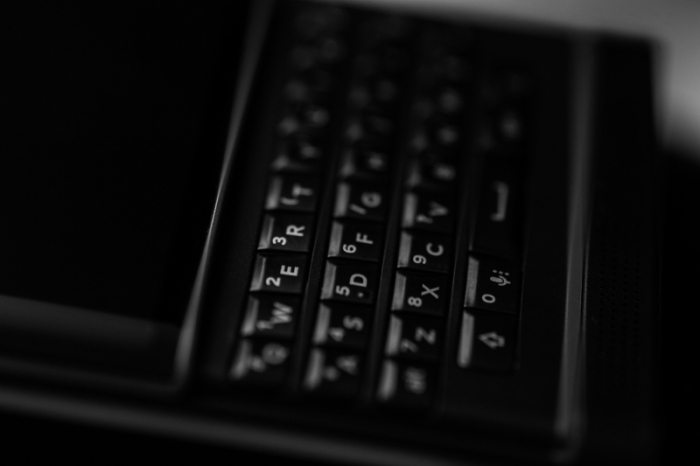 Jones: Again, it was something I had to get used to, but it's great.
Really, I think the app I use the most is actually BBM. I love it, and it's a major communications tool at TSN. A few years back, everybody had BlackBerries, so everybody started using it. And now, because it's multiplatform, everyone still uses it to keep in touch about scheduling, give each other updates on bus times, meeting times at the airport, et-cetera.
I use it really often during games. Like I'll message down to our media relations director during a commercial break with a minute left in the game to tell him who I want for an interview if the Raptors win. He'll coordinate it, and shoot back with details in minutes. It's definitely a huge step up from having to scamper down to the court with a piece of notebook paper – it's a lot more streamlined.
Greene: A lot of people moving over from Passport have commented on PRIV's keyboard. What are your thoughts on it?
Jones: It's good. Again, just takes some getting used to. And yeah, the physical keyboard is a bit cramped compared to Passport, but it's still great.
To be honest, I was a huge fan of the Z30. I absolutely loved the virtual keyboard on that phone – so much that I actually had a bit of trouble adapting to the Passport when it came out. So I really love that PRIV's got a virtual keyboard that's just as good, and that I have the option to choose between the two.
Greene: Keyboard aside, what's your favorite thing about PRIV?
Jones: The display. I love the screen. It's vivid. It's pleasing to the eye. And the camera is excellent, as well – the best on any BlackBerry device yet.

Greene: What sort of reactions has PRIV gotten in your workplace?
Jones: I've heard nothing but good things from people about it. Granted, some people – especially in the States – are surprised that BlackBerry is still around. But once they get past that, they're really impressed with the phone.
I do get a few jabs from people who are shocked that I still have a BlackBerry. My response to them is that BlackBerry's a Canadian company, and I'm Canadian. I support them, and they've never given me a reason to distrust their security or build quality.

Greene: Overall, how would you rate your PRIV?
Jones: I'm giving it a 10. It does everything for me. BlackBerry's done an excellent job of merging their apps with the Android ecosystem, which is really powerful on its own. It's great, and once I've got everything transferred over from my Passport, PRIV's going to be my main phone.
If you want to know more about PRIV, check out what our fans are saying, look at the official PRIV product page and watch our how-to demos. If you are wondering where you can get your hands on a PRIV, check out our availability blog. Many carriers such as AT&T in the U.S. and Rogers and Bell in Canada are also offering PRIV at new, lower prices (as low as $299.99 on two-year contract in Canada or $21.34/month with zero down at AT&T).