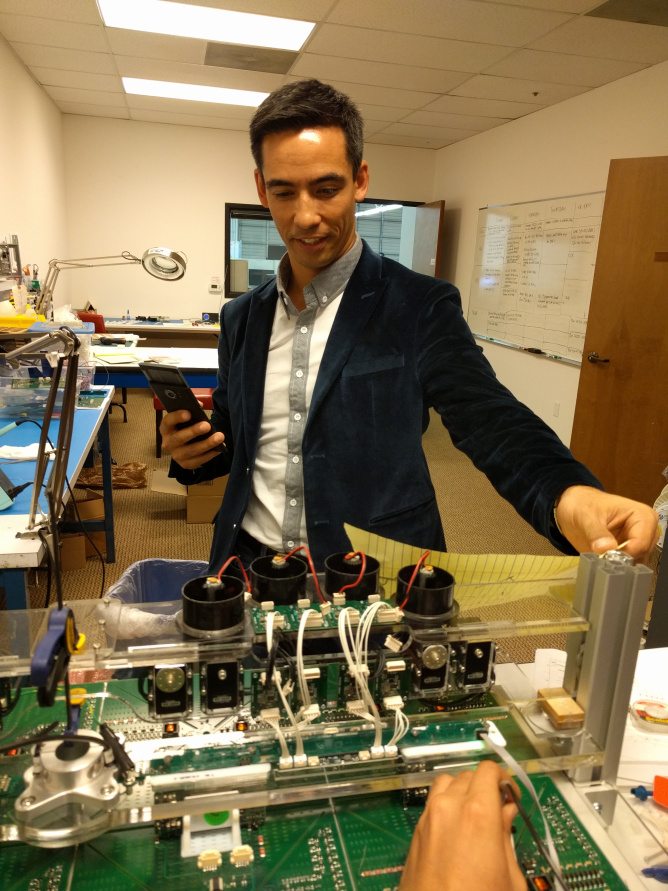 Jon Smith is no stranger to innovation. Smith is what's known as a pathfinder or "Moonshot" engineer, specialized in high-tech robotics and automation. The nickname "Moonshot" comes from President John F. Kennedy's 1962 speech where he vowed to put a man on the moon, an idea many were certain was impossible. According to Smith, ideas like that are what most Silicon Valley companies – especially tech startups like the ones he works with – thrive on.
And Smith thrives on transforming those ideas into reality.
"Seeing things go from a rough concept on a scrap of paper to a fully certified product is an incredible process" says Smith. "I regularly work with ideas that have never been done before, things we're not even sure can be done. I have to think outside the box quite often, and I love that."
When he's not forging a path for Silicon Valley startups, Smith prefers to be outdoors. A competitive mountain biker, he also regularly plays hockey and goes heli-skiing. His is a busy life, which is why BlackBerry's been so invaluable to him. I recently got the chance to sit down and talk to him about his thoughts on PRIV, our first secure Android smartphone.
Here's what he had to say.
Jon Smith isn't the only professional who loves PRIV. Check out these other Q&As, including these brotherly fashion executives, this Shark Tank host, this entrepreneurial lawyer, this teenaged tech CEO, this best-selling author and pastor, this Irish tech blogger and entrepreneur, this TV chef, this international sales executive, this aerospace engineer, this manager at a major Dominican insurance firm, this small-town sports editor this consulting firm CEO, and the official sportscaster for the Toronto Raptors.
Greene: How long have you been a BlackBerry user?
Smith: Since around 2004. My first phone was the one that everyone jokingly referred to as a BlueBerry. I've got a lot of old BlackBerry devices just sitting in my desk for nostalgia's sake. My most recent phone before buying PRIV was a Passport.
Coming from Waterloo, Ontario, it seemed natural to gravitate towards BlackBerry, especially knowing what goes into them. And I've always loved physical keyboards. I've never been a big fan of typing on the screen.
Greene: So it was the keyboard that drew you to PRIV?
Smith: Partially. The Android ecosystem also played a huge role in my purchase. In the Valley, the biggest knock people always had against BlackBerry was that it had no apps. I couldn't do the same things as the iPhone or Android people.
With PRIV, the Android ecosystem is wide open, combined with all the best features of BlackBerry. It's a wonderful phone.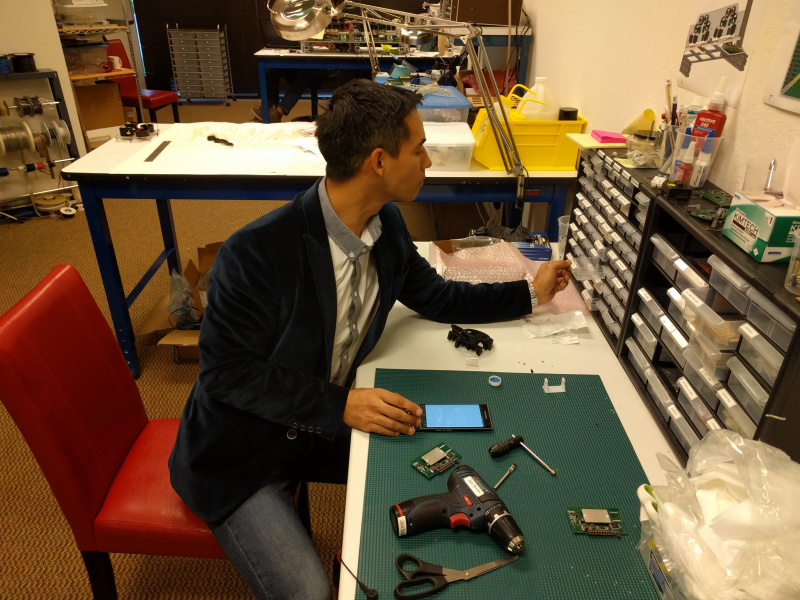 Greene: What features of PRIV have stood out to you the most?
Smith: The keyboard, definitely. It's a touch keyboard with swipe and gesture control, meaning it's actually workable to type a long email and not have a ton of mistakes. I see so many people with taglines like "typed on my iPhone, please forgive me for typos," but I'm not one of them.
The screen quality is also top-notch. The fact that it has a wraparound/rounded edge screen is a definite eye-catcher, and a lot of people comment about that. Looking at photos and watching movies and things like that is just picture-perfect. It's beautiful.
The camera is fantastic, too. I think they've done a way better job with PRIV's camera than they did on some of their past phones. It rivals every other flagship I've seen in getting top-notch pictures. I think the optics are great.
Another thing I love is PRIV's security. As long as BlackBerry's existed, they've been the trusted name in security. It's always bothered me that people so frequently ignore that for bells and whistles.
Greene: Let's talk about Android. What apps do you use most frequently?
Smith:  The versatility of the ecosystem is what I really like about Android. In the Valley, it's almost like to stay abreast of technology, you have to be able to readily evaluate a lot of different apps. That's something Android allows me to do.
Apps like Tile and Nest play frequently into my job, and they're apps you need Android for. Everybody brings out apps for iPhone and Android on a regular basis, but BlackBerry gets neglected a lot. With my Passport, it was really hard to stay cutting-edge.
I also play games like Clash of Clans and Boom Beach. They pass the time, and they're kind of a guilty pleasure, but they also help me keep in contact with friends, colleagues and family. A lot of people in the Valley play them.
Greene: How do you use your PRIV for work?

Smith: I frequently use it to evaluate apps and when developing projects for my clients. It's also by my side the entire day, keeping me on schedule. I never feel out of touch when I have it with me, and I can reply to emails from anywhere and at any time.
Thanks to Hub, I get to pick and choose what I need to reply to and when. That's especially valuable if I want to get away from work for a day or two and unplug – for example, a recent heli-skiing trip I took up to Bearspaw, British Columbia. When I came back, I was able filter things or triage them based on what I needed to respond to first.
Greene: How have your colleagues reacted to your PRIV?
Smith: There's some good-natured ribbing, but mostly people are impressed by the phone's form factor. They just look at it and love how it looks, and people constantly ask me about it.
When I tell them it's a BlackBerry, they're shocked, but not as shocked as they are when I throw open the keyboard. A lot of people ask me where they can get one, and which providers support it – I try to stay abreast of that information.
Greene: Overall, how would you rate PRIV?
Smith: 10/10. I love my PRIV, and there's nothing I can't do with it or configure it on. It's amazing. Even though it was hard to step down to Android, BlackBerry's done an amazing job of making it a smooth transition.
If you want to know more about PRIV, check out what our fans are saying, look at the official PRIV product page and watch our how-to demos. If you are wondering where you can get your hands on a PRIV, check out our availability blog. Many carriers such as AT&T in the U.S. and Rogers and Bell in Canada are also offering PRIV at new, lower prices (as low as $299.99 on two-year contract in Canada or $21.34/month with zero down at AT&T).