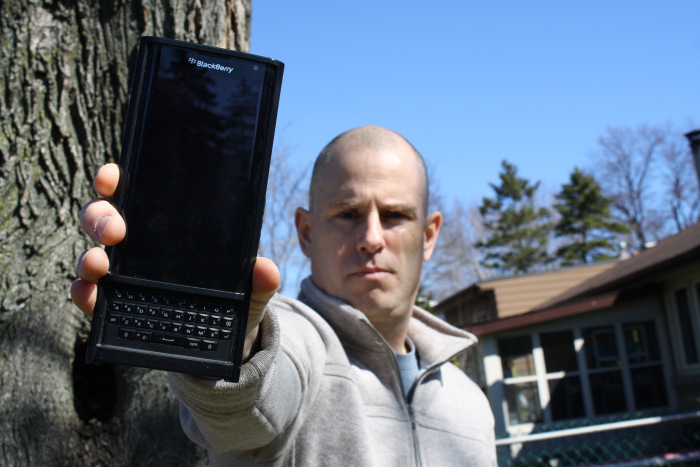 Ian DeGeer is all about thinking smart –  and with how busy he keeps himself, he has to be. A PhD Candidate at Wilfred Laurier University, DeGeer is also an instructor at the University of Windsor, and an independent research consultant when he's not in the classroom. Primarily focused on issues related to violence against women, his consulting company works with individuals at all levels, from community groups to executive directors.
In his spare time, DeGeer also volunteers at several women's shelters and nonprofits, including the White Ribbon Campaign.
"I really think of myself as a freelancer working from contract to contract, and I do a bunch of different things as a result," explains DeGeer. "Where my professional life's concerned, I like to take a multi-pronged approach. I've always got something on the go: community-based research, coursework from the classroom, or volunteer work."
Keeping all the threads of his life together isn't easy – and that's why for Ian, PRIV's proven to be a godsend.
Ian's not the only one who finds the PRIV's helped him be better. He shares his passion for the phone with this international sales executive, this TV chef, this best-selling author and pastor, these twin fashion moguls, this consulting firm CEO and this insurance manager. He also shares his longstanding BlackBerry fandom with this Hollywood actor, this rising NBA star, this life-saving oncologist, these world-champion athletes, this Las Vegas music promoter and this young entrepreneur.
Nick: To start, how long have you been a BlackBerry user?
Ian:  Since 2005. My first phone was the BlackBerry 8830 World Edition. Then I picked up the Torch, and the Bold. I've also got a Z10, Z30, Passport, and a couple of Playbooks in my office. I'm loyal to the brand, and it hasn't let me down so far.
I was actually one of the first instructors in the faculty of social work to start using a tablet in the classroom – I used my Playbook to assist me in lectures, as part of my lecture platform. It was really interesting, because no one had thought of using the technology like that. I guess many people still don't, since I still don't see many tablets in the hands of instructors.
Nick: What was it that inspired you to move from your Passport to a PRIV?
Ian: There were a couple of things about the PRIV that I found intriguing from the start. As an independent contract employee, I wanted a device that really stood out. The PRIV offered that with its keyboard and its unique blend of BlackBerry's security with the Android ecosystem.
And it definitely gets me noticed. Every once in a while, I'll be standing in a crowd, and I'll slide the keyboard out just so people can see it. I think they're quite wowed by it.
Nick: How does it stack up to your other devices so far?
Ian: I always considered the Passport a powerhouse, and the PRIV rivals that powerhouse. Because of the number of contracts I hold and the number of different people and organizations I work with, I can't live without the hub, I'd literally be lost without it. And I really like how BlackBerry has integrated it into Android, it makes it really easy to keep track of all my contacts – I regularly receive emails from students, executive directors, and academic institutions.
Having them all come to one place goes a long way towards keeping my life organized – both professional and personal.
Really, it's like having an office in my pocket. Most people think of their phone like that these days, but this morning I was on the road for three hours seeing various clients, and I didn't miss a single thing happening in my office. I think that's really important, that level of connectivity in this day and age, and PRIV helps me stay connected with both my wife and children and my office as I need it to.
There's a really nice dynamic to it that wasn't there with previous BlackBerries, I find. I use it for work, I use it for play, I use apps for everything from tracking my long distance cycling stats to managing my music.
Nick: You're liking the Android ecosystem, then?
Ian: Definitely. I'm growing addicted to the Evernote app, and I use all of the Google apps on a regular basis to connect with colleagues – Google Drive to work with people down in the states when we're writing a collaborative paper, Google Maps to help get me where I'm going, Google Photos to store all my pictures, and so on. I use so many different components of Android on a daily basis, yet everything meshes together perfectly with BlackBerry's core apps.
For me, this meant that it wasn't a really big deal coming from BlackBerry 10 to the PRIV, it was a very seamless transition.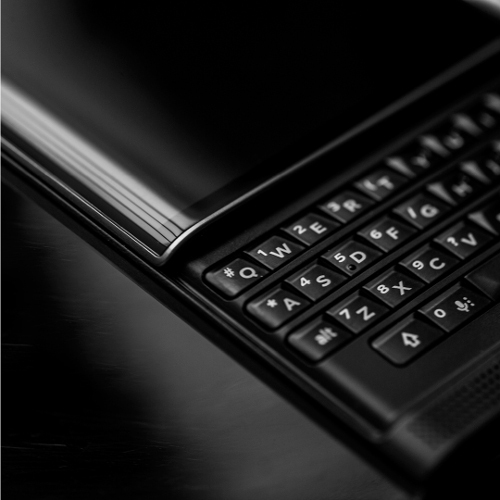 Nick: What do you love most about your new phone?
Ian: The keyboard. I can't live without it. I'm a physical keyboard kind of guy: I spend a lot of time sending emails, and I have to make sure they're accurate. I have a lot of colleagues who routinely send emails filled with spelling mistakes, and I just find it really unprofessional – the keyboard provides me with the accuracy to make sure I don't do the same thing.
What I also love is that the PRIV has the same touch-sensitive keyboard as the Passport. Coupled with its stylish design and the presence of the Hub, it's pretty much exactly what I was looking for in a phone.
Nick: You work with a lot of students – how do they feel about PRIV?
Ian: I see more students using BlackBerries than ever before now that PRIV's been released. I didn't really see anyone using a Passport, but a lot of my students have expressed curiosity about my phone. They're thrilled at the notion of the physical keyboard, and they love the features BlackBerry has added to Android to make it super unique.
Those students that have picked one up find it really useful for keeping track of assignments and monitoring their class schedule. And I think that even those who haven't are intrigued by it, because it's truly another alternative outside of the two dominant brands. Prior to PRIV's release, I feel like their thinking was very much "60/40" between Android and BlackBerry.
PRIV really disrupted that thinking, and that's great; I'm seeing more PRIVs in hallways and in the classroom than ever before.
Nick: One last question – how would you rate your PRIV?
Ian: Easily a 10. I have no issue giving it that rating. In spite of my initial skepticism about Android, I was hooked within two days of having it. Switching from BlackBerry 10 to Android didn't feel like I lost anything – it actually felt like I gained a substantial amount of power in terms of my ability to do things from my phone. Not that BlackBerry 10 wasn't an excellent operating system.
It's just that BlackBerry's Android takes users to a whole different place, and gives us more of what we're looking for in a modern business phone.
If you want to know more about PRIV, check out what our fans are saying, look at the official PRIV product page and watch our how-to demos. If you are wondering where you can get your hands on a PRIV, check out our availability blog. Many carriers such as AT&T in the U.S. and Rogers and Bell in Canada are also offering PRIV at new, lower prices (as low as $299.99 on two-year contract in Canada or $21.34/month with zero down at AT&T).