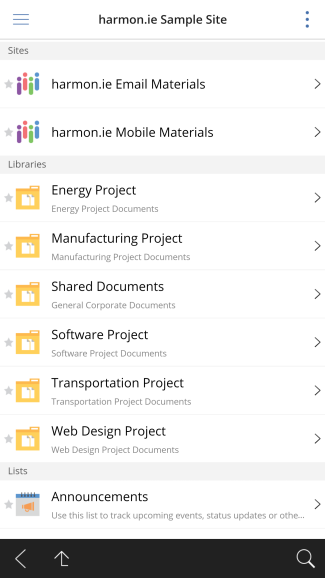 One of the best ways tools to improve yourself and your work is through collaboration and feedback. If you have a thick enough hide, you can learn a lot from other people's constructive insights on your work. In a collaborative work environment, every member of the team can build on each other's strengths and contribute their best effort toward completing a project or reaching a goal.
As work environments, employee locations and communication methods continue to evolve and branch out, it can be harder to stay connected, productive and balanced. That's where harmon.ie comes in.
To help streamline collaboration, the harmon.ie Android app provides full-featured access to SharePoint and Office 365 sites directly from users' mobile devices. It helps eliminate many of the problems created by having multiple versions of the same file floating around your team. For example, have you ever worked on one section of a presentation only to find all your work was wasted because of a new version that just hit your inbox? Or tried to figure out which message in your inbox has the latest version of a document your team is collaborating on? Not to mention trying to ensure that a file your co-worker sent is really the final, approved version before you send it off to a client?
Harmon.ie offers a better way to collaborate. It allows users to share links to files instead of emailing attachments around, ensuring everyone is, quite literally, on the same page. Advanced search options allow users to sort through files using a variety of criteria, such as author name, title, metadata or even document rating. Users can also view version history directly from their Notes or Outlook client or stay updated on items such as issue tracking, newsfeeds and itineraries.
The Activity Stream gives an overview of what's important on a user's projects, and quick access to change logs, announcements and user activity helps employees see progress at a glance. Harmon.ie brings a native Office user experience to file management and editing, making it simple for users to start using it immediately.
To further strengthen collaboration, harmon.ie also enables users to converse over Skype for Business or Yammer as well as see whether a colleague is available and search within SharePoint for individuals using values like department and skills.
While harmon.ie's main function is improving productivity, it doesn't do that at the expense of security. To help add a level of control, users can only access the information they are authorized for. It also monitors individual file access, provides usage reporting and supports enterprise mobility management (EMM) solutions including BlackBerry, Good Secure EMM Suites and Samsung Knox. Access to SharePoint sites can be configured individually, while corporate policy preferences and offline access to content can be pre-configured.
If having the ability to securely collaborate with your team is important to you, imagine how powerful harmon.ie would be on BlackBerry PRIV. The combination of the 5.4-inch dual-curve display and the physical keyboard make it effortless to view and edit documents, connect with your team and manage feeds. Because it provides the most secure Android experience on the market, with a hardened Android operating system, rapid patching and the DTEK security app, PRIV takes harmon.ie's security even further.
With Harmon.ie and PRIV, you can keep your team cool, calm, collaborative and secure!
Other apps to check out
With nearly 2 million Android apps available in Google Play, it can take time to find the apps you want. Check out the following reviews of some of the top apps available for your PRIV:
COMMUNICATIONS
BBM & Other Top Messaging Apps
ISEC7 Mobile Exchange Delegate
Skype
Tango Networks Communicator
Voxer
FINANCE & SHOPPING
Amazon Shopping
Banking Apps
car2go Car Sharing
Suretap
MUSIC & ENTERTAINMENT
Apple Music
Easter Holiday Apps
Entertainment Apps
Gameloft
Instagram
Spotify
PERSONAL APPS
Finance Apps
Fitness Apps
Smart Thermostats
Photo-Editing Apps
Weather Apps
PRODUCTIVITY & BUSINESS
Automation Apps
BlackBerry Developer Elite Apps
Encircle
Essential Android Apps
Microsoft Office
Messaging Apps
Notate for Good
Polaris Office for Good
PrintHand Mobile Printing
Thomson Reuters
Salesforce
Slack
Small Business Apps
SmartOffice 2 for Good
Swyft for Good
If you want to know more about PRIV, check out what our fans are saying, look at the official PRIV product page and watch our how-to demos. If you are wondering where you can get your hands on a PRIV, check out our availability blog. Many carriers such as AT&T in the U.S. and Rogers and Bell in Canada are also offering PRIV at new, lower prices (as low as $299.99 on two-year contract in Canada or $21.34/month with zero down at AT&T).