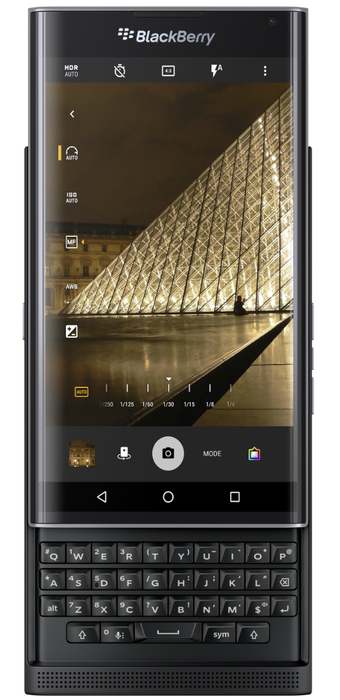 Since the launch of PRIV, we've been hard at work continuing to improve the experience and making it even better for our customers. Earlier this month, we launched Google's Android Marshmallow update for PRIV, which has gotten rave reviews from users.
Today, we are updating a few apps in Google Play with new features. And we'll be introducing a software maintenance release starting on June 6th to align with our regular monthly security release.
But first – let's talk application updates.
Camera: Advanced Shooting Controls
Users will have the ability to enter a mode with advanced manual controls giving them access to capture settings such as: shutter speed, ISO sensitivity, focus, white balance and exposure (EV) compensation
Physical keyboard shortcuts for camera controls

Swipe horizontally on keyboard to adjust the setting currently active
Swipe vertically on keyboard to change the active setting
Press the A key to return the active setting to Auto
Press and hold the A key to return all settings to Auto
Press the spacebar to take a picture

Additional learning to help users be more creative with every photo
Keyboard: New Languages and Updates
Vietnamese input support for both the virtual and physical keyboards
Korean Hangul support for both the virtual and physical keyboards
User control on currency key allowing even further customization to meet your needs
Continues improvements to predictions and autocorrect
Control keyboard shortcuts (if supported in the application)

CTRL + B: Bold
CTRL + U: Underline
CTRL + I: Italic
Ctrl + Z: Undo
Ctrl + Y: Redo
Ctrl + X: Cut
Ctrl + C: Copy
Ctrl + V: Paste
As with prior updates, your PRIV should notify you that the updates are available and download them automatically over Wi-Fi. If it does not, you can update them as follows:
Connect your PRIV to a Wi-Fi network, then open the Google Play store.
Tap the icon on the left side of the search bar, then select "My apps & games" from the menu that pops up.
Either tap "Update All" or select which apps to update on an individual basis.
Tap "Download" and the update will begin, even if you don't see a progress bar or other indicator.