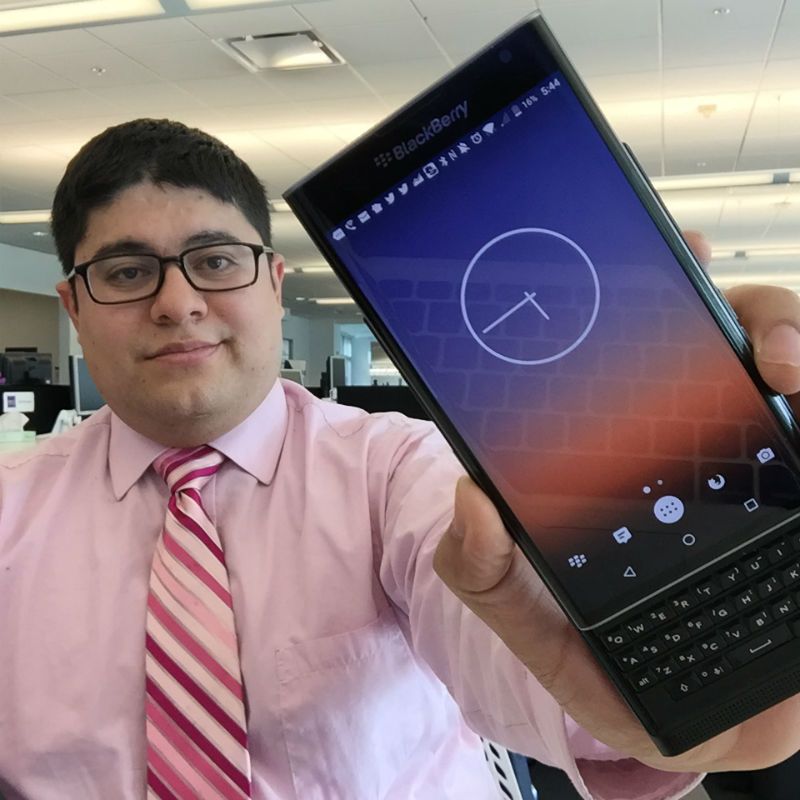 Mikel Calderon's always had a deep curiosity about technology, and during his childhood he spent much of his time tinkering with various gadgets. Born in Mexico, he moved to San Francisco at the age of eight, and has lived in the Bay Area ever since. For a time, it looked like technology would remain little more than a hobby or a side passion – he spent five years working as a high school teacher before opting to try his luck in tech.
"I saw a job posting on LinkedIn at Yahoo that caught my eye and applied," he explains. "Two months later, I landed a role as a contractor for their search editorial team, and I couldn't be happier with what I do."
His position at Yahoo is a demanding one, but Mikel still manages to find time for a diverse set of hobbies. He builds terrariums, is a hobbyist developer, and loves DJing and making music in his spare time. According to Mikel, he's even made several rap songs about BlackBerry, which has been a fixture in both his personal and professional life for years – up to the present day, when he recently acquired a PRIV.
I recently had the opportunity to chat with Mikel regarding his thoughts on our first secure Android smarpthone. Here's what he had to say.
Mikel's not the only one who's found what he needs in PRIV. Check out these other PRIV influencer profiles, like this author and happiness expert, this Irish entrepreneur and tech blogger, this TV host, this bestselling author and pastor, this TV chef, this international sales executive, this aerospace engineer, this sports editor, these twin fashion moguls, this consulting firm CEO, this entrepreneurial lawyer and this insurance manager. 
Nick: How long have you been a fan of BlackBerry? 
Mikel: I've been rocking a BlackBerry since 2007 – it all started with the portable and powerful Pearl 8100, and I haven't looked back since. Over the years, I've owned the Bold 9000, a Torch 9800 and 9810, the Bold 9900, and a slew of BlackBerry 10 devices including the Q10, Z10, Z30 and Passport.
Nick: What was it that first drew you to PRIV? 
Mikel: Honestly, I decided to get one because it reminded me of how much I liked the versatility of the Torch 9800. At first, I wasn't really thrilled that it would be running on Android, given the long list of security issues associated with the OS – including scary vulnerabilities like Heartbleed and Stagefright. My doubts were assuaged when I found out that BlackBerry secures the device at boot with their technology.
Security aside, what ultimately sealed the deal was the knowledge that it would feature the signature BlackBerry Hub.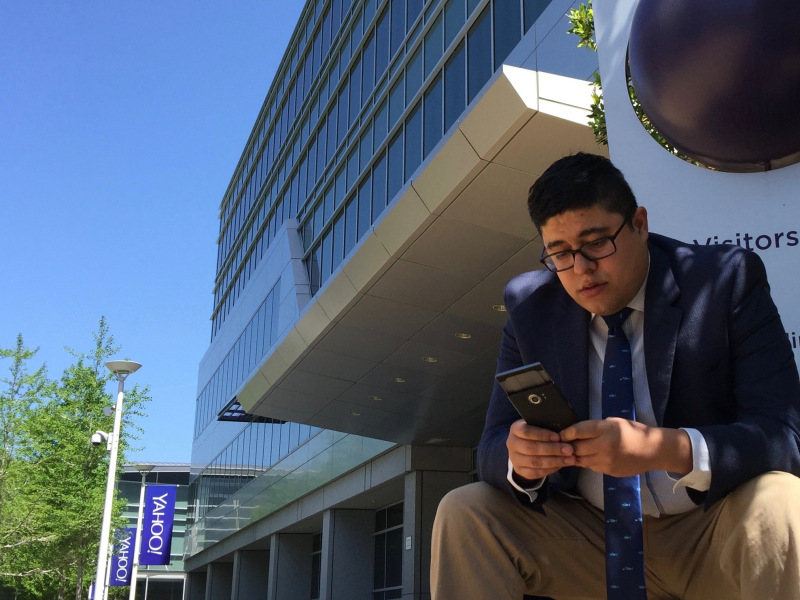 Greene: How does PRIV stack up to your past devices? 
Mikel:  For the last three years, BlackBerry 10 has been able to provide me with the tools I needed out of the box. But even with the improvements of the Android Runtime in BB10, I was continually finding that there were certain apps I needed in order to get work done. Unfortunately, these apps were either unavailable or poorly optimized on BB10.
I haven't exclusively used BlackBerry devices – in addition to my collection of BlackBerry 10 phones, I've also tried out the iPhone 6 and OnePlus 2. I wasn't really a fan of either. Although they both have decent battery life and plenty of features, they both felt like they were missing something in their approach to productivity.
It was BlackBerry Hub, something unavailable on both iOS and stock Android.
PRIV takes the best of both worlds, providing me with the convenience of consolidating all my communications into the Hub with all the productivity tools I require. What's more, I don't need to worry about searching for a plug or running out of storage memory, and it's quite easy to locate apps to do whatever I need, thanks to Android.
Nick: How does PRIV slot into your average workday? 
Mikel: My day usually involves a ton of spreadsheets and a ton of email. I'm fortunate enough that I'm able to get some of this work done during my daily commute, and my PRIV helps me keep track of the day ahead. I can quickly peek into my calendar to see if I have any meetings scheduled, and I can regularly check my email to keep on top of any pressing deadlines or changing priorities.
As for what I do in the office, my team provides the nuanced human element that's necessary to help train machine-learning algorithms. I regularly work with huge, complex datasets and go home every day knowing that my work has contributed to improving the online experience of hundreds of thousands of people all over the world. Since no one can really tackle so much information on their own, the environment in which I work is highly collaborative.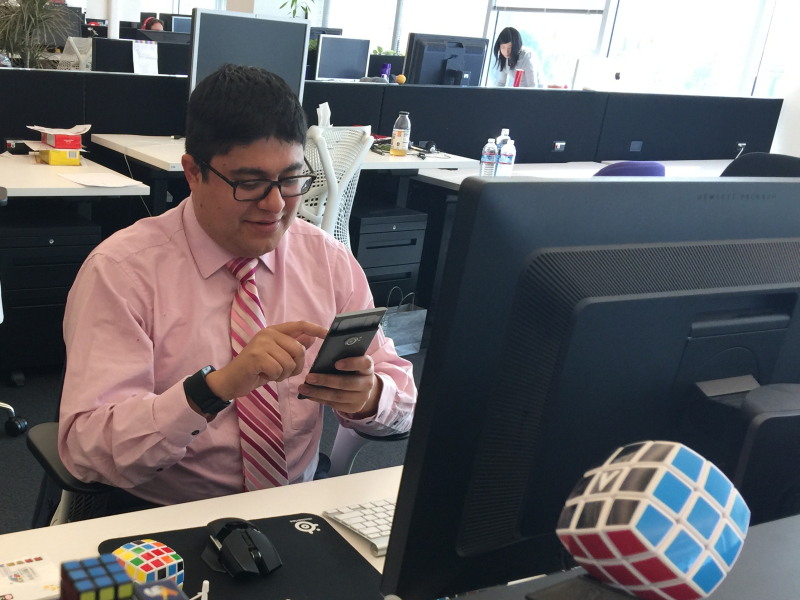 You could say my team works in tandem sort of like a hivemind to chew through dozens of data sets in a week. It's critical to their success that we remain in constant contact with one another. That's why it's important that even if I'm not at my desk, PRIV allows me to continue the conversation as though I was.
I really appreciate how stress-free managing all my communications is with PRIV, and how easy it is to access my calendar, contacts and internal tools.
Nick: You mentioned internal tools – what sorts of Android-exclusive apps do you use most frequently? 
Mikel: Aside from Hub, Calendar and BBM, I rely on Cisco's Anyconnect to access corporate resources, and Duo for two-factor authentication. For entertainment, I'm partial to Slacker radio for music and NBC's Live Extra so I can keep up with the Golden State Warriors.
Nick: Apps aside, what do you love most about PRIV so far?
Mikel: Easily the keyboard. It was a bit of a challenge to get used to at first, but in the end it was worth it. It's well-made, it feels professional, and it lets me type with a level of accuracy impossible on other devices. The virtual keyboard is also a winner in my book – in both cases, out of all the keyboards on Android, nothing else comes close to PRIV.
Nick: How do your friends and colleagues feel about your love of BlackBerry? Any fellow fans among them?
Mikel:  For the most part, my friends and colleagues stick to whatever works for them, but they are generally intrigued by the fact my phone has a physical keyboard and much more so when they find out that it runs Android and is made by BlackBerry. As for fellow fans, just a few weeks ago, my brother ditched his Samsung Galaxy for a shiny new PRIV from T-Mobile.
Nick: How would you rate PRIV overall?
Mikel:  I'd rate it a solid 10. What's not to love? I'm very happy I decided to give it a chance.
If you want to know more about PRIV, check out what our fans are saying, look at the official PRIV product page and watch our how-to demos. If you are wondering where you can get your hands on a PRIV, check out our availability blog. Many carriers such as AT&T in the U.S. and Rogers and Bell in Canada are also offering PRIV at new, lower prices (as low as $299.99 on two-year contract in Canada or $21.34/month with zero down at AT&T).