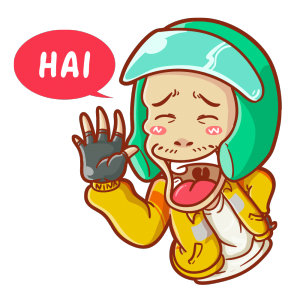 We've just wrapped up our BBM Sticker Match contest, in partnership with mobile operator Hutchison Tri Indonesia, with record participation from fans.
The contest ran for a little over a month, from May 2 to June 12. Here are the highlights:
9,098 sticker packs received: That's 50% more than we've ever received before. Our last competition had just short of 6,000.
198 sticker sets published: We only expected to publish 50! We're thrilled to publish nearly 4x that many.
25 million IDR: First place prize was won by Anang Suryana Musa for the collection Jaka si Tukang Ojek Pengkloan. (That loosely translates to Jaka the Taxi-Biker.) You can see one of the winning stickers here.
8 million IDR: Prizes awarded to 2nd, 3rd, 4th and 5th place sticker packs.
19,326 logins to sticker contest website: Just short of 20,000 people logged into the site to submit their stickers and vote for their favorites. That's a huge amount of participation – the most we've ever seen for a sticker contest.
See all the winning stickers here.
Promoting Partnership and a New 4G Network
We partnered with Hutchison Tri Indonesia to help the operator spread the word about its new 4G network, launched at the end of March 2016. Six Indonesian cities now have access to the commercial 4G service: Batam, Pontianak, Makassar, Jakarta, Bandung and Denpasar.
Tri is getting the word out, and we're happy to help bang the drum for the expanding 4G network, which will improve service and make more things possible for the nation of active mobile users – including streaming music and video, video conferencing, and more.
As more Indonesians get smartphones – which they are doing in record numbers and using primarily to chat with friends and family – stickers will continue to be a hit. In addition to being a fun way to express ourselves, stickers are also a great vehicle for raising awareness for brands and for budding sticker designers! Keep an eye out for more sticker contests in the future and in other BBM markets.