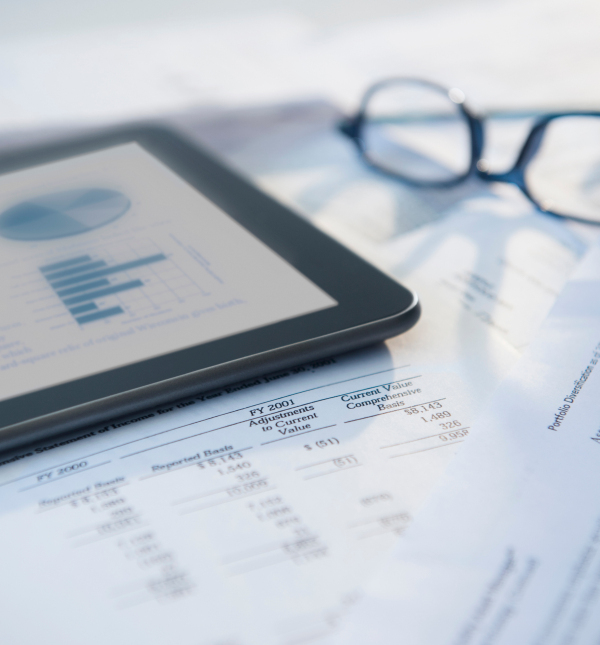 If recent events like Panama Papers and the plague of tax-targeted phishing scams have proven one thing, it's the need for an enterprise document control solution. The days when businesses could rely solely on network security to protect their assets have passed – security controls need to be extended to files. And that's where BlackBerry Workspaces, formerly known as WatchDox, comes in.
A two-time visionary in Gartner's EFSS Magic Quadrant and a leader in Forrester's EFSS Wave Report, BlackBerry Workspaces ensures security stays with your business's critical documents anywhere they travel. Administrators can fine-tune permissions or revoke access to files, even after they are downloaded and shared. This makes it distinct from most other Enterprise File Synchronization and Sharing Solutions, which only provide protection on the storage repository – not the individual files.
Designed for security and ease of use, BlackBerry Workspaces File Sync and Share is already a top-tier offering. This month, we're making it even better, with a number of updates tailored towards helping you share smarter, faster, and with greater security.
The first of these updates is the announcement of a new standalone product, powered by the BlackBerry Workspaces advanced digital rights management security platform.
BlackBerry Workspaces Email Protector provides businesses with a means of automatically controlling and securing files sent via email, even after they leave the firewall. By embedding DRM into attachments sent through an organization's email gateway, it ensures that those attachments are protected from unauthorized access everywhere they travel (see right). The sender is not required to change their normal routine.
The level of protection an attachment receives is configured by IT based on recipient, and/or file type Email Protector also integrates with email Data Loss Prevention systems to enforce customizable file-level DRM security that corresponds with existing DLP risk profiles.
Changes to the BlackBerry Workspaces File Sync and Share include:
Secure Customer Engagement with BlackBerry Workspaces for Salesforce: Salesforce users can now take full advantage of BlackBerry Workspaces file sharing and security from within Salesforce.com (see below). File-level DRM protection remains highly customizable and allows users to expire or revoke access to shared files at any time – even after they're downloaded.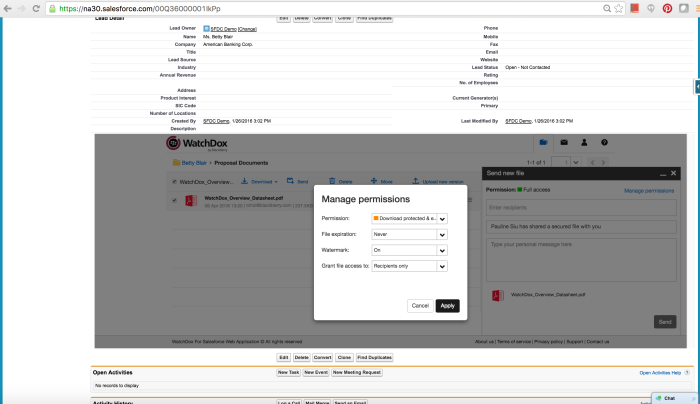 Employees can share an RFP response to a potential customer and apply DRM protection so that the customer can't forward the file to a competitor.
Files can be sent via BlackBerry Workspaces with controls such as prevention of printing or the application of an access deadline.
Tracking allows sales teams to understand who's actually accessing content shared through the platform.
Edit Documents in the Browser with BlackBerry Workspaces for Web and Office Online: BlackBerry Workspaces for Web integration with Office Online allows users to securely view, edit and version their documents without ever having to leave their web browser. Changes are automatically synced back to BlackBerry Workspaces – no downloads or software installation required.
Make Email More Efficient with Powerful Upgrades to BlackBerry Workspaces for Microsoft Outlook: Enhancements to our Microsoft Outlook plugin provide users with a consolidated and convenient place to view their sent and received files. Files are linked to relevant email conversations, and users can create, version, protect and share files up to 10GB in size, all within the Microsoft Outlook interface.
Annotate Online with the New Viewer in BlackBerry Workspaces for Web: The online viewer for BlackBerry Workspaces has been rebuilt in HTML5 to the same security standards as the original Flash viewer and introduces new user experiences and design. Users can now create, review and share annotations with other contributors who can then correspond on any device.
Extend BlackBerry Workspaces to Third-Party Apps with Custom Application Workspaces: Third-party web and application developers now have access to a private storage space that is not exposed through the native BlackBerry Workspaces interface. Combined with a rich SDK and APIs, developers can leverage the BlackBerry Workspaces platform's security, mobility, sharing and synchronization capabilities directly through their custom app interface.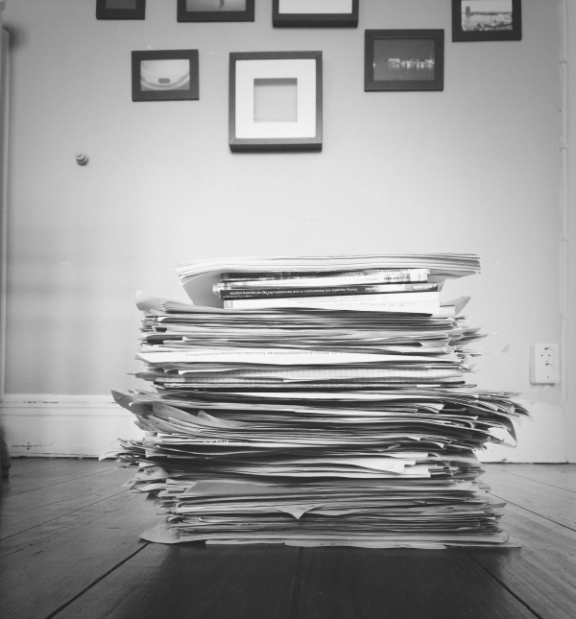 Other features in this release include:
Role Builder: System administrators can now customize workspace capabilities and save them as unique user roles, making them available for end-users when they're sharing files.
Direct Upload for Windows users: PC users on Windows 7, 8 and 10 can now select any file on internal or external storage and upload it directly to a BlackBerry Workspaces workspace (or sub-folder), even if the workspace is not synced to their computer.
Admin Improvements: Enhanced administrative control over authentication enables customizable timeout periods for specific users, user groups, or by application, including browser inactivity timeouts.
File sharing's on the rise, and it won't wait for security to catch up. To ensure sensitive data is protected, businesses need an Enterprise File Sync and Share platform built for both security and usability. BlackBerry Workspaces is exactly that, made to allow administrators to control their most critical files no matter where they end up – and enabling productivity in the process.
And with this recent release, BlackBerry Workspaces has gotten that much better at doing both.
Want to learn more about what BlackBerry Workspaces can do for you? Check out our latest release blog, visit the official BlackBerry Workspaces page or view our BlackBerry Workspaces Email Protector page.