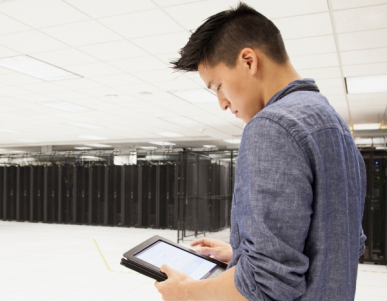 As the number of mobile devices in the workplace continues to grow, enterprises are realizing tangible benefits from mobilizing their business processes. However, as they become more flexible and adaptive to employee preferences around devices and apps, enterprises are also experiencing the unique challenges mobility represents. Given today's increasingly diverse mobile environments, they've recognized the need for integrated solutions to help them meet their critical security and compliance requirements.
In this climate, IT needs an Enterprise Mobility Management (EMM) platform that offers greater visibility of and control over their entire mobile infrastructure without increasing complexity or impeding the end user. That's exactly what BlackBerry UEM (formerly known as BES12) offers. Through an intuitive, unified management console, it provides administrators with a complete set of IT policies and profiles to address any mobility challenges and opportunities your business might face.
Compliant by design, BlackBerry UEM uses BlackBerry's global secure network and trusted end-to-end approach to security, all backed by award-winning technical support. It delivers comprehensive multi-OS management, with support for iOS, Android, Samsung KNOX, Android for Work, Windows, Mac OS X, and BlackBerry devices, and the choice of on-premises or cloud deployment. No matter what device an employee uses, and no matter what they're doing with that device, BlackBerry UEM helps you secure it without violating their privacy or hindering their productivity.
Most importantly, BlackBerry UEM is both cost-effective and resource-light, allowing IT to focus on doing more than just keeping things running.
It's natural, then, that BlackBerry UEM is a foundational component of the BlackBerry Enterprise Mobility Suite, formerly known as Good Secure EMM Suites, the most comprehensive EMM offering on the market. Today, we're happy to announce our v12.5 update that brings several improvements to the core solution. The changes are as follows:
Administrative enhancements: BlackBerry UEM integrates with every solution in Suites, equipping administrators with the ability to easily manage users, applications, devices, and policies across their entire infrastructure. Enhanced integration with BlackBerry Dynamics, formerly known as Good Dynamics, the leading secure mobile app platform, extends powerful administrative control over Good apps and provides a unified self-service portal for end users.
Advanced compliance rules: Organizations can use BlackBerry UEM to define compliance rules for restricted OS versions and for devices that have been out of contact for a specified period, enhancing security through better automation of device management.
Custom app categorization: End users can sort their BlackBerry UEM Work Apps catalog by category, helping them navigate to the apps that they seek more quickly and easily.
BlackBerry Dynamics apps for Samsung KNOX: Administrators can now deploy BlackBerry Dynamics apps to the Samsung KNOX Workspace container with BlackBerry UEM, helping their organizations meet secure productivity requirements.
BlackBerry UEM Cloud: We've also recently added several features designed to enhance both security and management of mobile devices, including BlackBerry Secure Connect Plus support for seamless enterprise connectivity, MDM support for OS X and app management for Windows 10.
BlackBerry UEM lets you say yes to the kind of productivity you know is possible, with the confidence that comes from using BlackBerry's industry-leading mobile security. Your employees can work where they need to, with complete access to the tools they require, and your business data remains protected. Migration to BlackBerry UEM helps to unify mobility management, reduce complexity and risk, and increase productivity – all while ensuring the security of your data and the privacy of your users.
Mobility is evolving rapidly, and with BlackBerry UEM, you'll have a platform that's ready for both today and tomorrow – no matter what the future brings.
Get a hands-on-look at BlackBerry UEM with a free trial. Be sure to also read about the partnership between Microsoft and BlackBerry, and check out the BlackBerry Enterprise Mobility Suite product page. Also, don't miss the opportunity to see solutions in action, speak to mobility and security experts, and share ideas with like-minded colleagues at the BlackBerry Enterprise Mobility Forum live events in September.