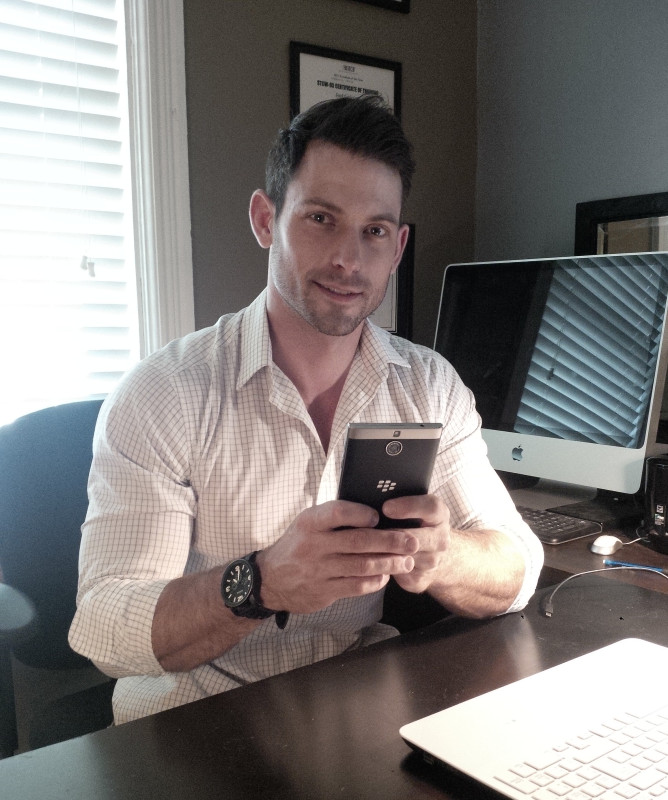 Joel Geleynse has the uncommon ability to take a variety of interests and experiences, then blend them together into a connected career. Most of his work time is devoted to his vocation as a counselor and coach with Someone2talk2, building on his long-time interest in psychology (which he's studied at McMaster University in Hamilton, Ontario). But he also works as a figure skating coach and choreographer (tapping into his experience as a former Canadian national figure skater turned professional skater), a personal trainer and a professional singer/songwriter, which he's been doing for nearly 20 years (and has earned him celebrity status in a certain European country).
Joel was excited to talk to us about how his BlackBerry Passport helps him connect his passions in so many different ways.
Joel is in good company among people who are connected to their Passports Check out our profiles of other Passport-loving professionals, including this supercharged stylist, this talent-acquisition manager, this police officer, this life-saving oncologist, this rising NBA star, celebrity chef Tyler Florence, this international video game company executive and TV personality Piers Morgan.
Ryan: Can you explain your coaching /counseling focus with Someone2talk2?
Joel: For some people, a label like "psychotherapy" can be intimidating, so at Someone2talk2 the approach is very accessible and broad, from life-coaching, goal-setting, to more involved therapy. I wanted to try something very 21st century, and [use technology to] offer counseling for people right where they are. My work helps people get the perspective and reflection they need by dismantling some of the barriers around the stigma about getting help, costs and travel associated with more traditional models of practice. From the privacy of one's own residence or office people can open up and talk about their obstacles. It truly feels global, as I have clients in Australia, Germany, Philippines and North America.
Being a physical trainer [helps me] because a person's physical health has a direct connection to their mental or emotional health. Sometimes relief for a perceived cognitive issue is in fact biologically implicated, and simple lifestyle changes can help immensely.
Ryan: What phones did you use before the Passport?
Joel: I used to be an iPhone user, but it felt too limited in terms of customization and freedoms to change settings or sync by individual file. Not only that, but the phone itself was so fragile – I swear every other iPhone screen I see is cracked – and it would get slower and slower after about 12 months and all the forced updates.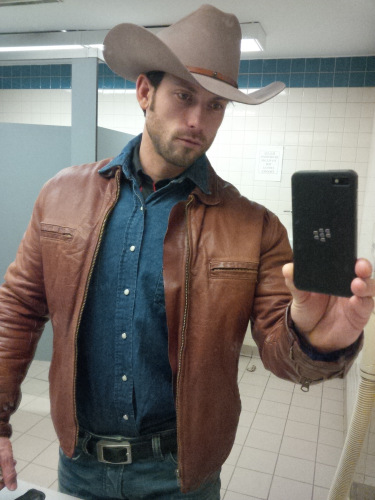 In a period of four years, I went just a little BlackBerry crazy. I had the Bold 9000, then the Z10 (check out this photo of Joel with his Z10). I always had two at a time. Each time I bought one, I would find someone else to sell the previous one to. Then I had the Red Z10 developer edition, the Z30 and the Leap. I finally got on the Passport then the Passport Silver Edition.
Ryan: How did you find the transition from iOS to BlackBerry?
Joel: It was a totally cold-turkey experience. My iPhone 5 was stolen at the gym. (Listen to his song about his stolen phone.) I did my research and decided to jump on BlackBerry, as I was intrigued by the business productivity reviews. It was a two-week transition that I liken to an awakening, fewer bubbly apps and more streamlined focus on actually communicating. It opened up my mind. It assumed the user's intelligence with upgradeable memory and universal charging cords. It allowed so much for customization and ownership of your own device. You were able to own music securely, without having to buy it only from iTunes.
With BlackBerry, I could really choose my own experience and make it my own. You can see the more intelligent layout and how you can find your way around.
Ryan: What does your day-to-day look like?
Joel: I may have up to three or four counseling sessions per day. I try to space them out enough throughout the day in order to be productive but not lose the impact of each by booking them back to back. You need time to decompress after each session. I have clients in the Philippines, Australia, Egypt and Germany, so I need to work in different time zones. A lot of the counseling I do is over the phone, over Skype or through BBM and BBM video. It could also spill over into Facebook and Facebook chat.
I also do figure skating coaching three or four days a week at a local rink in Hamilton. I coach and do choreography with several figure skating students and then also train clients in the gym, on top of bodybuilding for myself. It's a lot to stay on top of.
I also have a fairly active Airbnb property that experiences constant scheduling.
Ryan: How does your Passport help you?
Joel: I love that I was able to access the whole student interface while studying [at McMaster University]. The website we needed to access was very detailed and intricate, but the [Passport's] screen enabled me to get in there and even edit PowerPoint and PDFs with Documents to Go, which is great.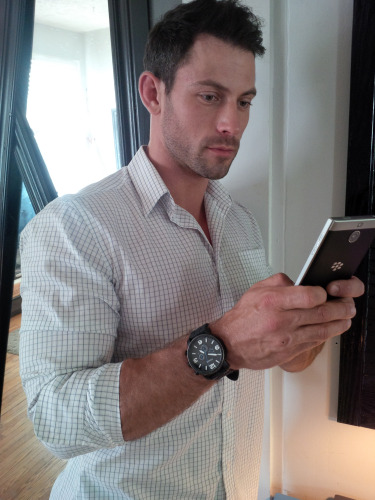 I also use a ton of apps. As I'm also a recording artist, I'm constantly interacting through social media. I get all of my music through 7 digital. What was great was the [Passport's] removable memory card could be popped into my computer, [I can] edit, change music, and put the card back into the BlackBerry.
I'm constantly on my Passport checking my calendar and email. Especially for Airbnb scheduling, I get inquiries at any time of the day. I could get an email at 5:00 p.m. for someone who wants to show up within 30 minutes, asking if it's ready. I could also get a last-minute counseling session request. I need to be very on top of communication. It's the number one thing for me. The Passport is just phenomenal for that.
Ryan: What is your favorite feature about the Passport?
Joel: Other than BlackBerry 10 itself, which is elegant and I hope that BlackBerry will continue to develop it, I really love the camera. When I send pictures to people, they are amazed by the quality. I love the keys and how they are touch-sensitive. I can scroll up and down with ease. The screen and keypad are a great combination.
Ryan: What do others say about the Passport?
Joel: It's always a conversation starter. I make so many friends with the phone. They're usually impressed with the demos I supply. I show them the device and how efficient the Hub is. The LED light is the coolest thing ever, different colors based on account type is genius.
Ryan: What would you say to someone who has yet to check it out?
Joel: Regardless who you are or what you do, you need to try out the Passport. My mom is over the moon over the Passport, it is way easier to use than anything else, especially with the keyboard. She uses it to manage a full-time business selling her own artwork in several online marketplaces, which requires her to be in constant communication throughout the day and night for shipping all over the world.
Ryan: How would you rate the Passport?
Joel: On a bunch of different levels – durability, ergonomics, battery life, etc. – I would say 10 out of 10. I used to train in figure skating in the Waterloo area. I got to see firsthand how BlackBerry gave back to the community. It's great to have a tech company like BlackBerry in Canada.
Are you ready to sign up for your new Passport? Get a factory-unlocked BlackBerry Passport from our global shopping portal, ShopBlackBerry.com (check with your local carrier for device compatibility). Or get our PRIV secure Android phone, which is on sale until the end of today at ShopBlackBerry for $100 for American buyers or $150 off for Canadians.