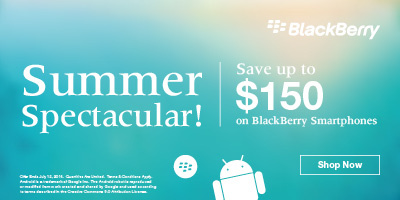 Summer is here! Time for shorts, suntans, and beachside vacations … and if you're a member of #TeamBlackBerry, time for a new smartphone! And our latest deals are going to make your summer downright spectacular!
From now until Tuesday, July 12, the BlackBerry Passport (Black & White) will be available for the incredible price of $355 USD ($489 CDN, €449, and £330). We'll also be offering the swankier Passport Silver Edition for just $399 USD ($550 CDN, €479, and £360).
Finally, if Android's more your speed, you can get a PRIV for just $549 USD ($749 CDN, €629, and £449).
Pretty spectacular, right?
All offers run from Wednesday, June 22 until Tuesday, July 12 at 10 a.m. EST, and are available from all ShopBlackBerry stores in the U.S., Canada, the UK, France, Germany, Italy, Spain, and The Netherlands while supplies last. Terms and conditions of the offer can be found here.