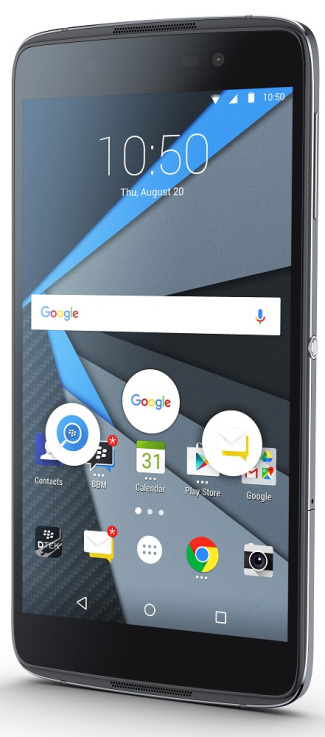 Smartphones have become indispensable to business productivity, enabling workers to be connected to practically any sort of business data, document, or person they need, anytime and anywhere.
The trouble with having all of this valuable business information literally at employees' fingertips is that it's harder than ever to protect it. Employees who are careless with how they use their mobile devices are costing big businesses big money: $3.44 million annually per enterprise for lost or stolen phones and $3.65 million each for malware-ridden devices. IT departments have unsuccessfully tried to balance security, productivity, and expense, compromising parts of each to get to "good enough."
'Good Enough' is Not Good Enough
But those days of enterprise IT settling for "good enough" are over. BlackBerry's new Android-powered DTEK50 puts security first with no compromises to worker productivity, all at a price point that's comfortable for both massive enterprise rollouts and employees who want to bring their own devices to work.
Read on to learn seven ways that DTEK50 cuts these risks by combining the best professional tools with the best security features to enable employees to work super securely and be super productive.
1. Security and Privacy First – and Last
DTEK50's deep integration of security and productivity saves IT time, money, and effort by protecting the device – and therefore the data on the device – from the types of employee misuse that lead to data breaches, malware injections into enterprise networks, and other threats that not only risk enterprise security but also huge government fines.
DTEK50's security is built in from the start, not strapped on after the fact with extra software and services like with most smartphones. Instead, DTEK50 is secured starting at hardware manufacturing and down through every layer of the device and software for nonstop protection:
The Hardware Root of Trust installs security keys directly on the processor;
A secure boot process protects the operating system against tampering by malware or other threats;
A hardened Linux kernel modifies Android to reduce its attack surface;
FIPS 140-2 encryption locks down valuable data;
BlackBerry Secure Compound creates a special trusted execution environment for sensitive data and apps.
DTEK50's commitment to your organization's security doesn't stop or slow down after the device is in your employee's hand, either. With DTEK50's sister device, PRIV, we first established that we deliver Android patches faster than any other device maker, so your users don't have to wait weeks or months for the latest security updates.
We also believe security and privacy go hand-in-hand. DTEK50's integrated DTEK app protects your employees' privacy by continuously monitoring apps for potential risks and telling users what to do to fix the threats.
2. Enterprise Ready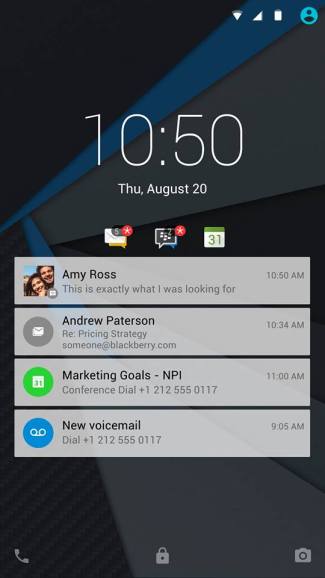 DTEK50 is ready for business. Its support for Android for Work enables fast, simple, and secure integration into any organization, saving time, money, and hassle by making it simple for IT to set up and provision devices. It also integrates with BlackBerry's full suite of software solutions to enable end-to-end security and serious productivity for workers. These solutions include:
BlackBerry Workspaces secure file sharing;
BlackBerry Work business-class email, collaboration, and Microsoft Office integration;
Strong Authentication by BlackBerry that uses DTEK50 as a VPN token;
SecuSUITE anti-eavesdropping solution;
BBM Enterprise (formerly known as BBM Protected)  secure messaging solution for regulated and other security-conscious industries;
BlackBerry Enterprise Identity single sign-on for easy access to cloud services;
BES12 EMM for cross-platform data security.
3. App Friendly
DTEK50's secure Android operating system opens access to over 1 million apps in the Google Play store, potentially giving employees any app they may want or need. This, of course, is a double-edged sword for IT, given the possibility that employees will inadvertently download malware-containing apps that lead to loss of critical business data as well as IT and employee downtime. This is why DTEK50 helps IT control which apps and services can reach company resources. Seamless integration with Google Play for Work enables easy access to loads of rich business and IT managed apps, including Salesforce1, IF by IFTTT, Evernote, Skype, Cisco WebEx, and many, many more, while still protecting the business and the IT infrastructure.
4. A True BlackBerry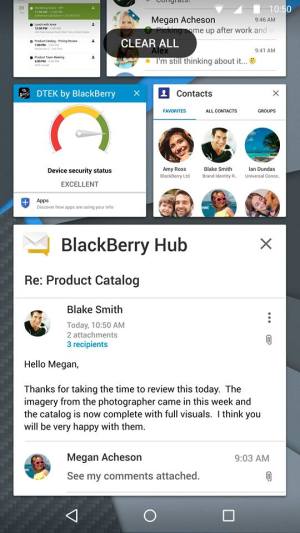 While Android is the backbone of DTEK50 (and its flagship sister phone, PRIV), BlackBerry is still at our core. Along with our laser-like focus on security, DTEK50 incorporates one of BlackBerry fans' most in-demand business productivity features, BlackBerry Hub, which organizes employees' email, text and instant messaging, social networking, phone calls, and calendar in a single pane of glass (watch the demo here). DTEK50 also sports other essential BlackBerry interface essentials including pop-up widgets, customizable gesture-controlled shortcuts, instant actions, and device search, turning the device into a productivity powerhouse.
5. Stellar Hardware Specs
Don't let DTEK50's business-friendly, US$300 price fool you; its hardware specs are definitely not a joke. At only 7.44 mm thin, it's the slimmest BlackBerry ever. Its 5.2″ full HD display is made from scratch-resistant glass to protect against fingerprint smudges and stolen passwords, and its 2,610 mAh battery offers 17 hours of life (more than a full workday) on a single charge – plus its support for QC 2.0 Quick Charge means employees have no excuse for running out of juice. DTEK50's 13MP auto-focus rear camera, with a dual-tone LED flash, and its 8MP front-facing camera produce excellent photo quality for business or personal images, and its micro SD card slot provides up to 2 TB of extra storage space for tons of photos and data.
6. Keyboard Control
While BlackBerry is most famous for its physical keyboards (like on PRIV and Passport), we've incorporated that same philosophy – that smartphone keyboards should be effortless to use – into our soft keyboards. DTEK50's onscreen Intelligent Keyboard learns as the user types and, combined with its type by swiping technology, increases users' typing speed and accuracy, key for your employees to make a good impression in business. Speedy typing with fewer typos also equals less stressed, more productive users.
7. Affordability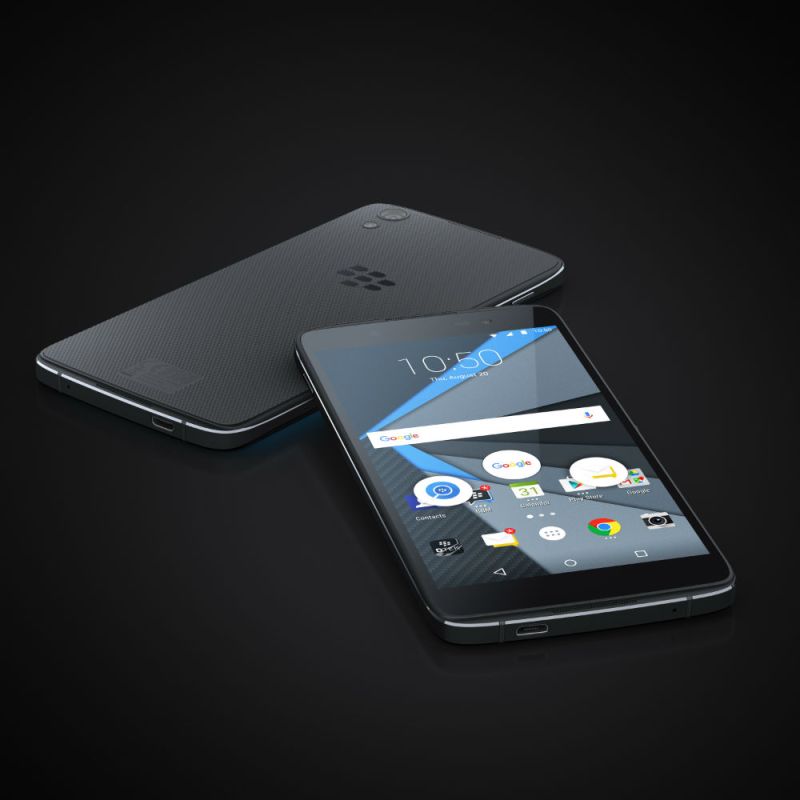 With DTEK50's accessible price, price is no longer a barrier to security. Whether you're buying one phone or a fleet of them through BlackBerry Direct Sales (which provides volume discounts and purchasing advantages) – or your employees are asking for advice on the best BYOD for them to buy – DTEK50 combines the best professional tools and security features at a price point that won't drain your company's budget.
DTEK50 is the smart choice for businesses and IT departments that aren't willing to compromise on security, productivity, or usability.
DTEK50 is now available to buy in a growing number of countries – from local carriers and retailers in the U.S., Canada, and the UK – and on ShopBlackBerry.com in these and other countries for $299 USD ($429 CDN, €339, and £275). To keep up with additional global channels and countries as they're announced, stay tuned to our DTEK50 availability blog.
Want to see more? Check out our DTEK50 photo albums to see close-ups of its form factor, colorful images of the device, and screenshots of its customized Android UI, and don't miss our other launch blogs about DTEK50, including: