Yesterday's BlackBerry Security Summit reaffirmed a few things, namely, that when it comes to enterprise and end user security, we can Talk the Talk AND Walk the Walk.
Supported by some of the largest players in technology, our invited luminaries, including former NYC mayor Rudy Giuliani, shared their experience and expertise on how to combat hackers and other security threats.
CEO John Chen set the tone for the Summit by sharing some of the findings of a survey conducted by BlackBerry on the state of IT managers' confidence in their organization's security.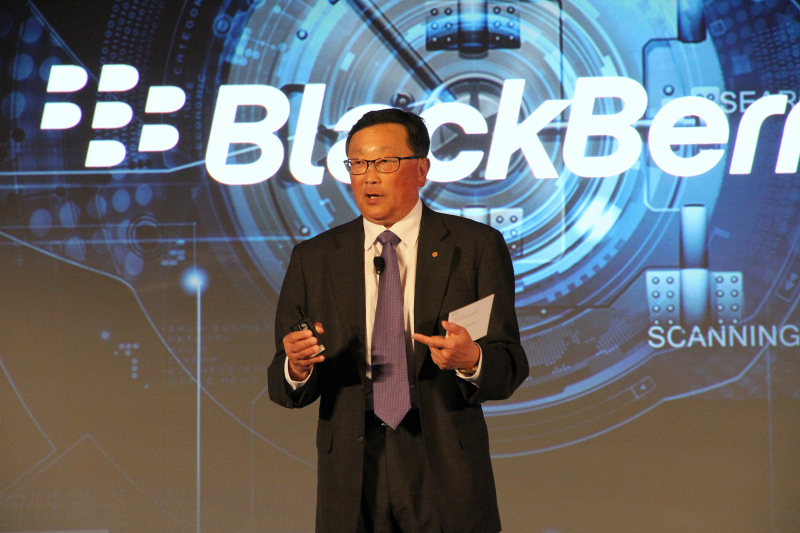 How confident are execs? Not very. Nearly 9 out of 10 executives worry their company's security is too weak to deter hackers or malware. Half of executives are actually resigned to experiencing more security breaches at their organization as a result of their employees' mobile devices. Click on the link above to read more of our findings.
"This is going to be our challenge for the next ten to 20 years. Security will be critical," agreed Giuliani, fresh from his appearance at the Republican National Convention the prior night.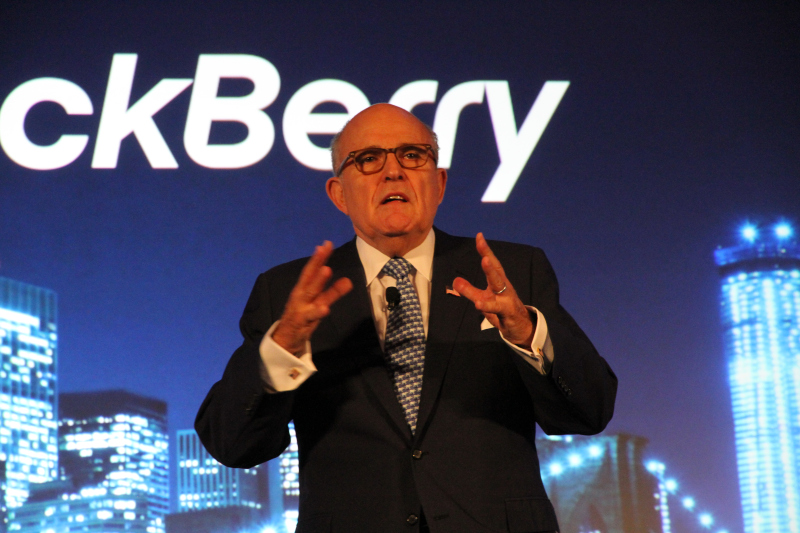 Giuliani, who was mayor during 9/11, recalled how BlackBerry devices were the only ones working during the crisis. His current interest in cybersecurity, says the former NYC police chief, is "because I hate crime and having peoples' identities stolen."
"BlackBerry is on the cutting edge of thwarting crime," he said. "I'm very proud to be working with them."
For more pictures of Rudy and others from the Summit, check out our Facebook album. Or watch a video of Hizzoner's appearance here:
Hacking the Internet of Things
Every year at the Summit we do a live hack on stage to demonstrate how real the threats around us are. Last year, we showed how simple it is for hackers to take control of a life-critical infusion pump that controls how fast drugs are delivered to patients – and if accelerated, could kill a patient.
This year, our best "white hackers" from our recently-acquired cybersecurity consultancy, Encription, showed how easy it is for hackers to use a wirelessly-connected tea kettle to take over a network. What's the significance of a tea kettle? It shows how prolific IoT has become – with even mundane objects being "connected" and how if we aren't careful, we create wide open doors for hackers to break into. Campbell Murray, technical director at BlackBerry, and Fraser Winterborn, head of cybersecurity R&D at BlackBerry, demonstrated this on stage (below).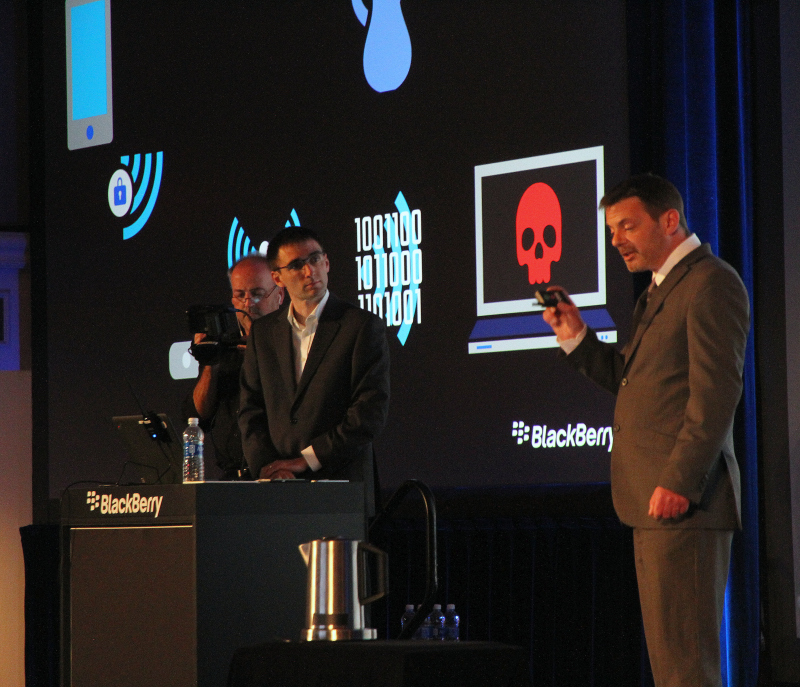 Writing in IT Business Edge, analyst Rob Enderle called the demo "scary" for showing how hackers could penetrate a network using an innocuous kitchen device in just 14 minutes – and then remotely turn the tea kettle on and off to erase any trace of how they got in. But the REAL risk was what our hackers were able to do when they obtained corporate-secured wi-fi password to access internal data – such as confidential emails.
Many companies claim to provide end-to-end, cross-platform security to thwart such attacks. But as our CSO David Kleidermacher (below) remarked during his speech at the Summit: "You can't have end-to-end security if you don't support all of the ends."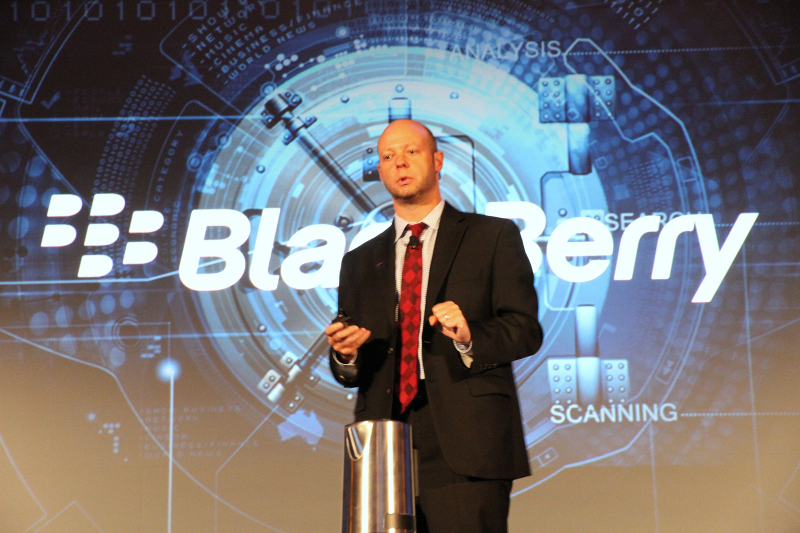 BlackBerry does – with protection for every major mobile platform, as well as emerging Internet of Things platforms (like connected coffee pots).
Our BlackBerry UEM (Unified Endpoint Manager) software even secures and manages the Apple Watch, as BlackBerry Enterprise Product Development VP Frank Cotter demonstrated on stage (below).
News Aplenty
The event – which was live-tweeted from @BlackBerry4Biz via the hashtag #BBSecurity – didn't feature any acquisition news, unlike prior (2015 – AtHoc, 2014 – SecuSmart) years. That doesn't mean there was any shortage of headlines chronicling new achievements, deals, and partnerships.
Our enterprise mobility management software BlackBerry UEM and our secure smartphone platform, BlackBerry 10.3.2, earned a STIG certification from the U.S. Department of Defense, paving the way for their use by the DOD. The coveted STIG certification adds to our total of 80 government certifications and approvals – more than any other mobile vendor.
Meanwhile we announced that our crisis communications solution, AtHoc, will be deployed by the U.S. Coast Guard and the U.S. Senate – the latter, as Reuters reported, is a five-year, multi-million dollar deal. Already, more than 3 million U.S. Government employees rely upon AtHoc for fast, interactive emergency communications. Other major media covering our government customer wins and certifications included:
And many others.
Partnering for Success
Our Summit was supported by 22 BlackBerry partners, which included entrepreneurial firms such as Appdome, which is partnering with us to enable codeless integration on the BlackBerry Dynamics secure mobility platform to enable developers to write apps much more quickly. Another partner, Symphony Communication Services LLC, announced the availability of its collaboration app on iOS for the BlackBerry Dynamics platform.
We were also supported by giants such as Google, Microsoft and Samsung, who all helped sponsor the event and sent key executives as speakers, such as Jonathan Trull, Global Chief Cybersecurity Advisor at Microsoft, Andrew Toy, Director of Product Management for Android for Work at Google, and John Curtis, Vice-President for Regulated Verticals at Samsung. The latter two are pictured with BlackBerry COO, Marty Beard: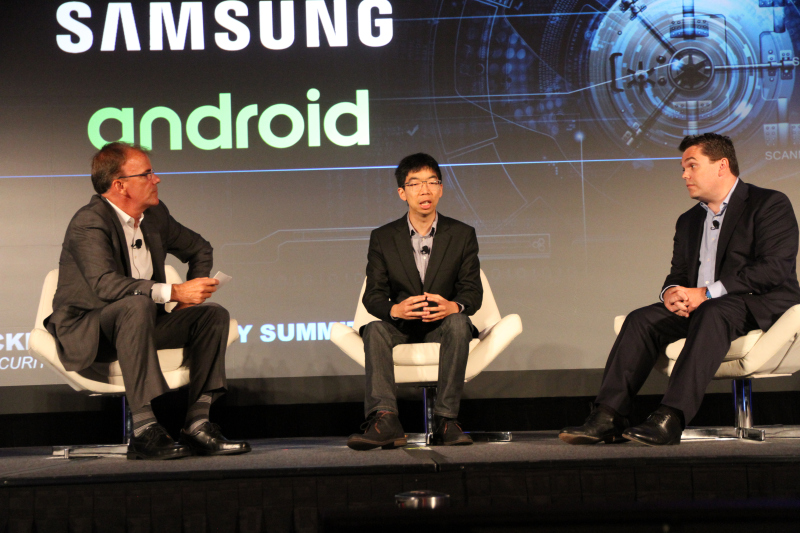 BlackBerry's embrace of partners is summed up well by veteran tech analyst Jack Gold.