Want to set password restrictions for all users? There are rules for that. Want to stop users with corporate-owned, personally enabled (COPE) devices from using the camera when in the work space? There are rules for that too. Do you need to restrict device features on corporate-owned, business-only (COBO) devices for users with access to highly confidential information? IT policies allow you to do that.
This blog was written by BlackBerry technical writer Andrea Kelso
BlackBerry UEM, formerly known as BES12, version 12.5 offers 561 rules that you can use, depending on the device OS and activation type, to help you manage the security and behavior of devices for your organization.
An IT policy is a set of rules that control features and functionality on devices. In BlackBerry UEM, you can create IT policies that establish what users can and can't do with their devices. You create IT policies and assign them to users or groups in the BlackBerry UEM management console. Descriptions of each IT policy rule are provided in the management console. When you view, edit, or create an IT policy, simply hold the cursor over any rule to display a tool tip that explains the rule.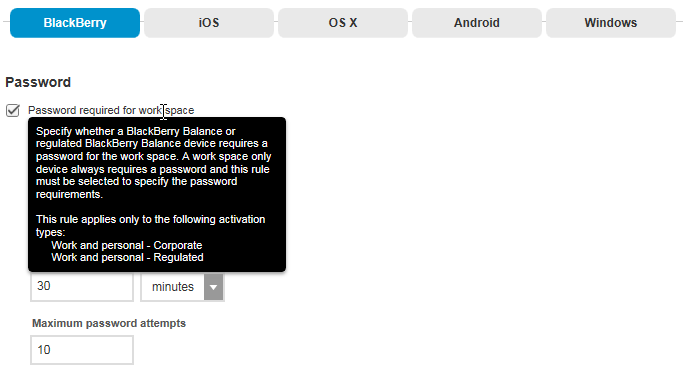 If you need more information than the tool tip provides, you can download the Policy Reference Spreadsheet from help.blackberry.com. There are versions available for BlackBerry UEM and BlackBerry UEM Cloud. Both are Excel spreadsheets that explain every IT policy rule. They provide full information including supported BlackBerry UEM versions, device versions, and activation types, possible values, and any additional information that doesn't fit in the tool tip.
If you want additional information on how to use IT policies in BlackBerry UEM, the BlackBerry UEM  Administration Guide and Blackberry UEM Cloud Administration Guide provide details on creating and managing IT policies and assigning them to users and groups.
Looking for more enterprise tips and tricks? Check help.blackberry.com for a wealth of technical information and documentation about BlackBerry's entire enterprise software and services portfolio.