In years past, security has been the Achilles' heel of Android. Its status as the most popular mobile OS on the planet belies the malware, adware, hacks, and other threats that plague the platform. Don't put the blame on Google – some carriers and device makers have been ridiculously slow to push software updates from Google that would patch the flaws.
There are good reasons behind Android's popularity: Phone makers love Google's Linux-based (read: open source) mobile operating system because they have more freedom to adapt it for their own brands and devices. Users love the variety of devices on the market, the openness of the platform, the integration with Google services, and the huge array of apps available in the Google Play store.
Still, many Android users have unwittingly traded their privacy and security away. Watch the video to hear what they say.
It's a devil's bargain. But BlackBerry knew it didn't have to be that way.
When we decided to enter the Android market with PRIV last year, we knew the most important thing we could bring was our laser focus on privacy and security. While reviewers and users praised PRIV's use of BlackBerry hallmarks like the Hub and the physical keyboard, what's always been most important to us is that we've turned Android into a secure mobile platform.
That's why we've packed all of PRIV's security features into DTEK50, our newest Android device. We're committed to the notion that security is for everyone; whether you opt for a no-compromises, top-of-the-line device like PRIV or the affordable power of DTEK50, you should never have to compromise your privacy and personal information for productivity.
Want to know more about DTEK50, which makes security, productivity, features, and style accessible to everyone? Read on to learn three reasons why PRIV and DTEK50 surpass all other Android smartphones when it comes to security.
1)     Device Security That's Built in From the Start
Unlike other Android device makers, we build security into PRIV and DTEK50 from the start, rather than layering on defenses after production. These locks on your device prevent an attacker from compromising your device.
Hardened Linux Kernel: We reduce the Android attack surface with numerous patches and configuration changes to improve security.
Hardware Root of Trust: During manufacturing, we establish a Hardware Root of Trust that adds security keys to the processor on every DTEK50 and PRIV as it is built. Those keys track, verify, and provision each device – meaning that the authenticity and integrity of your device is guaranteed, as is the safety of the data it holds.
A Better Bootloader: Because of our secure boot process, you can trust that only an untampered, BlackBerry-signed OS can be loaded. Each stage of the secure boot chain must first verify that the next component is fully intact before proceeding.
FIPS 140-2 Compliant Full Disk Encryption: U.S. government-grade encryption protects your private information, like personal pictures or banking info, if your phone is lost or stolen.
2)     Continual and Fast Security Updates, Long After Your Purchase
Every Android update patches identified security bugs. BlackBerry deploys Android updates to DTEK50 and PRIV faster than any other device maker around.
Ongoing Security Patching: Many popular smartphones put the user's private information at risk of being hacked due to slow security updates – weeks, months, or even years after a patch is released. BlackBerry's record of being the quickest to deliver Android security patches minimizes your vulnerability.
BlackBerry Integrity Detection (BID): We continuously monitor PRIV and DTEK50 for events or configuration changes that indicate a compromise to device security, then we trigger real-time actions if a threat is detected.
Dedicated Security Research & Response Teams: We bring our world-renowned security experts and testing to our line of BlackBerry secure smartphones powered by Android.
3)     Total Control and Visibility of Your Privacy and Security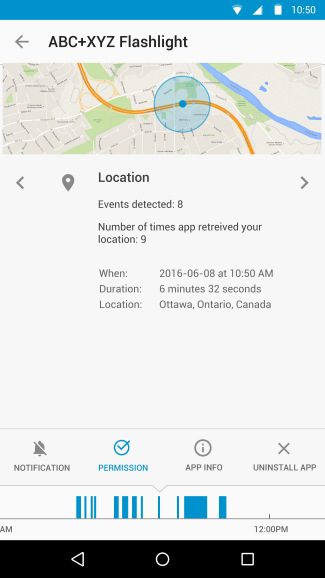 With most smartphones, it's hard to know whether or not your device and apps are putting your privacy at risk. That's never true with DTEK50 and PRIV. We make it easy for you to know whether your phone or your apps are doing anything to compromise your privacy, plus we give you suggestions on what you can do to improve your security.
DTEK by BlackBerry: Our DTEK security application, installed on all PRIV and DTEK50 devices, automatically monitors your OS and apps and lets you know when your privacy could be at risk. With just a quick glimpse you can see the overall security rating for your device – excellent, fair, or poor – and what you can do to improve it. DTEK also tracks your applications and notifies you when someone is taking pictures or videos without your knowledge, turning your microphone on, sending a text message, or accessing your contacts or location.
There are phones that say they are secure and there are phones that live and breathe security. BlackBerry PRIV and DTEK50 lead all other Android smartphones in that latter category. BlackBerry is trusted by thousands of companies and governments around the world to securely enable business on mobile. When it comes to protecting business-critical data and personal privacy, you can trust PRIV and DTEK50 to keep you safe and secure.
DTEK50 is now available to buy in a growing number of countries – from local carriers and retailers in the U.S., Canada, and the UK – and on ShopBlackBerry.com in these and other countries for $299 USD ($429 CDN, €339, and £275). To keep up with additional global channels and countries as they're announced, stay tuned to our DTEK50 availability blog.
Want to see more? Watch the webcast where we introduced DTEK50. Check out our DTEK50 photo albums to see close-ups of its form factor, colorful images of the device, screenshots of its customized Android UI, and photos from the launch event. Also, don't miss our other launch blogs about DTEK50, including: