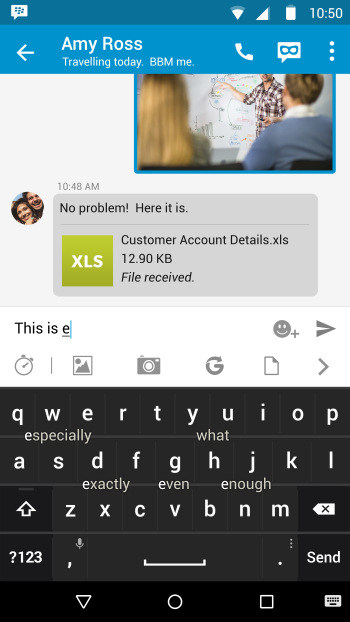 As the company that put email on phones, we at BlackBerry know a thing or two about how to make productivity on a smartphone effortless, just as we know how to put together a superior user interface. And with DTEK50, we've done exactly that, forging an Android experience that's both streamlined and unique.
Our newest secure Android smartphone is packed with UI features that help you get twice as much done with half of the effort, including a BlackBerry touch keyboard, BlackBerry Device Search, pop-up widgets, Instant Actions, the BlackBerry Convenience Key, and the Blackberry Hub.
Check out our album of DTEK50's customized Android UI screenshots, and keep reading to learn just some of what DTEK50 has to offer.
1. Tap into a Keyboard That Learns as You Type
Equipped with a BlackBerry Intelligent Touch Keyboard, DTEK50 learns and provides word suggestions for you as you type. Simply flick words into place while typing for faster, more accurate conversations. Suggestions can include up to three languages of your choice, and are based on your typing style.
The more you use DTEK50, the better it knows you. And the better it knows you, the better its keyboard gets.
2. Navigate with Ease Through Gesture Controls
DTEK50 also features a wide selection of customizable, quick access gesture controls that allow you to open Hub, Device Search, Phone, or any other apps you use frequently.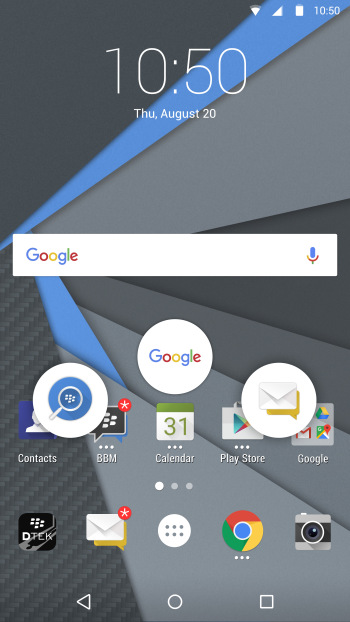 Quickly glance at the Productivity Tab for a view of your most important messages, tasks and notifications. Conveniently located along the right side of your screen, you can adjust the Productivity Tab to best suit your needs – you can move the tab up or down along the edge of the screen. Then pop open Device Search to track down a file or the Hub to send a quick email.
You can also use gesture controls on DTEK50's pop-up widgets: simply swipe up or down across the icon on your home screen for fast, private access to whatever information you need.
3. Organize Your Life with the Hub
Based on our proprietary BB10 app of the same name, the BlackBerry Hub consolidates all of your communications in a single place. That includes phone calls, email, social media notifications, scheduling alerts, SMS, and more. Accounts can easily be categorized and assigned colors based on level of importance, and custom gesture controls allow you to execute actions such as snooze, delete, flag, file, mute, and mark read/unread.
4. Keep Yourself Quick with Device Search and Instant Actions
Need to track down an errant contact, locate an app, or find a file? BlackBerry Device Search has you covered. In addition to scouring your device for content, you can also type in an Instant Action command to execute it without having to open an app. Instant Actions include:
Making a phone call (phone, dial, call followed by a phone number/contact name)
Sending an SMS (sms, message, msg, or text followed by a contact name and message)
Sending an email (email, mail followed by a contact name and message)
Playing music (play followed by a song, artist, or album name)
Opening Google Maps for directions (map)
Creating a note (note or memo followed by a title)
Creating a task (task or todo followed by a title)
5. One Button to Rule Them All: The BlackBerry Convenience Key
BlackBerry understands that every second counts, and that convenience is key to your success in both your work and your personal life. That's why DTEK50's equipped with a customizable BlackBerry Convenience Key. Located on the right side of the phone, a single press of this button provides you with quick access to your most-used application, task, or whatever you choose to program.
We often hear from former BlackBerry 10 users who have switched to other Android phones that while Android is great for entertainment, playing games, and watching movies, they still miss the productivity-enhancing features we provided.
That's why we released DTEK50 – it's affordable, it's secure, and most importantly, its UI is packed with BlackBerry-exclusive features that will have your fingers flying – and your output skyrocketing.
DTEK50 is now available to buy in a growing number of countries – from local carriers and retailers in the U.S., Canada, and the UK – and on ShopBlackBerry.com in these and other countries for $299 USD ($429 CDN, €339, and £275). To keep up with additional global channels and countries as they're announced, stay tuned to our DTEK50 availability blog.
Want to see more? Watch the webcast where we introduced DTEK50. Check out our DTEK50 photo albums to see close-ups of its form factor, colorful images of the device, screenshots of its customized Android UI, and photos from the launch event. Also, don't miss our other launch blogs about DTEK50, including: