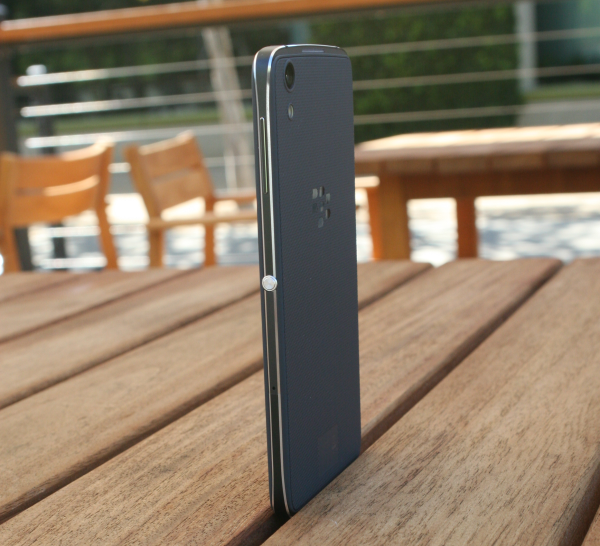 Size matters, especially where your smartphone's concerned. It needs to fit easily in your pocket, after all, and there's nothing pleasant about hauling around a bulky, cumbersome slab. There's a reason smartphones are becoming progressively thinner, as manufacturers attempt to fit durability, usability, and longevity into smaller and smaller packages.
They don't always succeed, sadly.
DTEK50 measures just 7.4 mm thin, making our new secure Android smartphone the thinnest BlackBerry device ever. It's ultra-sleek in other ways, too, at 147 mm long and 72.5 mm wide – a refreshing size for those wary of the phablet trend. And at 135 grams, it's one of the lightest phones you'll ever use.
In spite of its svelte design, DTEK50 sports an HD 5.2-inch screen, as well other surprisingly robust specs, providing the perfect blend of size, power, and durability – and for a great price, at that.
But how thin is DTEK50, really? And what's packed into that petite frame?
Big Things Come in Small Packages
To help you visualize DTEK50's size, it might be helpful to compare it to a few everyday objects you can find around the house. To start with, it's thinner than a standard-sized cigarette, which has a diameter of 7.5-8 mm. Let's compare it to a few other common items, as well (see some of them above):
Okay. That's what DTEK50 looks like next to a few household odds and ends. But what about other smartphones? How does it measure up against the competition?
Very well. For one, the DTEK50 is lighter than virtually every smartphone out there, and thinner than most rivals. Among direct competitors, it's thinner and lighter than the Google Nexus 5X, HTC Desire 626, and Microsoft Lumia 950. It's also lighter and thinner than both the Google Nexus 6 and Samsung Galaxy S7 (pictured below), which measure in at 10.6mm/184 g and 7.9 mm/152 g, respectively. And when stacked against the iPhone 6 Plus (7.1 mm/172 g), it's only slightly thicker – and much (22%!) lighter.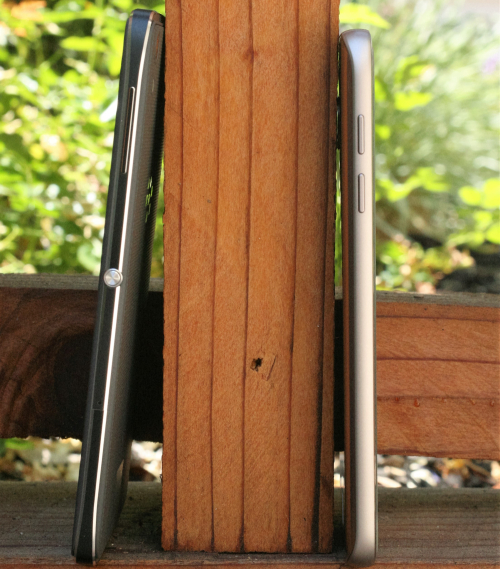 Strong for its Size
Size is great, but it's equally important what's under the hood. And DTEK50 doesn't skimp in that regard, either. In addition to its beautiful screen and top-notch cameras, it houses a long-lasting 2610 mAh battery, 3GB of RAM, 16 GB onboard storage with support for up to 2 TB via the micro SD slot, and a QC 8952 Octa-Core processor. Factor in all the tweaks we've made to make the Android OS easier and more convenient to use, and DTEK50's a cost-effective productivity powerhouse.
Diminutive yet Durable
BlackBerry devices have never been known for their flimsiness, and DTEK50 is certainly no exception. Its screen is comprised of scratch-resistant glass, and its textured shell can resist any minor bumps and scrapes you put it through (though you might still be in trouble if you hurl it down onto the concrete).
And that durability goes hand-in-hand with an excellent form factor. In addition to its super-thin design, DTEK50 is made to fit perfectly in both your pocket and the palm of your hand, whatever you plan to use it for.
Size matters, but it isn't everything. With a slim, sleek design, DTEK50 both looks and feels great in your hands. But it's also got some impressive in-the-case, specs, ensuring that whatever you want to use it for – work or play – it'll be up to the challenge.

DTEK50 is now available to buy in a growing number of countries – from local carriers and retailers in the U.S., Canada, and the UK – and on ShopBlackBerry.com in these and other countries for $299 USD ($429 CDN, €339, and £275). To keep up with additional global channels and countries as they're announced, stay tuned to our DTEK50 availability blog.
Want to see more? Watch the webcast where we introduced DTEK50. Check out our DTEK50 photo albums to see close-ups of its form factor, colorful images of the device, screenshots of its customized Android UI, and photos from the launch event. Also, don't miss our other launch blogs about DTEK50, including: