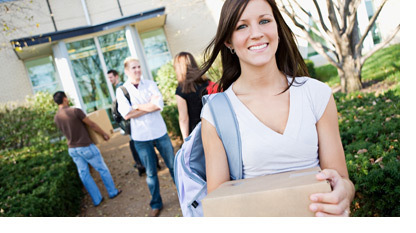 I recently took my daughter on a campus tour at UCLA, as it is one of the colleges she is considering attending next year. This is a rite of passage for most parents – attempting to guide your child down the best possible path while realizing they are about to go out into the world on their own. The fact you can no longer protect them from that world the way you have for the better part of 18 years is a serious anxiety inducer.
Written by Jeffrey Winslow, AtHoc Senior UX Designer, for the AtHoc blog.
I never guessed the work I do at AtHoc would eventually relieve the very stress I felt regarding this life change.
The beautiful University of California campus in Los Angeles' Westwood district, bordered by the posh neighborhoods of Beverly Hills, Brentwood, and Bel Air – names that will be familiar to fans of Hollywood celebrities – was more impressive than I expected. Amazing architecture and first-class programs across the areas of study in which my daughter is interested had me feeling very positive about her prospects there, even though my concerns about her being on her own were still in the back of my mind.
Our UCLA tour guide that day was a very friendly student named Josh, preparing for his junior year and obviously proud to be part of the University. He mentioned all the great academic amenities, as well as its NCAA Division One and Pac-12 Conference athletic prowess. It turns out that he is studying sports management and has a job at the nearby Fox Sports television production facility.
Then came a pleasant surprise that began to alleviate my fears.
"I have been here for two years," Josh told us, "and I want you to know that I always feel very safe on this campus. We are surrounded by some of the safest areas of Los Angeles, and we have a lot of safety protocols that every student and staff member follows."
"One of the great safety measures we have here is something we call BruinAlert," he continued. "My mom really loves BruinAlert, and I think all parents will love it. Any time something urgent happens, everyone on campus receives instant messages via email or text straight to our phones, or any device we might have. This actually comes within seconds of any minor or major emergency. Every single Bruin has to have one of these gadgets with them, and UCLA has its own app that makes this happen."
"Parents can sign up for these messages, too, which is what my mom did. That's why I was woken up by a call from her at 4:00 a.m. one morning during my freshman year. 'Josh, are you okay?' 'Yeah, Mom, I'm fine. What's going on?' 'I got a BruinAlert – there's a huge earthquake at UCLA!'"
"I looked at my phone and it said something like, 'Small shaking near Westwood.' I told her, 'Nobody noticed that, Mom. You're the only one. Go back to sleep.'" Josh chuckled and added, "But BruinAlert is really very cool, and it helps everyone here feel safer."
Then it was my turn to flash a smile, turn to my daughter and whisper proudly, "And my company makes that."
Yes, I'm proud to work for the company whose alerting software makes BruinAlert possible. It is a big part of what makes coming to work each day worthwhile. And it may very well alleviate the stress I will feel when my daughter goes off to college.
A More Serious Situation
While Josh's anecdote is a fun one, there have been some very serious incidents for which BruinAlert has been used. A series of Bruin Alerts was sent out on June 1, 2016, when two people were shot in the UCLA Engineering building. I actually know a student who was in the building when it happened, and he was able to get away safely.
While there was nothing that technology could do for the victims, receiving real-time instant updates via text and email was helpful to most people on campus, and possibly kept more people from being injured or killed. I'm sure it was a relief for parents, too, once they received the alert that said, "Lockdown Lifted, All Clear," and they knew their child was out of danger.
Nothing will completely soothe my anxiety when my daughter heads off to UCLA or one of the other schools on her list. I just hope she picks one with the latest technology to keep her as safe as possible and keep us informed about her safety and well-being.