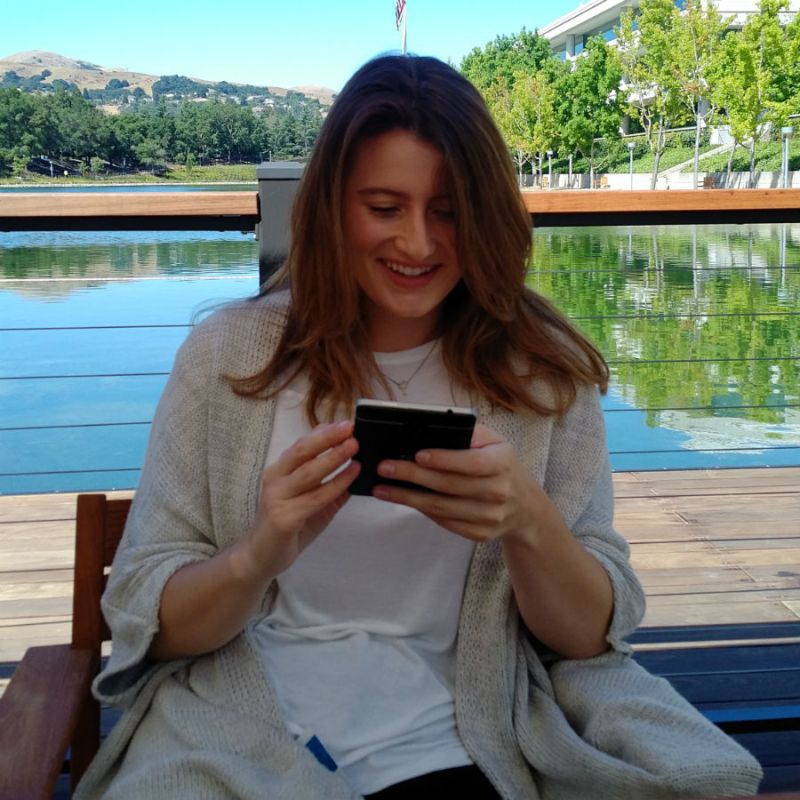 My family and friends can confirm: my collection of notepads and planners is vast enough to supply a stationery store. Being organized has always been important to me: having a plan for everything and crossing off to-do lists with a vengeance. Alas, you would think my hoard of notepads would keep me productive; but loving organization and actually being organized are two very different things.
When I was asked to try out BlackBerry Assistant on my Passport phone for BlackBerry, I knew it was my chance to get organized, for real. Like Siri or Google Now, Assistant is a smart voice-input software, but for the BlackBerry 10 operating system. This technology is not new – in fact, it was released about two years ago – but as a new intern I was a bit late to the game. This was my chance!
I am, admittedly, technologically challenged. The first thing I asked Assistant when I was given this assignment was, verbatim, "How do I use Assistant?" I was expecting a sassy Siri-like response berating me for being clueless, but instead Assistant did an internet search for exactly what I asked. (My use of exactly is no accident: after using other input-software that interpreted, "Who is the Dalai Lama?" as, "What is a llama?" I was surprised that Assistant accurately understood my question.)
After reading a few articles on Assistant's features, I realized that research could only take me so far. This was just going to have to be a journey that BlackBerry Assistant and Intern Martina took together, one tech-challenged step at a time. (To wit: I later realized I could've simply tapped on the "i" icon at the bottom right corner of the Assistant interface and quickly gotten instructions on actions like setting alarms, using email, checking Facebook, etc.)
Baby Steps
Not sure where to start, I began by asking Assistant to set various alarms and reminders and some calendar events for the next couple of days. Worried that the notices I had set up with Assistant might not work, I also wrote everything down for good measure. 2 p.m.: the reminder to reschedule my doctor's appointment went off. 4:45 p.m.: call your sister to plan dinner for your parents. 5:30 p.m.: buy more eggs on your way home from work. 8:20 p.m.: don't forget to iron your shirt for tomorrow! All of the alarms and reminders worked as planned, and I didn't look at my notepad once. So far, so good.
Now that I felt that I could trust and rely more on Assistant to create to-do lists and find information quickly, I started to feel weird constantly talking into my Passport. I was sure that someone would overhear me in my cubicle whispering, "Remind me to buy cotton balls after work," or "What time is The Bachelorette on ABC in Pacific Time?" That's when I noticed that instead of tapping on the microphone icon to verbally instruct Assistant, I could simply type in a request. Hooray! I can now get Assistant to help me without oversharing with my coworkers things like revealing I watch The Bachelorette religiously. (Except now you all know. Yes: Intern Martina watches The Bachelorette, so feel free to ask me why I love Chad or who I think will get the final rose.)
Honeymoon Phase
At that point, our relationship was solid enough to take Assistant home with me. Like most people, the first thing I do in the morning is check my phone (not saying it's the best habit, but I know we all do it). I have three main concerns when I wake up for work: weather, traffic, and COFFEE. After a few days, it became a habit to turn to Assistant – head still on my pillow – and ask what weather I could expect for the day, what kind of traffic I would have to battle on my commute, and what would be the best place to stop for coffee on the way. Even before getting my daily caffeine boost, Assistant understood my groggy morning grumbles with incredible accuracy and reminded me to grab my Bluetooth earpiece before I took off.
I had never used a Bluetooth headset before taking on this project, but people using them looked fancy to me. And I definitely felt fancy with the device in my ear, but would it actually work? On the freeway I decided to test it out. I double-tapped the side of my Bluetooth and asked Assistant to read any unread emails I had received while I was away from the office. One by one, I went through my messages: "Delete email, delete email, mark as unread, add to 'blog editing' folder…" I could even use Assistant to respond to emails hands-free during the drive. Before I even reached my desk at 8 a.m., I had gotten a head-start on some work without even turning on my computer. Later, after a long day at work (still adjusting to that 8-5 life), all Assistant needed to land me safely at home was a straightforward "directions home" command.
The Final Test
As a perpetual planner, my worst nightmare is not having a plan set in stone, ahead of time, and down to the last detail. So when a friend got me last-minute tickets to an NBA Finals' basketball game, I was in a fit. How was I going to pull off a busy day's work and get to the game on time, ready to cheer for my favorite team? A thousand planning questions started to race through my mind. What is the best way to get to the stadium? Is there somewhere on the way I can stop to buy a t-shirt to wear? Is my purse too big to bring inside? Does the area offer gluten-free meal choices or will I have to starve to see the Golden State Warriors battle for the title?
I needed to figure out the exact choreography of the day to stay productive at work and get to the game without missing a minute of Steph Curry on the basketball court. Normally, this kind of uncertainty on top of an already hectic day would have had my head spinning. But with Assistant, rearranging my schedule to accommodate a last-minute invitation to one of the most important games of the season was no problem at all. Not only was I able to complete my to-dos as cued in by the various reminders and notifications, Assistant also answered my questions about how to get to the arena, what to wear, and where to eat. It even found out the latest news on Andrew Bogut and whether the Warriors' center would be able to play (he couldn't), and helped me text my mom the disappointing news.
In the end I made it to the game with time to spare, all of my work done for the day, and with the mandatory blue and gold t-shirt and gluten-free granola bar in hand. My team may have lost (quite terribly, too), but at least I made it to the game knowing that using Assistant, even a tech-challenged intern could figure it all out.
Are you ready to drive your organization to new heights with BlackBerry Assistant on Passport? Get a factory-unlocked BlackBerry Passport from our global shopping portal, ShopBlackBerry.com (check with your local carrier for device compatibility).