Given our daily dose of news about cyber attacks and mobile security breaches, it's not hard to understand how a person can become numb to it. Why, even though we increasingly depend on our smartphones for projects, communication, and financial transactions, aren't we more concerned about the risks? Is it the idea that mobile users are less of a target compared to those on a computer? Or is it the allure of instant, mobile access that evokes the urge to drop our guard against our better judgement?
Cybercriminals are counting on our inattention to mobile threats because it opens mobile targets that they can attack through a variety of means including malicious applications, unauthorized access to a network, exploiting kernel and OS vulnerabilities, or even a browser.
Your employees are becoming a mobile workforce, and you should ensure they don't also become mobile points of access for attackers to your private business data.
To protect your company's security, it's strongly suggested that you use a security-based mobile application to help both protect and inform you. zIPS for Good, a product from leading enterprise mobile threat protection provider Zimperium, is a powerful solution that provides real-time and continuous protection against threats on your smartphone. Part of the Zimperium Mobile Threat Protection Suite, zIPS for Good isn't a standalone application; users must have the licenses and infrastructure for both Good Technology and Zimperium.
(Catch Zimperium at our Security Summit next Tuesday July 19th, as its Chief Product Officer John Michelsen will be on stage with our CSO David Kleidermacher talking about a new standard for assuring security in high-security environments.)
zIPS, known as the world's first comprehensive mobile intrusion prevention system app, enables you to monitor and shield Android and iOS devices from a variety of attack methods.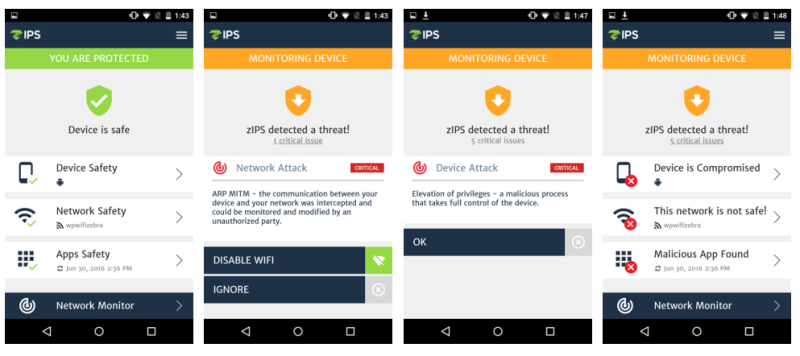 The key to successful monitoring is to take the mobile device's behavior into consideration. zIPS looks for hiccups within the system's CPU, memory, and many other parameters by using Zimperium's z9 engine, an award-winning technology with years of experience behind its machine-learning algorithms. z9 is much like a detective – it not only identifies the type of attack but also every detail that allowed the attack to occur. zIPS, with its z9 engine, avoids the latency and privacy issues of cloud-based services and those that sandbox the applications or tunnel traffic for examination. All of the magic is contained and managed within the zIPS app itself; allowing nonstop security that is always watching … always … watching…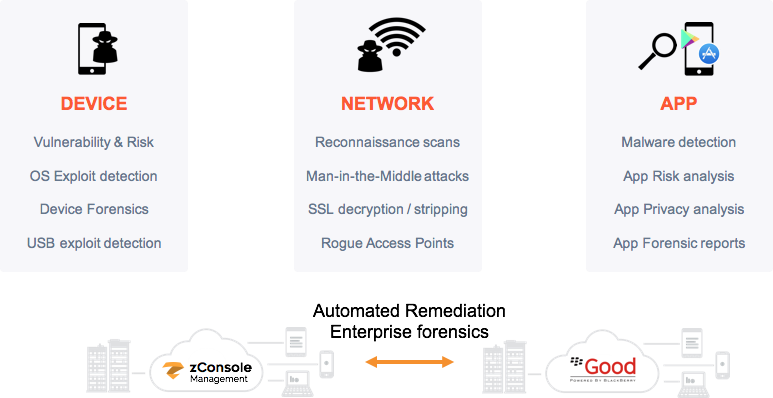 Earlier this year, Zimperium was recognized as Best of Breed winner in the 2016 Cyber Defense Magazine Infosec Awards in Mobile Endpoint Security Solutions. Recognized for its next-generation innovation in information security, Zimperium continues to evolve its protective suite, including the zIPS management console.
Keeping its human master in mind, zIPS does not hinder the connectivity or productivity of the mobile workforce that you are trying to protect, nor does it violate their privacy. Still, it protects apps and devices from various sources of attack, much like a well-known smartphone we know and love.
zIPS and the PRIV by BlackBerry both put security, monitoring, control, user experience, and privacy at top of mind. With DTEK by BlackBerry, PRIV users can set permissions and feel safe in knowing they can see their device security level, and with zIPS they can see where attacks are coming from and what facilitated them. Plus your PRIV is further protected with regular updates, Verified Boot and Secure Bootchain to prevent tampering, and BlackBerry's Hardware Root of Trust. Security is taken steps further if you entrust your mobile workforce to the BlackBerry infrastructure and BlackBerry UEM (Unified Endpoint Manager).
zIPS for Good and the PRIV by BlackBerry: both award-winning products, both security-centric, and both critical to an effective mobile workforce.
Other apps to check out
With nearly 2 million Android apps available in Google Play, it can take time to find the apps you want. Check out the following reviews of some of the top apps available for your PRIV:
COMMUNICATIONS
BBM & Other Top Messaging Apps
ISEC7 Mobile Exchange Delegate
Harmon.ie
Skype
Tango Networks Communicator
Voxer
FINANCE & SHOPPING
Amazon Shopping
Banking Apps
car2go Car Sharing
Suretap
MUSIC & ENTERTAINMENT
Apple Music
Easter Holiday Apps
Entertainment Apps
Gameloft
Instagram
Spotify
PERSONAL APPS
Finance Apps
Fitness Apps
Smart Thermostats
Photo-Editing Apps
Weather Apps
PRODUCTIVITY & BUSINESS
Automation Apps
BlackBerry Developer Elite Apps
Encircle
Essential Android Apps
Microsoft Office
Messaging Apps
Notate for Good
Polaris Office for Good
PrintHand Mobile Printing
Thomson Reuters
Salesforce
Slack
Small Business Apps
SmartOffice 2 for Good
Swyft for Good
If you want to know more about PRIV, check out what our fans are saying, look at the official PRIV product page and watch our how-to demos. If you are wondering where you can get your hands on a PRIV, check out our availability blog.