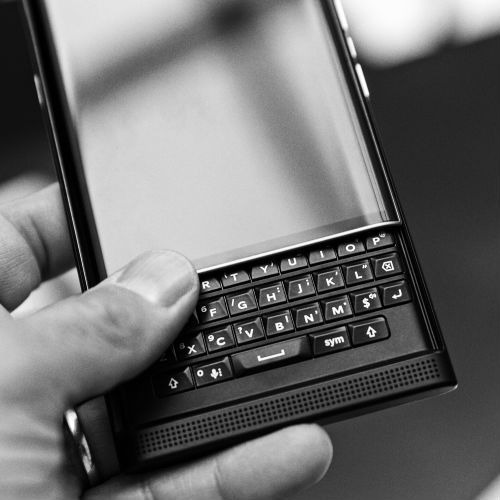 For our Android update this month, we are happy to share an abundance of new features debuting in our software applications available to PRIV and DTEK50 smartphones. We continue to hear your feedback and bring in features from BlackBerry 10, like the Pinch Filter in Hub, to ongoing productivity enhancements in every app. Let's get right in to it and talk about what the new enhancements are!
Hub: Pinch Filter and More
Pinch Filter: With a simple, familiar gesture, Hub will filter to your choice of snoozed items, unread items, emails marked as high importance, flagged emails, or muted conversations. By default, the pinch gesture filters to unread messages, including both email and integrated social / instant messaging content, which can be customized by visiting Display and Actions in BlackBerry Hub and tapping Pinch Filter Criteria.
Quick Send: To keep you as efficient as possible, you can now press both the Ctrl and Enter keys on PRIV's physical keyboard to send an email message, provided your PRIV screen is displaying the body of the email message.
Viber Integration: Notifications from the Android Viber IM app are now integrated into the BlackBerry Hub.
Twitter refresh: With a refresh button, it is now easier to check for new content. Pressing the refresh button will manually sync and retrieve the newest Twitter posts.
WhatsApp Improvements: Many users described experiencing problems reading messages in the WhatsApp application and then coming to the BlackBerry Hub to find those messages still marked unread. Messages should now all be appropriately marked as read in the Hub.
General Improvements:

Large email conversations now open significantly more quickly due to an improved design which hides read messages by default. Blocks of three or more read messages will be "collapsed" into a segment indicating the number of hidden messages, while the first and last message in the conversation are always shown. Unread messages in a conversation are shown by default.
Improvements have been made to reduce the need for manually dismissing the spark, and to better follow the state of content within the Hub.
Keyboard: Quick Language Switch, New Languages and an Even Better Keyboard
Quicker language switch: Long pressing on the spacebar (or using a shortcut) will allow you to quickly switch between languages.
Chinese language support: Support for Pinyin and Cangjie on the virtual keyboard and PRIV's physical keyboard.
Smarter Keyboard

Easy Access to Learned Words: Making it easy for you to find and remove words from Settings that shouldn't have been learned.
Easier Error Corrections: Sometimes you make a mistake and keep typing, but then think "Gosh, I should really correct that." Well, now when you go back to correct a word it uses the words around the error word instead of just the word before, for greater context and more accurate suggestions for replacing mistyped words.
Improvements for "I" or "a" keypresses: If you accidentally hit a key near those letters we'll make sure we correct it for the win.
Currency key match: The previous update allowed you to set the currency key for PRIV's physical keyboard—now, the virtual keyboard matches that.
Camera: Performance and Usability Improvements
Performance Enhancements: To snap the best shot possible we are working on improving the average picture capture time. We've seen improvements as much as 0.25 seconds per shot—trust us, it matters!
External Shutter Triggers: You are now able to capture photos using the headphone's mic button, keyboard hardware keys, or Bluetooth remote triggers.
Video preview image capture: If you can't decide whether to take a video or photo, you can capture video and take photos at the same time within the video preview mode.
Manual control settings display: With the advanced controls we've added, you can adjust white balance, focus, shutter speed, and ISO. Now, we also display real-time value changes as you adjust each setting.
Video resolution and frame rate toggle: We now display your video resolution and frame rate from the video preview screen. This way, you can adjust it more conveniently.
Calendar: Continued Improvements
Free/Busy suggestions for Microsoft Exchange ActiveSync: You can now access a list of suggested times that will work for all or most of the attendees specified in the invitee list. This feature suggests time slots where most attendees are available on the specified day, within the next 5 business days, as well as when attendees are not available, or data on their availability is not accessible.
Invite Improvements: It's now easier to edit visibility, availability, notification reminder details and the description of meeting invites.
Notes & Tasks: Tags & Labels Support
Tag & Labels: You can now create tags for notes and tasks to sort them on your device, or have tags/labels from Outlook synced to your phone.
As with previous updates, your PRIV (or DTEK50) should notify you when the application updates are available in Google Play and then download them automatically over Wi-Fi. If it does not, you can update them as follows:
Connect to a Wi-Fi network, then open the Google Play Store
Tap the icon on the left side of the search bar, then select "My apps & games" from the menu that pops up.
Either tap "Update All" or select which apps to update on an individual basis.
Tap "download" and the update will begin, even if you don't see a progress bar or another indicator.
For more information about BlackBerry's secure Android smartphones,visit our PRIV and DTEK50 product pages.