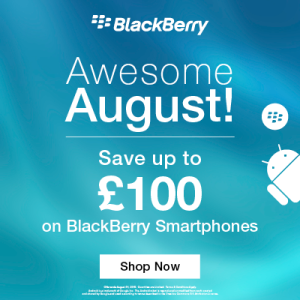 August is here, and summer's drawing to a close. People are setting aside their vacation gear, and heading back to the office. As for us, we're making the occasions something to be excited about for both consumers and business users, with some great deals on ShopBlackBerry!
From now until Wednesday, August 31, we're offering some sweet deals for our European fans through ShopBlackBerry! (U.S. and Canadian consumers and enterprises, check out this deal) If you're in the market for a new BlackBerry Passport, you can pick up the Passport (Black & White) for €449 (£330) or the Passport Silver Edition for €479 (£360). And if you've got eyes for Android, we're also offering the PRIV for €629 (£449)
Summer's on the way out – but August is still awesome in its own way, especially with what we're offering through ShopBlackBerry.
All offers run from Thursday, August 11 to Wednesday, August 31 at 10 AM EST, and are available from all ShopBlackBerry stores in the UK, France, Germany, Italy, Spain, and The Netherlands while supplies last. Terms and conditions of the promotion can be found here.